Stories about McDonald's (NYSE:MCD) have been all over the financial news over the last several days. The street has been worried that McDonald's has saturated global markets and therefore will have trouble growing in the future. Another concern is that commodity prices are rising and that this will raise their input costs and compress margins. These worries show just how fast the consensus can turn on Wall Street. The street seemingly had a love affair with McDonald's in 2010, touting its global growth and expanded menu. Shares of McDonald's are off more than 3% in the last five trading sessions. Closing Thursday at $74.21, they are 8% off their 52 week high set in early December.
At these levels, I think McDonald's is a buy for the long-term investor. The company has a forward P/E ratio of less than 15. The company has an enterprise value to EBITDA ratio of 10. McDonald's dividend yield is 3.28% versus the S&P 500 yield of 1.86%. It has raised dividends annually since 1976 when it began paying one. McDonald's has plenty of cash, $2.36 per share or a total of $2.5 billion. Free cash flow is $5.65 per share. The company pays out 49% of free cash flow in its dividend, a very sustainable rate.
In my opinion, the concerns, although real, are overplayed. As for the growth, McDonald's continues to expand in high-growth markets. On the 3rd quarter conference call, Chief Financial Officer and Corporate Executive Vice President, Peter Bensen, said that the company was on track to open 1,000 new locations in 2010. Half of those locations were set to be opened in Asia Pacific, Middle East, and Africa. China was the largest growth country with 250 new locations coming online. This is far from saturation. McDonald's has reported 30 quarters of consecutive global comparable sales growth, an outstanding achievement.
Commodity costs are rising. They will most likely continue to rise some in 2011, although at a more moderate rate. In my opinion, much of the commodity story has played out. We are likely to see prices moderate some this year as some investors begin to take profits. McDonald's has successfully managed input costs for many years now. Their franchise model allows for franchisees to bear some of the costs, helping to preserve margins.
I am a long-term investor. I do not know where McDonald's will trade over the next three months. McDonald's stock price has risen 113% over the last five years not accounting for dividends, rewarding the long-term investor. The S&P 500 is roughly flat over the same period. In the short-term, shares may pull back further. As you can see from the chart below, McDonald's is trading between its 50 day moving average and its 200 day moving average.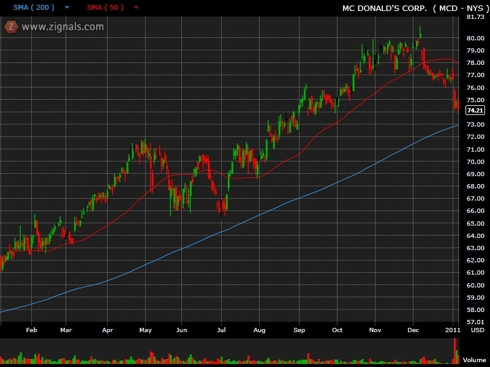 For the long-term investor, McDonald's offers a lot. It has an intact growth story, an above average yield, and now a lower entry point. I initiated a position in McDonald's this week. I may have missed last year's nice return, but I think I'll have many more years of rewards to come.
Disclosure: I am long MCD.