On Monday, Ebix (NASDAQ:EBIX) announced the authorization of an $80 million share buy-back program. The program is scheduled to run over the next 12 months and will purchase shares of common stock both on the open market and in privately negotiated transactions. Shares of Ebix rallied on the news: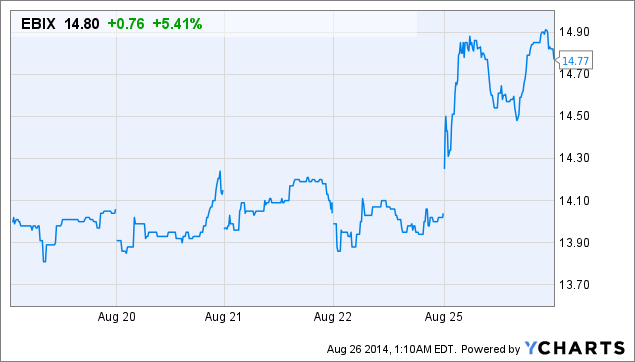 EBIX Price data by YCharts
Certainly, on the face of it, this appears to be a genuine boon for long-term shareholders. If valuations remain stable, a reduced float suggests the prospect of higher per-share prices as earnings are spread over fewer shares. In addition, as I've argued before, shares of Ebix currently look undervalued relative to the firm's long-term prospects, so repurchasing shares at around these prices should be value-additive. The question I had upon hearing the announcement was, "so how much is this worth?"
So how much is this worth? A conservative estimate
With about 38.2 million shares outstanding (after almost 500 thousand shares were repurchased since 30 Jun), Ebix boasts a total market cap of $565,360,000. Were the company simply to buy back $80 million worth of stock today, the float would be reduced by about 5.4 million shares, and the stock would instantly be worth $17.24, approximately a 16.4% premium to today's close. While that might be music to the ears of longs (and would, if actually enacted, probably result in one helluva short squeeze), that's probably just not going to happen. This simple math does tell me, though, that any fair value estimate ("FVE") increase probably would be limited to a ceiling of 16%, and would be more realistically be much less than that.
Assuming that Ebix was unfortunate enough to simply utilize its $80 million authorization to purchase shares at the consensus FVE of $22 (or my FVE of $24) and only utilize a portion of that authorization -- say, $20 million -- for buybacks, then the effect is substantially more muted: $20 million / $23 per share = 875,000 shares repurchased (2.3% of float). If that projection held true, then any FVE increase would be limited to about 1.5%. So there's the floor -- or a reasonable expectation of it.
Obviously, the truth probably lies somewhere in the middle. Assuming a majority of the authorization (say, $50 million) is used to purchase shares with a mean price of $19, then total float would potentially be reduced by about 2.6 million shares. A reasonable estimate for any fair value increase might be along the lines of a 7-8% premium after float reduction.
However, it's a tad more complicated than that. With only $34.3 million in total cash as of the end of Q2, Ebix will have to finance the majority of share buybacks with credit. The company did secure a $150 million credit revolver recently (which in itself speaks well of the company's prospects) which will have to provide the majority of the capital for share repurchases. This increase in liabilities reduces book value per share, which in turn reduces any estimate of fair value. Assuming that shares are repurchased at prices between $12-$20 per share, I estimate a reduction in book value per share of about $0.35 per share from its current $11.47: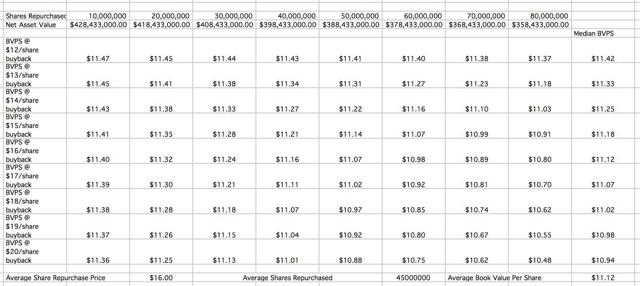 Conclusion: Buyback implies a 6-8% increase in FVE
I had previously arrived at a fair value estimate for Ebix of $24, derived from a statistically weighted average of a discounted cash flow model estimate and historical multiples applied to forward earnings and revenue estimates. Assuming only $50 million of the total authorization is utilized, and assuming an average purchase price of $16-17, I arrive at a new FVE of $26, about an 8% increase.
Of course, this is probably a conservative estimate, but seems eminently achievable. What I can't calculate at this point is the effect of buybacks on short interest: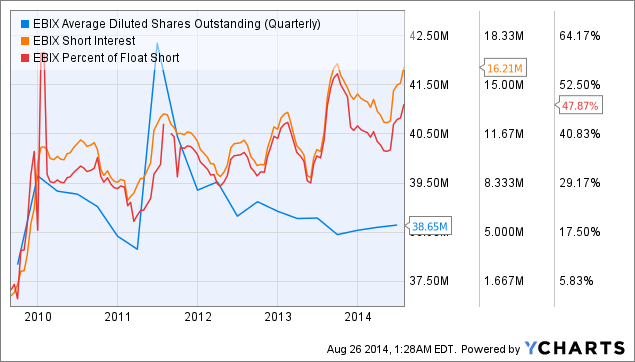 EBIX Average Diluted Shares Outstanding (Quarterly) data by YCharts
But with an increase in fair value estimate, continued strength in earnings growth, and a reduction in overall float, it shouldn't take a lot of imagination to envision continued strength for Ebix stock in the coming quarters. I remain long Ebix, and will likely add more shares after prices have consolidated a bit more.
Disclosure: The author is long EBIX.
The author wrote this article themselves, and it expresses their own opinions. The author is not receiving compensation for it (other than from Seeking Alpha). The author has no business relationship with any company whose stock is mentioned in this article.
Additional disclosure: General Disclaimer: This article provides opinions and information, but does not contain recommendations or personal investment advice to any specific person for any particular purpose. The author is not a professional financial adviser. Do your own research or obtain suitable personal advice. You are responsible for your own investment decisions.