When we first highlighted Cinemark Holdings (NYSE:CNK) last year, it appeared that the market was fundamentally misunderstanding the movie theatre operator. Since we first profiled Cinemark, it's been a rocky ride. Shares are still up 11% over that time, thanks to a multi-month rally this year; however, its return has underperformed the market.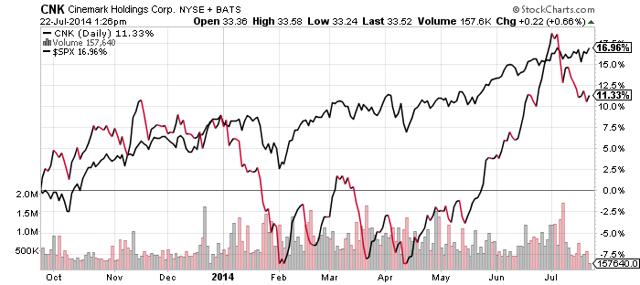 We continue to stand by the thesis that "Mr. Market misunderstands Cinemark, in that it believes the cinema industry is 'dying'." And while this might be true in the U.S., to the extent that the market is somewhat saturated, the Latin American market could prove to be a growth avenue.
Solid results of late, but wasn't enough?
Q1 2014 marked a record quarter in sales, with Cinemark bringing in $602 million in revenues. The company has been seeing positive trends in the U.S, but weak international results.
Weak attendance of late has been pressuring the international business. And while the U.S. has been holding up nicely, margins for that segment have been compressing.
Last quarter, EBITDA was up 10.6% year-over-year, with domestic EBITDA up 16.8% and international EBITDA down 3.2%. Domestic EBITDA margin compressed 90 basis points. But adjusting for the sale of Mexico and on a constant currency basis, international revenues were up 16%.
After the results, the shares rallied nicely. However, it wasn't enough to make up for the weakness the company saw at the beginning of the year. There still might be weakness in Latin America attendance and currency headwinds that pressure the company for the rest of the year. These are legit fears, but can new initiatives cancel out any margin pressure and weak Latin American revenues?
The big initiatives
Cinemark has a couple of new theatre formats that should help boost interest and attendance going forward. But they are likely long-term additives to revenues and earnings. Cinemark has been in Latin America for nearly two decades, and it's looking to further diffuse across the region. In particular, it's looking at some of the smaller Brazilian markets. The number of screens per person in Brazil pales in comparison to the U.S., where there's one screen for every 9,100 people. But in Brazil, there's one screen for every 77,000 people.
The beauty of the Latin American market is that Cinemark can "double dip" to some degree. While the popular U.S. films such as Spiderman and The Hunger Games perform well there, so do Portuguese and Brazilian films. And these foreign film producers tend to plan around the big U.S. film releases, ultimately allowing the theater industry to perform well all year round.
As far as some near-term items that might work in Cinemark's favor, its addition of beer/alcohol to certain theaters is a big positive and higher-margin item. Its movie bistro (dinner and a movie) concept has also been well-received. This includes offering full meals and luxury seating in theaters. Ideally, Cinemark also got a revenue boost from showing the World Cup in its theatres in Brazil and across Latin America.
This type of innovation is really a requirement in today's increasing level of home content offerings, including the likes of Netflix and HBO GO. Most notably, DreamWorks' CEO, Jeffrey Katzenberg, sent waves across the movie industry at the Milken Global Conference. He noted that the future of movies was not in the theater. Rather, he sees movies playing in theaters for a short time for $15 per person, then running on TV for $5 and smartphones for $2.
Upside target moved to $35.50
Cinemark has been an underperforming theater operator year-to-date. However, it still looks to be one of the most compelling investments in the space.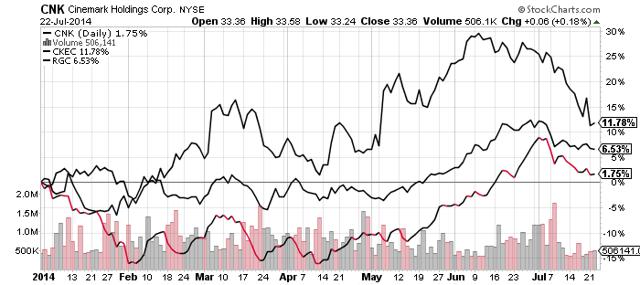 The beauty of Cinemark is that it's not necessarily a value play, but a growth story. This leads many investors to overlook the company. On the surface, it trades right in line with its top peer, Regal. However, in coupling its growth expectations with its valuation, it's a compelling growth at a reasonable price play. Cinemark's PEG ratio is right at 1.0, compared to Regal's 1.4 and Carmike's 1.9.

Digging a bit deeper, Cinemark has superior margins than its other peers. Its EBITDA margin is 2.5 percentage points higher than Regal, and its profit margin is 5.5% (TTM), compared to Regal's 4.3% and Carmike's 1.3%.
At the time of our last article, we noted that Cinemark should be trading more in line with Regal when it comes its North American operations, but that a premium multiple was warranted on its international business. With Regal, you have a U.S.-focused cinema operator, while Cinemark is tapping higher-growth emerging markets.
Given the long-term growth prospects on the lines of Brazil and other Latin American companies, we stand by this; however, we note that the near-term international business could remain pressured.
Thus, dialing the international EV/EBITDA multiple to 10.5x, and keeping the North American EV/EBITDA multiple in line with Regal, currently at 8.5x. That yields a blended multiple of 9.1x. Based on next year's EBITDA expectations, the upside is to $35.50.
Bottom line
With its $1.00 dividend yield, Cinemark is a total return opportunity of 10% for the next 12 months. Although, its beta is only 0.7. That type of return isn't all that appealing. Cinemark's net debt stands at $1.5 billion (or 40% of its market value), and its 3% dividend yield only provides modest downside.
Its current payout is over 70% of earnings, and Cinemark has only upped its quarterly payment twice in the last six years. We'll reevaluate the situation when the international segment starts to show signs of life.
Disclosure: The author has no positions in any stocks mentioned, and no plans to initiate any positions within the next 72 hours.
The author wrote this article themselves, and it expresses their own opinions. The author is not receiving compensation for it (other than from Seeking Alpha). The author has no business relationship with any company whose stock is mentioned in this article.