Originally published on Jul 24, 2014
Wow, palladium, what a ride.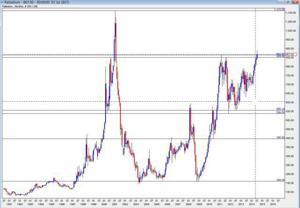 Back in 1992, it priced just $78 per ounce. Then, in early 2000, a massive spike went up to $1,100 per ounce... only to fall back to the low $150-area. And this is where it was in post-crash 2009.
But the spectacular bull rally returned, and earlier this month, it saw a 13-year high of $889.50 per ounce.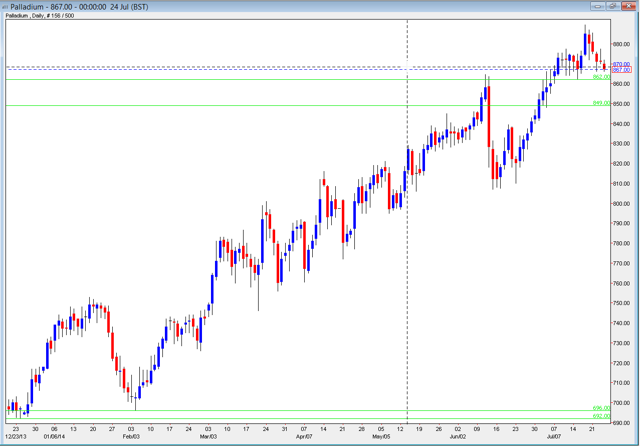 This year alone the metal climbed more than 25 percent, trough to peak.
But several analysts are saying that it is looking a bit overcooked at the moment. And in fact, the bull seems to have turned - short term, anyway. It is now on course for its fifth consecutive down day - its longest run of losses since late January.
It would be far too early to declare the bull speared, however. All the market has seen so far is a $20 correction, a fall of less than two percent.
And the fundamentals remain strong.
South Africa and Russia, the two top suppliers, have major question marks over future production - in the case of South Africa, this is due to strikes, and in Russia due to potential sanctions.
But even with supplies from these locations stable, long term demand trends far outstrip the potential of new deposit discoveries to keep track.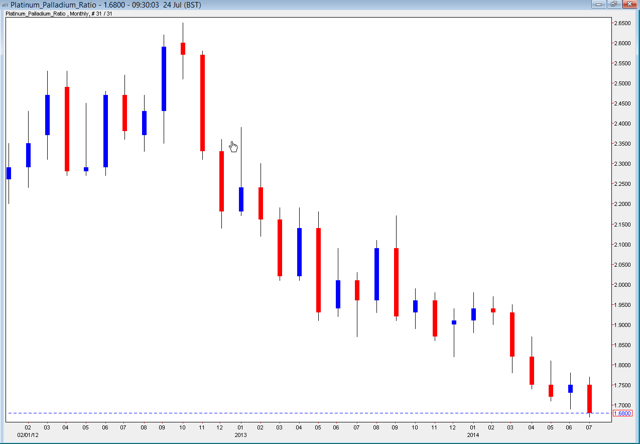 The one question that remains is at what level the metal, which has outperformed better-known cousin platinum - becomes too expensive that reverse substitution starts to occur in the petroleum autocat sector.
The platinum palladium ratio is currently at 1.68 ounces of palladium for an ounce of platinum, a whisker above all-time lows on FastMarkets charts.
Disclosure: The author has no positions in any stocks mentioned, and no plans to initiate any positions within the next 72 hours.
Editor's Note: This article discusses one or more securities that do not trade on a major U.S. exchange. Please be aware of the risks associated with these stocks.