On a price-to-book basis, offshore drillers are cheap. Indeed, as the chart below shows, the vast majority of the industry is now trading at a P/B ratio of less than one, or below their liquidation value.
| | |
| --- | --- |
| Company | P/B |
| Transocean Ltd. (NYSE:RIG) | 0.8 |
| Ensco plc (NYSE:ESV) | 1.0 |
| Noble Corp. (NYSE:NE) | 0.8 |
| Diamond Offshore Drilling, Inc. (NYSE: DO) | 1.3 |
| Rowan Companies plc (NYSE: RDC) | 0.8 |
| Atwood Oceanics, Inc. (NYSE: ATW) | 1.3 |
| Ocean Rig UDW Inc. (NYSE: ORIG) | 0.8 |
| Pacific Drilling S.A. (NYSE: PACD) | 0.9 |
Source: Finviz.com
However, while these drillers may seem attractively priced, the possibility of asset write-downs, which will erase shareholder equity and reduce book value is now a very real threat. Unfortunately, there is now a risk that these drillers could become a value trap as book values fall.
These write-downs will occur as a result of the deteriorating offshore drilling market, which I have covered here.
Writing off mistakes
Ensco has already started to book write downs on the value of its rigs. During the second quarter the company took impairments on four rigs, ENSCO 5000, 5001, 5002 and 6000. These charges totaled $546 million before tax.
The write-downs formed part of Ensco's ongoing review of the fleet and assessment of market conditions. Additionally, the company determined that 4 other rigs, ENSCO DS-1 and DS-2 and ENSCO 5004 and 5005, had carrying values that exceeded non-discounted future cash flow projections. As a result, Ensco booked a $992 million impairment charge for these rigs. You could call this conservative accounting, or there is something more concerning going on here and could be part of a wider industry change. Source.
In total, Ensco took impairment charges totaling $4.27 per share during the second quarter. As the chart below shows, these write-downs triggered a sharp downturn in tangible book value, the first such drop in ten years. Book value per share dropped from $55.3, to $49.4 between the end of the second and third quarters.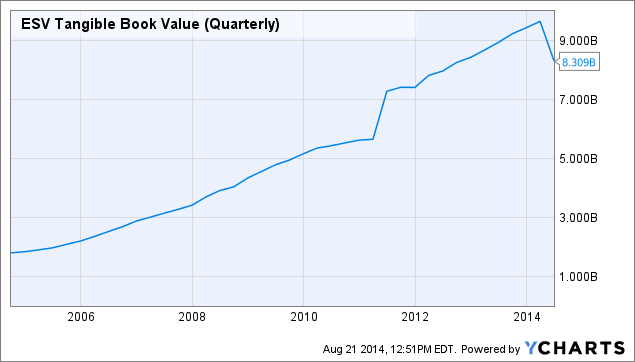 ESV Tangible Book Value (Quarterly) data by YCharts
There's no doubt that these write-downs were a surprise. Even analysts, who have been broadly negative on the outlook for the offshore drilling sector, commented that:
"I was just, I guess, surprised by the amount of the write-downs and the number of rigs involved…"
Unfortunately, Ensco didn't reveal the value the rigs were written down to, as they are currently held for sale but we should find out soon. It'll be interesting to see what kind of figures the company reports when the sale is complete.
Only some units
As you can imagine, the rigs written down by Ensco were old units. The units ENSCO 5000, 5001 and 5002 were built in the mid-70s and 6000 was built in the mid-80s. The 6000 is currently cold stacked having been unable to find a contract. 5001 comes off contract early 2015 and 5002 as well as 5000 are warm stacked.
The write-downs on the Ensco 5004 and 5005 units were made for similar reasons, the older units will struggle to generate sizable cash flows going forward.
However, what's surprising is the write-down/impairment of the DS-1 and DS-2, two drillships currently on contract with Total (NYSE:TOT), offshore Angola. Delivered during 1999, these units are not as old as the jackups and are UDW capable, showing how quickly the industry is transitioning to sixth and seventh gen equipment.
DS-1 is currently contracted on a day rate in the high $350s and DS-2 in the high $430s, it seems as if management believes that this drillships are not going to find contracts at better rates any time soon.
This may be something do with the number of deep water drilling rigs that came up for contract renewal this year. Back during March it was estimated that around 47 ultradeep water drilling rigs were coming up for contract renewal during this year and next. Additionally, at the same time demand is falling, as seen in my previous article here. These two factors have given producers the upper hand and allows them to be selective when choosing rigs.
Becoming selective
Unfortunately, Diamond Offshore found out the hard way how selective producers are becoming, after the cancellation of the Ocean Vanguard contract between Diamond Offshore and Statoil (NYSE:STO).
The Vanguard is a third-generation midwater built in 1982. Statoil's decision would be consistent with analyst expectations that sixth- and seventh-generation rigs are increasingly desired over standard-spec rigs. It's likely that Statoil will have to pay a cancellation fee to Diamond following this cancellation, so the company obviously believes that it can get a better deal, and save money elsewhere.
(It has been rumored that the Ocean Vanguard contract was cancelled due to the fact that the rigs safety systems, were not compliant with Norwegian regulations -- a common feature of older rigs. Source.)
Diamond has one of the oldest rig fleets in the business and issues regarding out-of-date equipment are likely to be prominent going forward. Write-downs and cold stacking will follow.
As shown in the chart below, Diamond is yet to take any significant write downs on the value of its assets, the falling shareholder equity has mainly been due to rising liabilities.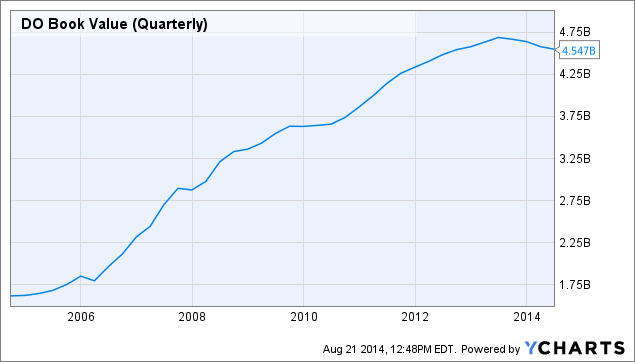 DO Book Value (Quarterly) data by YCharts
For Diamond this could be a real problem as the company has seven shallow water jackups, some of which are over 30 years old. With the jackup market in its current state and the demand for old drilling units waning, Diamond might be forced to take write-downs, or cold stack the majority of its old, shallow water fleet.
It's is quite hard to try and put a figure on exactly how much these write-downs will cost any one company. As mentioned above, Ensco is keeping quiet about how much it wrote down the assets and no other mainstream driller has really provided much info on the matter.
However, analysts at Barclays do provide some guidance on the matter. The investment bank uses the examples of post 2008 and post Macondo asset value declines to try and put a ball park figure on asset value declines. Note: this statement was issued in April so some figures may be out of date.
"…We think near-term risk is still skewed to the downside as rate momentum is heading down and there have been few awards announced recently. Further, we note that in the event conditions deteriorate further, we would expect underlying asset values to decline further (NAVs declined by over 16% following the financial crisis and by 8% after Macondo), suggesting there could be more than 40% downside before ultimate NAV support takes hold…"
I would ignore the part about 40% declines. Still, it is reasonable to suggest a decline in book value per share of 8% to 16% over the next few years as older, unwanted drilling assets are written down.
That being said, many drillers have newbuilds on the way, which should boost NAV values, or mitigate some older unit NAV declines. Deutsche Banks' analysts sum things up:
"…The current re-capitalization of the fleet means that any older generation rig that goes out of service for an extended period of time is unlikely to return. Owners of these rigs will therefore seek to maximize cash flow and we would not be surprised to see these rigs eventually reach cash-breakeven before ultimately leaving the market for good. The steady de-consolidation of the offshore drilling market in recent years is likely to exacerbate this trend. Until we see this dynamic play out/ rates on newbuild rigs drop to levels where new construction is no longer incentivized, we fear the worst is still to come…"
Most at risk
The newly created Paragon Offshore PLC (PGN) is one of the drillers that is most at risk of write-downs. Using this chart supplied by Seadrill, issued before the Paragon split, Noble rivaled Ensco for the largest jackup fleet with the oldest units and least number of units with UDW capability, a toxic trio of underinvestment.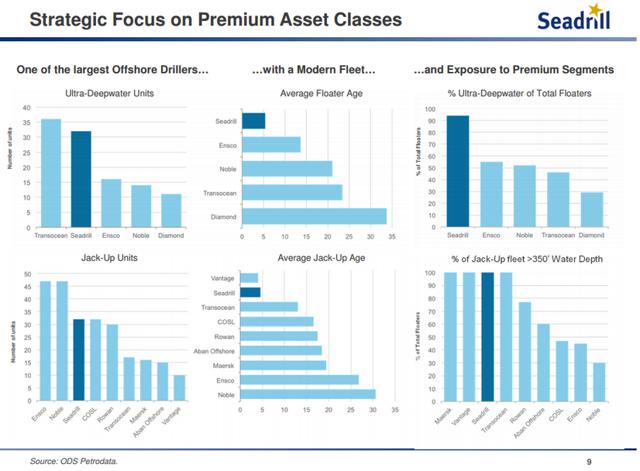 Now, after the spin, it really does look as if Noble is the better option, having spun off all of its low-spec assets into Paragon.
(click to enlarge)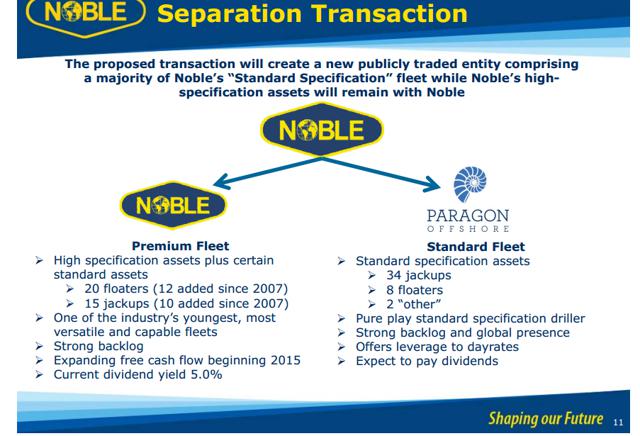 As seen in Noble's Global Hunter Securities GHS 100 Energy Conference Presentation given earlier this year.
As Noble has essentially spun off all of its low-spec, old fleet into Paragon, it is reasonable to assume that like Ensco, Paragon will announce write-downs at some point in the near future.
The bottom line
In conclusion, offshore drillers may seem cheap right now, on a price to book basis but there is now a chance that they could be susceptible to hefty write-downs.
Ensco has already started to write-down the value of its older units, which has had a material effect on the company's book value and shareholder equity. It's possible that Ensco is using conservative accounting methods, so write-downs may not affect other drillers to the same extent. Nevertheless, investors should not be surprised if drillers start to reevaluate the value of their fleets.
Disclosure: The author is long RDC.
The author wrote this article themselves, and it expresses their own opinions. The author is not receiving compensation for it (other than from Seeking Alpha). The author has no business relationship with any company whose stock is mentioned in this article.