Short sellers of Gilead Sciences (NASDAQ:GILD) must be starting to sweat a bit as the stock continues its impressive trajectory: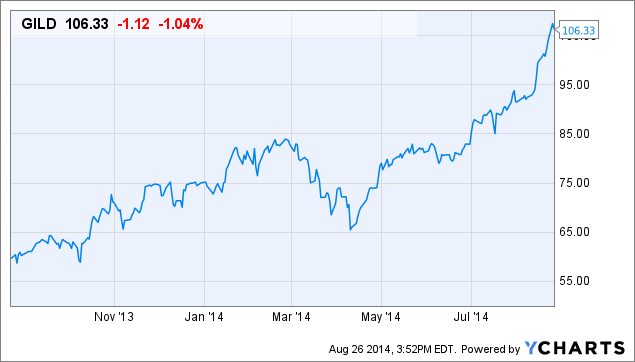 Right along with the rising share price, the shorts have been piling on: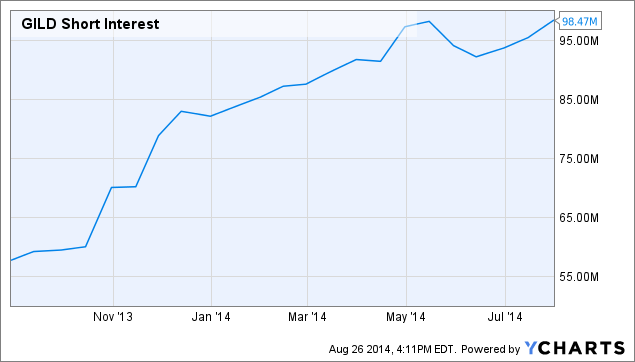 GILD Short Interest data by YCharts
However, the short interest figures just came out for the first half of August, and they, in fact, show that about 8 million shares were covered in that time period. YCharts is not updated yet, but imagine the next point on the graph (August 15) to be at 90 million shares.
Next, I will zoom in on the August price chart and include share volume: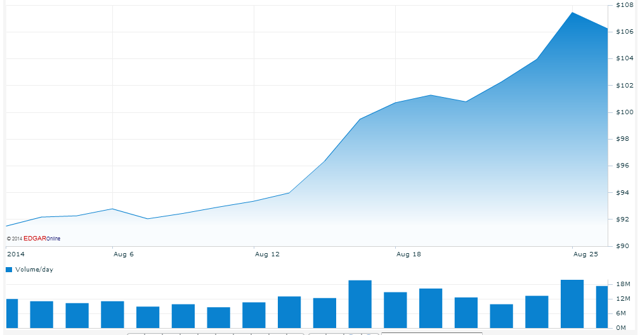 (Source: nasdaq.com)
The average daily volume was just under 12.2 million shares for the past 50 days. We can see from the chart above that trading was mostly over that mark recently, and I suspect that we saw some additional short covering take place as the price rose sharply.
Gilead seems like a poor choice for a short position, particularly with so many other stocks to choose from in this overheated market. Gilead is expected to earn around $8 per share in 2014 and $9.35 in 2015 (Source: Yahoo Finance), and therefore, is selling at a market discount forward P/E of about 13.
This, for the company that has launched the most successful drug in the history of our planet. Perhaps I am biased, as I am not only long Gilead, but it is the largest holding in my portfolio. But it still surprises me that so many bets against the stock exist. There are better targets out there.
Below are some reasons why I think there is so much short interest on Gilead.
The Short Mentality
In a previous article about Gilead, I noted some reasons why there are Gilead bears. First of all, there was the congressional response to the price of Sovaldi. On that topic, I previously wrote:
Essentially, the government has its hands tied. Policy may very well change in the future, but it is unlikely to affect Sovaldi in the present.
And I went on to say:
Additionally, and fortunately for GILD shareholders, politicians often have the attention span of small children. Every day that goes by without regulation means a smaller chance of any regulation being passed that will affect Sovaldi. The US government rarely moves quickly and I believe the odds of intervention in this case to be extremely small.
As I predicted, it seems that the US government will not be taking any steps to force Sovaldi price cuts. In fact, the day after I wrote that article about Gilead, Analyst Brian Abrahams from Wells Fargo agreed with my position on government action, and noted that he did not think legislative action would be forthcoming either.
Perhaps another reason people have for shorting Gilead is that they think the company is a "one-trick pony". Again, I discussed this in my previous article, so I won't go into much detail. Suffice it to say that the company has at least two more drugs that appear to be headed for blockbuster status in Stribild and Zydelig.
Conclusion
Gilead closed at $99.49 per share on August 15th - the last day for which short interest figures are available. Since then, the stock has risen quickly to $106.28 per share.
I believe that we saw more short covering in the six trading sessions since August 15th. More to the point, however, is that I think we will see more covering in the days ahead. As Sovaldi pricing concerns fade and it becomes more apparent that Gilead has an impressive and broad lineup of products - along with a promising pipeline - the shorts may continue to exit their losing positions.
I continue to consider GILD a buy.
Disclosure: The author is long GILD.
The author wrote this article themselves, and it expresses their own opinions. The author is not receiving compensation for it (other than from Seeking Alpha). The author has no business relationship with any company whose stock is mentioned in this article.