After news broke on Aug. 26 that Burger King Worldwide (BKW) would be acquiring Canada-based Tim Hortons (THI), shares of the acquiree shot up over 8% for the day. This comes the day after the beverage and food giant saw its shares soar 19% following speculation that a deal was on the horizon. To make things even more interesting, one of the special twists to the story is the fact that, of the $11.4 billion deal, $3 billion of it will come from Warren Buffett's Berkshire Hathaway (NYSE:BRK.A)(NYSE:BRK.B), an agreement that will grant Buffett's company preferred equity in the combined entity.
This deal will create a big, diversified business
If Burger King can cement the merger, the fallout for the quick service restaurant industry could be significant. According to the 8-K management filed that gives the details of the transaction, the combined enterprise is expected to have system-wide sales of around $22.7 billion and will have more than 18,000 locations. As we can see in the picture below, this deal will propel Burger King's system-wide revenue above the $18.1 billion estimated for Subway and will place it in third place globally behind Yum! Brands (NYSE:YUM), which brought in $43 billion during 2013 and behind the $89.1 billion boasted by fast food giant McDonald's (NYSE:MCD).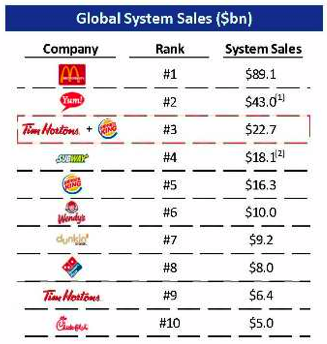 As impressive as this seems, investors should probably look at things from a different perspective. Currently, Burger King's goal is to make itself look as large and profitable as possible. Nobody can blame the burger joint for this but investors should consider that much of this revenue and store count shouldn't really matter to its shareholders.
According to each company's most recent annual report, Burger King's revenue totaled just $1.15 billion while Tim Hortons' revenue hit $3.26 billion. This is far removed from the $22.7 billion in system-wide sales management reported and can be chalked up to the fact that most of each business's restaurants aren't company-owned but are, instead, operated by franchisees. In 2013, for instance, Burger King owned just 52 locations of its 13,667 locations, with sales from those company-owned restaurants hitting $222.7 million ($4.28 million apiece).
Meanwhile, its 13,615 franchised outfits raked in revenue for the parent company of $923.6 million. This means that for each franchised restaurant, Burger King reported revenue per location of just $67,837 (including franchise royalties and property revenue). This is because, unlike in the case of company-operated stores, Burger King only reports a small piece off the top of the bulk of its system-wide sales since it's essentially licensing out its name to individual operators.
| | | | |
| --- | --- | --- | --- |
| | Company-Owned | Franchise-Owned | Total |
| Locations | 52 | 13,615 | 13,667 |
| Revenue | $222.7 million | $923.6 million | $1.15 billion |
| Revenue/Location | $4.28 million | $67,837 | |
Tim Hortons was a little more interesting. For the year, the business reported company-wide sales of $2.27 billion from 16 restaurants and $989.6 million stemming from its 4,469 franchised locations. However, most of the sales in the $2.27 billion figure come from its product distribution to its franchisees which, in 2013, came out to $1.87 billion, while a further $369.9 million can be chalked up to variable interest entities (a.k.a. VIEs).
| | | | | | |
| --- | --- | --- | --- | --- | --- |
| | Company-Owned | Franchised | Dist. | VIE | Total |
| Locations | 16 | 4,469 | | | 4,485 |
| Revenue | $23.7 million | $989.6 million | $1.87 billion | $369.9 million | $3.26 billion |
| Rev/Location | $1.48 million | $221,437 | | | |
The latter source of revenue exists from restaurants where a franchisee has arranged a special relationship with Tim Hortons whereby the former operates the location but the assets are owned by the parent company. In fact, only $23.7 million (or $1.48 million per location) can be attributed to Tim Hortons' company-owned restaurants after removing these factors. This leaves roughly $221,437 in sales coming from its franchised outfits that the business does not have a VIE-type relationship with.
After the deal is completed (with 3G capital owning around 70% of Burger King's stock, a shareholder approval on its end isn't required), then the combined company will have a market cap of $22.8 billion assuming Burger King's prior closing price and Tim Hortons' $11.4 billion valuation. With this hefty price tag, we see that the combined company will be trading at around 5.2 times revenue and 34.6 times profits. McDonald's, in contrast, can be purchased for 3.3 times revenue and 16.5 times profits while Yum! can be acquired at 2.5 times revenue and roughly 29.4 times its net income.
Financing is tricky
Aside from the fact that the business isn't as large as investors might believe and the fact that the combined entity can't be bought for cheap, there's another interesting caveat shareholders should keep an eye out on; financing. According to its press release, Warren Buffett's Berkshire Hathaway will be financing $3 billion of the transaction through a preferred equity stake in the business. Unfortunately, details have not been made public, but the transaction will likely pay a pretty penny to Buffett's company in terms of dividend distribution and could give him the opportunity for share conversion down the road.
In addition to Buffett's stake, Burger King will take on $9.5 billion in debt led by JP Morgan (NYSE:JPM) and Wells Fargo (NYSE:WFC). Just as in the case of Buffett's involvement, terms of the debt financing are scarce, but given the fact that $6.75 billion of the debt is in the form of a senior secured term loan and $500 million will take the form of a senior secured revolving credit facility, most of the interest shouldn't be terribly high (note that senior secured debt is debt that is protected by specific assets that are being used as collateral so the terms of these types of agreements tend to be more lax).
| | | | |
| --- | --- | --- | --- |
| (billions) | Burger King | Tim Hortons | Combined Co. |
| Current Debt | $2.93 | $1.42 | $4.35 |
| Senior Secured Term Loan | | | $6.75 |
| Senior Secured Credit Fac. | | | $0.50 |
| Senior Secured Second-Lien | | | $2.25 |
| Total | | | $13.85 |
The remaining $2.25 billion will come in the form of a senior secured second-lien note which, since other debt holds first dibs on them with the remainder of the value going to the lender in the event of insolvency, will have a higher interest rate than the rest of the financing.
The only major dark side to this transaction, it seems, is that the combined business will already be heavily indebted. According to their most recent quarter reports, Burger King has long term debt and capital lease obligations of $2.93 billion, while Tim Hortons is burdened by $1.42 billion for a total indebtedness of $4.35 billion. Add to this the $9.5 billion in debt the business will have $13.85 billion in long-term liabilities, plus whatever payments the business has agreed to send Warren Buffett's way. With free cash flow in 2013 of $655.5 million, the combined business could be hard-pressed to meet its financing demands if the interest rate is more than a couple percent.
Takeaway
Currently, investors (especially those in Tim Hortons shares) seem to be very excited about the transaction. Admittedly, the business will be larger and far more diverse (both geographically and in terms of product mix) than it has ever been, but the deal really isn't as large as the companies make it sound. Furthermore, you have a business that is, by no definition, cheap and that will be loaded with debt. In the long run, this could prove to be a great opportunity for Burger King but with these issues working against it, investors should be cautious and think carefully before they buy.
Disclosure: The author has no positions in any stocks mentioned, and no plans to initiate any positions within the next 72 hours.
The author wrote this article themselves, and it expresses their own opinions. The author is not receiving compensation for it (other than from Seeking Alpha). The author has no business relationship with any company whose stock is mentioned in this article.