This is a series of articles to assess risk for the 26 BDCs that I cover and a follow up to my other "BDC Risk Profile" articles. There are many reasons why assessing risk for BDCs is important, including expected returns, valuations, and the potential loss of capital during an economic downturn or general business cycle. I use "relative risk rankings" in many of my articles for valuation purposes, because I believe BDCs should be measured on projected risk vs. return. This series will take into account new metrics, and I will be adjusting my rankings accordingly, as well as updating my suggested "risk-averse" BDC portfolio.
The following are some of the indicators of risk and portfolio quality that I will be discussing in this series:
General portfolio mix and yield
Portfolio debt-to-EBITDA
Average investment size and portfolio concentration risk
BDC leverage vs. portfolio mix
NAV growth vs. declines
Fair value of investments as a percentage of cost
Dividend coverage and the need to reach for yield
Over the last few months, I have upgraded Apollo Investment (NASDAQ:AINV) due to continued dividend coverage from net investment income ("NII") and its continued growth in first lien senior secured debt in its portfolio, as discussed in my "AINV Articles", where I have upgraded it to a "Buy" after it beating analyst EPS estimates over the last four quarters. Over the last six quarters, AINV has increased the amount of first and second lien secured debt from 39% to 60%.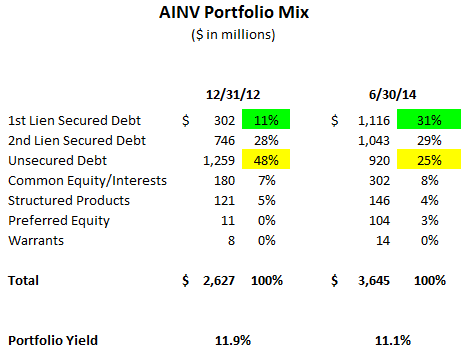 The increase in higher-quality investments has resulted in a lower portfolio yield, but since the company is still covering dividends using mostly recurring income, as discussed in "AINV: BDC Dividend Coverage Part 15", I believe this is the prudent course. On the last earnings call, the CEO mentioned "we recognize that we are likely in the latter part of a robust credit cycle, and therefore remain cautious in our overall approach to credit."
BDCs that are not covering dividends with NII are starting to invest in riskier assets, as discussed in "PSEC: What Comes Next? Part 4". Prospect Capital (NASDAQ:PSEC) was in the process of improving its portfolio, but reversed course in the most recent quarter due to lack of dividend coverage over the last four quarters. PSEC needs to find a way to increase its portfolio yield, and has started to reduce the amount of safer senior secured debt (first and second lien) and is now growing its subordinated debt, and more importantly, its collateralized loan obligation ("CLO") residual interests.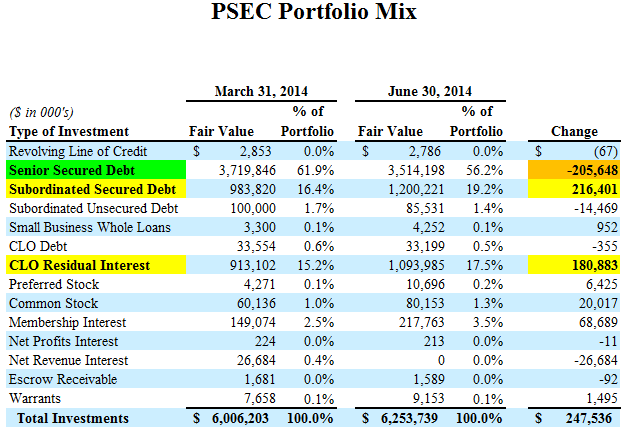 In April 2014, Fitch Ratings affirmed the long-term Issuer Default Rating ("IDR") and secured debt rating of AINV at "BBB", and upgraded the senior unsecured debt rating to "BBB" from "BBB-". These ratings are due to "low leverage, improving asset quality, demonstrated access to capital markets, improvements in core operating performance, maintenance of strong dividend coverage, and solid access to deal flow and investment resources of the asset manager, Apollo Investment Management, L.P. (NYSEMKT:AIM), an affiliate of Apollo Global Management, LLC (NYSE:AGM)." However, Fitch noted the one of rating constraints was AINV's investment concentration in its portfolio company Merx Aviation ("MERX").
Currently, the top ten portfolio investments for AINV account for 36% of the portfolio, including Merx at around 13.5%.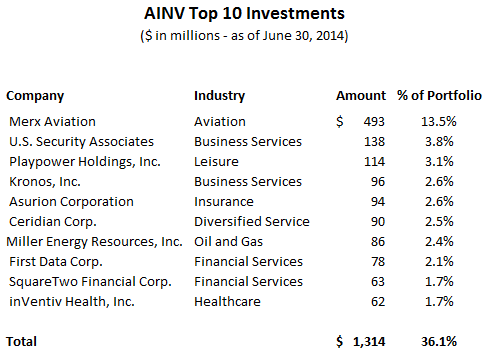 Merx is part of AINV's specialized vertical approach to retaining higher yields primarily related to acquiring and leasing commercial aircraft to airlines. AINV considers Merx as an operating company, and therefore, is not consolidated in accordance with investment company accounting. If it was determined that Merx was to be consolidated, the likely impact would be to reclassify interest income attributable to Merx to dividend income for the three months ended June 30, 2014. Additionally, on the schedule of investments, the investment in Merx would likely be aggregated into one line item as an equity investment, instead of currently being classified as equity and debt investments.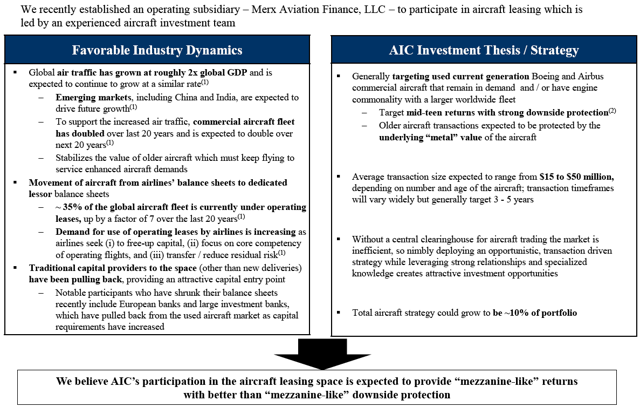 On the latest call, management discussed its latest investments in Merx, as well as its other specialty vertical of oil and gas, along with diversification related to risk-adjusted returns: "Moving to aviation, we invested $65 million in Merx Aviation to complete 2 transactions. Merx purchased its first cargo plane and also completed a direct sale leaseback with an airline on a new delivery. At the end of June, aviation was 13.5% of the portfolio, up from 12.2% last quarter. Our overall allocation target for this vertical is 15% to 20%. During the quarter, we invested $126 million in our oil and gas vertical. Over 1/2 this amount was in existing portfolio companies. We also invested $50 million in 2 new oil and gas companies, Deep Gulf Energy II and Extraction Oil and Gas. At the end of June, oil and gas was 13.1% of the portfolio, up from 11.8% last quarter. While these 2 industries represent 26.6% of the total portfolio on a combined basis, there's a significant diversification within each vertical. Our oil and gas portfolio is well-diversified by geography and borrower, and our aviation portfolio is well-diversified by aircraft type and lessee. Further, we believe that these verticals offer strong risk-adjusted returns with relatively good downside protection."
Side-by-Side Comparison:
I will be updating the following table to include the other BDCs, as well as new risk-related metrics throughout this series. The goal of using a side-by-side comparison is to show an "apples to apples" view of each BDC, in an attempt to clarify my revised relative risk rankings. I have included the portfolio mix information for Solar Senior Capital (NASDAQ:SUNS), and will fill in the other details later in the series.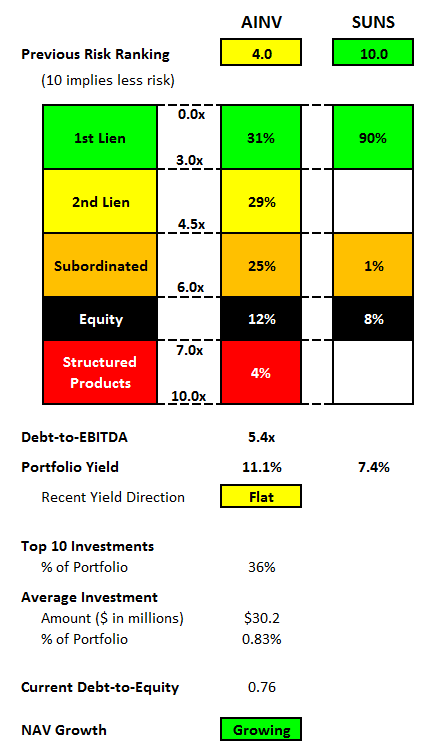 For more information about this series, please read "BDC Risk Profiles: An Introduction", and eventually, I will be adding my "vintage analysis", as well as including information about BDCs with "recession-resistant investments". For updates to this series and links to previous risk-related articles on Seeking Alpha, please check my "BDC Risk Profiles" page, as well as the "BDC Research Page" that I will continue to update, as well as my "Index to BDC Articles" for more information on specific BDCs.
Disclosure: The author has no positions in any stocks mentioned, and no plans to initiate any positions within the next 72 hours.
The author wrote this article themselves, and it expresses their own opinions. The author is not receiving compensation for it (other than from Seeking Alpha). The author has no business relationship with any company whose stock is mentioned in this article.