US markets are once again at all-time highs and the S&P 500 closed above 2,000 yesterday for the first time ever. The market has built up some decent momentum and we continue to be bullish, as investors have not allowed to overextend themselves on the way up and to be smart buyers on pullbacks in the 3-5% range. Also of importance is that over the past two years investors have seen the leadership in the market change, which simply highlights the strength of this bull market. It is not hard to have faith in a bull market that has had new leadership on each leg higher and with industrials and energy looking poised to rebound we see further upside down the road.
Chart of the Day:
We continue to wait for the Russell 2000 to catch the eye of investors, but right now it seems that investors are still caught up in a 'nifty fifty' type stocks, which is pushing the S&P 500 to fresh highs while the Russell 2000 still plays catch-up. The good news for those also looking at the small-caps as an area which could outperform is that over the past month there has been slight outperformance, but nothing significant.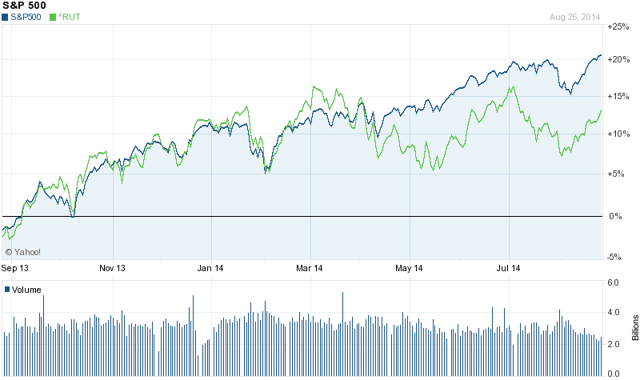 Click to enlarge
Source: Yahoo Finance
We have economic news today, and it is as follows:
MBA Mortgage Index (7:00 a.m. EST): Est.: N/A Act: 2.8%
Crude Inventories (10:30 a.m. EST): Est.: N/A
The Asian markets are higher today:
All Ordinaries - up 0.24%
Shanghai Composite - up 0.11%
Nikkei 225 - up 0.09%
NZSE 50 - up 0.93%
Seoul Composite - up 0.33%
In Europe, the markets are lower this morning:
CAC 40 - down 0.11%
DAX - down 0.12%
FTSE 100 - up 0.06%
OSE - down 0.02%
Cable & Telecom M&A
With the New York Post reporting that the US Department of Justice, or DOJ, had reached a preliminary deal with AT&T (NYSE:T) regarding their purchase of the country's largest satellite TV provider, DirecTV (DTV), the focus now shifts towards the Federal Communications Commission. The FCC still has the public comment process open and we already know that Charlie Ergen's Dish Network (NASDAQ:DISH) has petitioned the FCC regarding the Comcast (NASDAQ:CMCSA) (CMCSK) and Time Warner Cable (TWC) merger, so there are competitors lining up who hope to convince the government to block these super mergers.
The bad news for the service providers who are not already involved in M&A is that they could very well wind up being second tier providers, as the government appears to have created a framework that would allow the currently proposed deals to pass the various regulatory/antitrust tests. As we look at the current situation, and assuming that the New York Post's story is correct, it would appear that the mega-mergers are poised to pass; which means investors might find opportunity in buying shares of Time Warner Cable and DirecTV to bet that the deals close.
While it seems highly unlikely that Dish is able to pick up assets as a result of the AT&T-DirecTV deal, we do think that a company like Charter Communications (NASDAQ:CHTR) could be able to pick up a few territories from Comcast as the larger cable provider looks to appease regulators.
More Interest In Tex-Mex Concepts
We recently discussed how Yum! Brands' (NYSE:YUM) Taco Bell chain had invested in a new fast-casual concept with one store in California. It now seems that other larger chains are looking to the Tex-Mex concepts for future growth with news that Buffalo Wild Wings (NASDAQ:BWLD) has purchased a nine store chain with locations in the US West and Midwest. The small chain, called Rusty Taco, is based in Dallas but also has locations in Colorado and Minnesota.
These types of restaurants have high margins and appeal to large segments of the population across the country. Buffalo Wild Wings appears to be building a portfolio in order to provide growth moving forward, and there is plenty of room nationwide to roll out more fast-casual concepts focusing on Mexican and Tex-Mex food.
Product Cycle Rumors
Many who follow Apple (NASDAQ:AAPL) closely have been talking about this current product cycle possibly being the best ever. The experts are talking about the next generation iPhone being the most innovative in years and a new market in wearables potentially opening up for the company. The latest rumors we have seen this week center around the iPad, a product many have been worrying about recently as sales figures have been light, and changes that Apple is making to the product.
Apple continues to rally ahead of new product releases, and should continue to be a solid play so long as the iPhone does not disappoint with fewer improvements than many experts expect.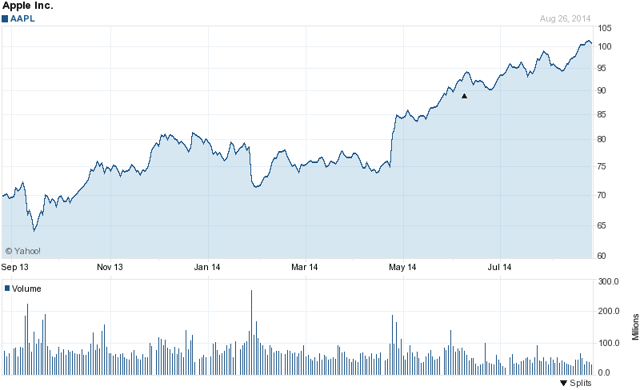 Click to enlarge
Source: Yahoo Finance
Bloomberg is now reporting (see article here) that Apple is looking to produce an iPad with a 12.9 inch screen, the largest ever for the iPad line, at the same time the company is also looking to increase the size of its iPhones. The speculation surrounding recent weakness in the iPad line and competitors catching up in the smartphone market have mainly focused on the smaller screens on Apple's products. Consumers have been gravitating towards tablets and smartphones with larger screens, with market research by certain brokerages indicating that Apple has seen interest in its tablets fall as consumers instead look to smartphones with larger screens - which Apple does not make currently.
Disclosure: The author has no positions in any stocks mentioned, and no plans to initiate any positions within the next 72 hours.
The author wrote this article themselves, and it expresses their own opinions. The author is not receiving compensation for it (other than from Seeking Alpha). The author has no business relationship with any company whose stock is mentioned in this article.