Autohome (NYSE:ATHM) publishes independent data, customer reviews and advertisements on autos through a series of websites the company owns and operates in China. The company was founded in 2005 and produced its first profit in 2008.
The company believes it has the largest and most active online auto community in China. Autohome reported 8.3 million registered users as of the end of 2013 according to their company's most recent SEC 20-F report.
The company has been posting impressive quarterly sales growth.
| | | | | |
| --- | --- | --- | --- | --- |
| Sales Growth Last 4 Qtrs | Latest Qtr. | 2-Qs Back | 3-Qs Back | 4-Qs Back |
| ATHM | 70% | 67% | 79% | 100% |
Source - Marketsmith
More important, the company has been profitable since 2008 and has delivered the following quarterly and annual growth rates:
| | | | | |
| --- | --- | --- | --- | --- |
| EPS Growth Last 4 Qtrs | Latest Qtr. | 2-Qs Back | 3-Qs Back | 4-Qs Back |
| ATHM | 55% | 0% | 171% | 0% |
Source - Marketsmith
| | | | |
| --- | --- | --- | --- |
| Ann. EPS Growth Last 3 Years | 2013 | 2012 | 2011 |
| ATHM | 66% | 60% | 91% |
Source - Marketsmith
The Market
According to ICBC International, the auto market in China is largely unpenetrated with less than 100 cars owned per 1,000 residents, well below levels in the U.S. and Europe. Auto ownership in China is approximately 7%, much lower than the U.S. at 79%. When you consider the new car market in China is the world's largest with nearly 22 million vehicles sold last year, versus 15.6 in the U.S., the opportunity for Autohome becomes clear.
75% of Autohome's revenue comes from automakers, 25% from dealers. Revenue from automaker advertisements rose 46% in Q2. The dealer side of the business appears to be gaining traction. During the period the company delivered an 86% gain in dealer subscribers to 13,693, up from 7,351, and revenue growth of 110% from this customer segment. iResearch estimates only 11% of total auto spending in China last year was online; steadily growing from 3.3% in 2005.
Autohome delivers information on both new and used cars although regulations and taxes hold back the used car market.
New Partnership
The company announced a new partnership with Baidu (NASDAQ:BIDU) which launched on July 1st and is off to a good start delivering an average of 7.4 million unique PC visitors per day during the first 4 weeks. The initial term is for one year and the agreement is expected to cause a dip in Autohome's future gross margin due to an increase in sales and marketing for the arrangement.
Autohome Growth Initiatives
The company recently launched a new service "Autohome Mall" to facilitate auto transactions online. The service was tested in April and May with a full launch in July. During the first month Autohome processed 3,000 transactions. The business is expected to take a few years to ramp but is seen as a long-term catalyst.
In addition, Autohome is well on the way to growing subscriptions with auto dealers and much of the growth now coming from second and third-tier cities in China.
Competition
Autohome has several competitors but commands 44% of auto users' time spent, according to iResearch. BitAuto (NYSE:BITA) comes in second with 15%. Several private companies and divisions of Sina (NASDAQ:SINA), Sohu (NASDAQ:SOHU) and Tencent (OTCPK:TCEHY) also compete in the space. BitAuto has delivered a similar set of strong fundamentals.
Here's a look at some of Autohome's fundamentals with an emphasis on earnings.
| | |
| --- | --- |
| 25-Aug-14 | ATHM |
| Current P/E Ratio | 69 |
| Market Cap | $5.7Bil |
| Sales Ttl Last 4 Qtrs | $254.7mil |
| EPS Ttl Last 4 Qtrs | $0.72 |
| Next Year EPS Estimates | $1.06 |
| Next Year EPS Estimates Growth Rate | 74% |
| EPS Growth Rate | 82% |
| Earnings Stability | 14 |
Source - Marketsmith
The stock is a bit pricey based on a P/E of 69 but not stratospheric. While there are many examples of stocks continuing to move higher on extremely high multiples it is usually because they are delivering exceptional growth in sales and earnings. The earnings picture for Autohome looks strong across the board historically, currently and projected. An earnings stability of 14 suggests the company does a reasonably good job managing the bottom line and may be an indication of good financial management by the company.
In addition, other fundamentals are very positive as illustrated in the following data:
| | |
| --- | --- |
|   | ATHM |
| Return on Equity | 21% |
| Debt Level | 0% |
| % R&D | 6.8% |
| Annual Pre-Tax Margin | 48.10% |
| Cash Flow Vs. EPS % Last Year | 53.70% |
Source - Marketsmith
The company delivers very impressive pre-tax margin and cash flow and may further suggest savvy financial and operational management at the company. More important to shareholders, the company is delivering strong value with an return on equity of 21%.
Risk Factors
Beyond all the normal risk factors, Chinese stocks have been a bit of a mixed bag. However, it may be a mistake to throw the baby out with the bath water regarding stocks in the world's second largest economy. Autohome is also a recent IPO.
Institutional sponsorship is a missing link. Fund ownership has fallen to 73 from a high of 123 in the December 2013 quarter. Bitauto also suffers from lackluster institutional support with only 98 fund holding shares. It will be important for Autohome to attract more institutional investors in coming quarters for many investors to become comfortable with the stock.
One of the big challenges and opportunities comes from mobile channel. Advertisers generally spend less on mobile ads. The company continues to roll out new apps to keep mobile users engaged. Analyst Gene Munster of Piper Jaffray expects the current 5% of automaker's online budget spent on mobile to shift rapidly over the next few years. Poor execution in their mobile strategy could be costly.
Conclusion
Autohome made its public trading debut last December and shortly after started a deep base that corrected 45%. The right side developed over the course of just a few weeks which is not ideal but did featured strong volume. The stock recently hit a 52-week high on volume that was 607% higher than the 50-day average. The erratic trading may be indicative of limited institutional support. Look for the trading to mature if the company continues to deliver rapid growth and more institutions come into the stock.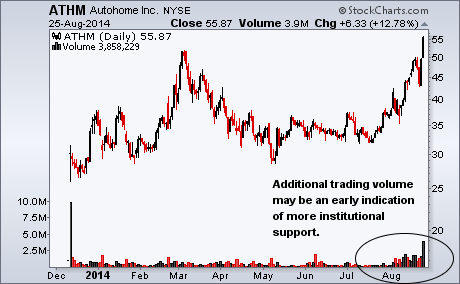 The market opportunity, management execution and growth initiatives all appear to be in place for Autohome to continue its aggressive growth. If the slower earnings growth rate of 35% in 2015 brings the P/E ratio down to 50 (28% decline from the current P/E ratio) Autohome could be on the way to a price of $71.50, a 29% gain from the recent close of $55.87. This is not a price target just an illustration of the relationship between a stocks earnings growth and stock price. If Autohome was able to maintain its current P/E and deliver 2015 earnings of $1.43 the stock could trade as high as $98 a share.
Overall is appears Autohome has most of characteristics an aggressive growth investor would look for in a stock.
No investment recommendations have been made in this article. Investing involves risk including the loss of capital. Conduct your own research before making any investment decision.
Data Definitions
Return on Equity: The amount of net income returned as a percentage of shareholders' equity.
Debt Level: Calculated by dividing debt by shareholders' equity.
Annual Pre-Tax Margin: Calculated by dividing annual operating income by sales.
Cash Flow Vs. EPS % Last Year: Percentage difference between operating cash flow per share vs. earnings per share from the last completed fiscal year.
EPS Growth Rate: The compound growth rate using the least squared fit over the latest two to three year's earnings per share on a running 12-month basis.
Earnings Stability: Indicates in percentage from one standard deviation of the variability around the trend line fitted through 3 to 5 years of earnings history with a scale ranging from 1 to 99. Lower numbers represent more stable company earnings history.
Composite Rating: IBD exclusive proprietary rating, combines 5 SmartSelect Ratings.
Funds % Increase: Represents the % change in the number of mutual funds owning a company's stock vs. the previous quarter.
Disclosure: The author is long ATHM.
The author wrote this article themselves, and it expresses their own opinions. The author is not receiving compensation for it. The author has no business relationship with any company whose stock is mentioned in this article.
Additional disclosure: Some information for this article came from articles published on Investors.com, 8-22-14.
Editor's Note: This article discusses one or more securities that do not trade on a major U.S. exchange. Please be aware of the risks associated with these stocks.