On Monday, MobileIron (NASDAQ:MOBL) received a buy rating with a $14 target from Deutsche Bank's Karl Keirstead. The stock surged and has since surpassed the IPO price of $9. It has even hit a new high of $11.98 after hours. On the surface, it may appear that MobileIron has a bright future when Apple (NASDAQ:AAPL) launches iOS 8. Upon closer examination of the of the parties who have since given upgrades to the stock; and after reading through the company's SEC Filings, I question the validity of the upgrades and the analysis upon which they are based.
Who is at the Party?
The underwriters for the MobileIron IPO are also the ones who have given the stock high price targets. Underwriters typically purchase the stock and have a vested interest in making sure their clients make money from their recommendations. A breakeven or loss is not ideal. Until we see analysts like Evercore, Oppenheimer, Zacks, RBC Capital, and Jefferies covering the stock, retail investors should proceed cautiously to not get caught in a pump and dump. Here is my summary of recent price targets: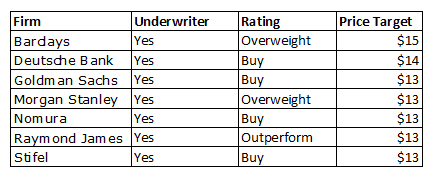 Also of glaring concern is the following post from TipRanks, a website dedicated to ranking analysts based on their performances:

Source: TipRanks.com via StockTwits
As a sell-side analyst, Karl Keirstead's ratings are used by his firm to help clients make decisions to buy and sell stocks. While his previous rating of $13 was not reached, he has since upgraded the stock to $14. Keirstead's analysis and conclusion are based on 3 concerns which are now water under the bridge:
Concerns about BlackBerry's (NASDAQ:BBRY) ongoing ability to invest at scale to support new devices as well as the employee turnover in accounts execs and the engineering ranks.
Concerns about the app ecosystem compared to Apple and the MDM platform compared to pure-plays.
End-user preference, believing that most employees prefer iPhones.
For each of the concerns, here are the updates which demonstrate each issue has been resolved:
As of the last earnings report, BlackBerry had a cash and investment balance of $3.1 billion, up from $2.7 billion in the prior quarter. Adjusted gross margin was 48%, up from 43%. Operating expenses were reduced by 57% YoY, and 13% QoQ. BlackBerry's balance sheet is much stronger than MobileIron's. As for employee turnover, the layoffs are at an end and the hiring is just beginning. Most interestingly, BlackBerry has also recently reported that it has snared an executive from Good Technology to fill its ranks. Jeffrey Aits was director Public Sector Americas at Good. He is now head of US Public Sector Sales at BlackBerry.
Concerns about the app eco-system have been alleviated by the partnership with Amazon (NASDAQ:AMZN), which brings Android apps to BlackBerry and allows apps to be used without side loading or extra steps. As for BlackBerry's comparison with other MDMs? There is no comparison. BlackBerry is the only MDM with FOC certification from the Department of Defense. This is the highest level of certification. BlackBerry has 80,000 enterprise clients. In comparison, MobileIron only has 6,000. BlackBerry can boast to be the lowest TCO (Total Cost of Ownership) because it can scale. In comparison, MobileIron needs to spend money incentivizing channels via a market development fund; and increasing marketing spending - only to be able to say on their website that they are a "low" cost TCO.
It is true that currently North America favors the iPhone over the BlackBerry. What is not true is that the iPhone has a bigger market share than Android. According to Kantar, iOS is -19.1% while Android is +19%. BlackBerry gets to leverage the Android eco-system to grow. In the most hostile environment, under the most hostile media scrutiny, BlackBerry has managed to grow its US market share from 0.6% to 2%. This is a quick uptick of +233% since January 2014.
Contrary to what Keirstead would like us to believe, there is no direct correlation between iOS 8's release and BlackBerry's decline as an MDM. When BlackBerry launched the EZ-Pass, it garnered the attention of many enterprises who were not already BlackBerry customers. Over 10% of licenses issued as of the last earnings report came from MobileIron and Good Technology. At the end of the day, whether customers choose to upgrade to BES12 or not, the fact of the matter is, BES10 already supports multi-platforms. It just does not support Windows. At the next release in November, this mobile OS will also be covered. BES12's release cannot result in a mass exodus from BlackBerry because it is well-timed. Sandwiched between the release of the Passport and the Classic, it has the potential to multiply enterprise interest in returning to BlackBerry. Android and iOS will be vulnerable to bugs as they are now undergoing the biggest refresh cycle and trying to change from being consumer-focused to enterprise-focused in the name of growth. From a software programmer's perspective, I think all of the change-related pains are behind it now for BlackBerry. Not so for the competition.
In another respect, with regards to the ingenious EZ-Pass, since the expiry date is January 31, 2015, there will be no incentive for people to drop BlackBerry as an MDM without getting their feelers out to discover if the Passport or Classic meets their corporate needs. As BES10 will be free but just not supported past that January date, and BES12's upgrade is free -- it seems to me that BlackBerry has cleverly covered all its bases and all possible objections. The beauty of having a CEO who declares that the company always has multiple plans in the works is that there will always be a plan B and a plan C. MobileIron does not stand a chance.
Is the Deutsche Bank Upgrade Built on a Solid Foundation?
MobileIron's recent quarter was impressive as their revenue has grown significantly. Unfortunately, so has their expenses. The fine print on page 39 of the most recent quarterly earnings report states:
We have had net losses each year since our inception and may not achieve or maintain profitability in the future.
It also goes further to elaborate losses in each year and also mention that the accumulated deficit is sitting at $159.9 million. Some of the net losses were mentioned in detail and I have summarized those figures in a table: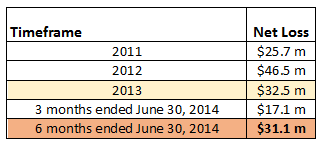 In the 6 months ending June 30, 2014, the company's net loss has nearly exceeded that of 2013. For a company that was incorporated in Delaware in July 2007, it is still describing itself as a relatively young company. A prudent investor should consider the situation carefully. This is a company that has been active for 7 years and has not made a profit in any year.
Per another section, we find out the MobileIron platform was not released until 2009, and the mobile application containerization and mobile content management solution not until 2012. The company considers itself one with "a limited operating history" and declares its "ability to forecast [its] future operating results is limited and subject to a number of uncertainties, including our ability to plan for and model future growth." Many small businesses that are able to make it past the 3 or 5 year mark can make forecasts. The fact that a 7 year old company cannot make forecasts and control expenses or set goals for profits should give investors pause.
Say What?! How Many Shares?!
The MobileIron IPO sold 12,777,777 shares and the company received $107.0 million net of underwriters' discounts and commissions. Apparently, the underwriters exercised their over-allotment option to purchase an additional 1,666,666. Originally, 11,111,111 shares were slated for the offering, and the verbiage on the prospectus would lead one to believe the over-allotment would not be exercised (per Form 424B4 filed on June 12, MobileIron estimated proceeds would be $89.2 million). Suffice it to say, since the over-allotment was fully exercised, the underwriters would not be pleased to only make a commission from the IPO; and their customers would not be pleased with a stock that has gone down since they were delivered the shares on June 17. For the underwriters and their clients to be happy, the share price would have to appreciate. Under such circumstances, a prudent investor should be cautious. Price targets announced by the underwriters should be discounted until material circumstances at the company show the price appreciation is warranted. Otherwise, a late buyer may be subject to the woes of holding a stock that is being sold off by the underwriter's customers as they hit the exit.
Currently, there are 76,315,475 shares outstanding. But should you believe this number? First, we should note that this figure was derived by adding the 12,777,777 to a base of 63,537,698 shares of the common stock. Working backwards and digging deeper, one realizes the majority of these common shares were the result of converting preferred shares to common shares:
A 7 for 5 reverse split of existing common stock and convertible preferred stock was effected on May 27, 2014.
The conversion of outstanding preferred stock into 49,646,975 common shares occurred prior to the IPO.
The filing of Form 424B4 on June 12, 2014 goes further in stating that certain shares are being excluded from the calculation. Adding them all up, we get a staggering 27,248,107 shares that are either issuable upon exercise of options; reserved for executive compensation; or already issued in connection with an acquisition. While they are not currently being accounted for, should they be fully exercised or accounted, we would see a 35.7% dilution.

Click to enlarge
Aside from the fact that there are these unaccounted shares, one should note that the 7 for 5 reverse split was made to appease existing preferred and common stock shareholders. Since the company's inception until IPO, while the Series A to F were entitled to receive noncumulative dividends per annum at rates of $0.042, $0.05683, $0.10752, $0.25648, $0.59724, and $0.59724 per share, respectively, no dividends were ever declared by the board of directors. Furthermore, while the preferred stock was convertible into common stock on a one-for-one basis, there was no incentive to do so and give up liquidation preferences:
Series F was to receive highest preferential treatment. $7.11074 per share.
Series A to E were to fall behind it and receive $0.50, $0.6765, $1.28, $3.0532, and $7.11074 per share, respectively.
Common shareholders were last in line.
Given the company never made any money and had net losses year after year, none of these dividends or preferences were looking like they would pay off.
Going through the 922 page pdf document known as Form S-1, which was filed on April 7, 2014, I found that with each new series that was issued, bigger promises were made. Of interest will be the items (3) through (5) which were sold to accredited investors. The ones who bought in for $7.11 per share between May 24, 2012 and January 15, 2014 will be the least pleased with any near-term drops in MobileIron's share prices. They were given the most lucrative promises but the emperor has no clothes and they have yet to receive a dividend and were witnessing more losses with the passing of each month.

Click to enlarge
Caveat Emptor
MobileIron has been growing its gross billings at a profound rate of 73% YoY, and GAAP revenue is up 25% YoY. There is not enough reason to doubt that these profound types of numbers were what got those accredited investors interested in MobileIron when the preferred shares were offered. But after 7 years with no profits to show, it seems likely that there was much discontent. Each time the company needed access to more funding, the offerings came with more extravagant terms (dividend rate hikes and better liquidation preferences). But it seems likely that after 6 types of preferred shares, any interest from new accredited investors were at an end and relationships with existing holders of preferred shares were strained as patience was being exhausted. Hence, the IPO.
The revenue growth has been outpaced year after year by expenses. Buried on page 39 of the quarterly earnings, under Risk Factors, is the following:
Revenue growth may slow or revenue may decline for a number of reasons, including increasing competition, changes in pricing model, a decrease in size or growth of the mobile IT market, or any failure to capitalize on growth opportunities. In addition over the past year, we have significantly increased our expenditures to support the development and expansion of our business, which has resulted in increased losses. We plan to continue to invest for future growth, including additional investment in sales and marketing and research and development, and as a result, we do not expect to be profitable for the foreseeable future. In addition, as a public company, we will incur significant accounting, legal and other expenses that we did not incur as a private company.
Can MobileIron break the cycle of escalating expenses?
When comparing the sales and marketing expenses of the three months ending June 30, 2014 to the corresponding period in 2013, the expense exploded and increased by $9.6 million or 62%. Personnel costs made up for the largest portion at $7.5 million related to increased sales headcount (with $2.2 million of which was commission expense, and $1.0 million being stock-based compensation). Travel-related expenses were up $860,000. $571,000 went to customer and partner programs, conferences, and events.
General and administrative expenses for the three months ending June 30, 2014 increased $1.8 million or 56%.
Looking at the six months ending June 30, 2014, sales and marketing increased $17.6 million or 60%; general and administrative expenses increased $4.0 million or 70%.
The biggest expense is the stock-based compensation and it was driven by stock option grants.
Professional services fees (including consulting and legal) increased $851,000 in the six month period when compared to the previous year. Facilities and infrastructure costs increased by $523,000.
We expect that our general and administrative expenses will increase in the remainder of fiscal 2014 due to increases in compliance costs associated with being a publicly traded company. - Form 10-Q, MobileIron
Caveat emptor is Latin for "Buyer Beware." It is my sincerest opinion that this stock will trade lower for quite some time before it trades higher. BlackBerry under John Chen has undergone massive restructuring and cost-cutting. It is leaner and more responsive to change. In comparison, MobileIron is a mishmash of growing pains and disasters waiting to happen as management awards itself with stock options which it can ill afford.
Disclosure: The author is long BBRY.
The author wrote this article themselves, and it expresses their own opinions. The author is not receiving compensation for it (other than from Seeking Alpha). The author has no business relationship with any company whose stock is mentioned in this article.
Additional disclosure: The author shorted MOBL on Monday and Tuesday profitably. While currently not in a short position, the author may start one within the next 72 hours