Sometimes when we write an article or express a belief/idea readers flood the inbox with questions and commentary of their own. Lately there have been a number of readers upset about our belief that the E&P companies in North Dakota should be doing a better job collecting natural gas produced from their wells in order to avoid having to flare it. It would be feasible and goes a long way in quieting critics of the industry.
Incorporating a no flaring policy into best practices might also help with shifting blame for pollution and keep the industry from being the focus of so many environmental and health studies. The latest study now attracting attention focuses on birth defects and the link to fracking. As always, more data is needed but articles such as this one is why we are proponents of companies always trying to do what is best.
Chart of the Day:
Corn just cannot seem to catch a break right now. We have another record harvest coming with a number of farmers still sitting on stockpiles that they produced last year which has done nothing but lose value over the past year. Couple that with the fact that the record production from this year, along with lower prices, will cause some farmers to lose money on their harvests and we might finally have a bottom forming in the market.
We say might because every time in the past few years when farmers should have looked at shifting their production from corn to other crops they did not. A bad year might be enough to reset their thinking and cause more diversification among what farmers are planting in certain regions.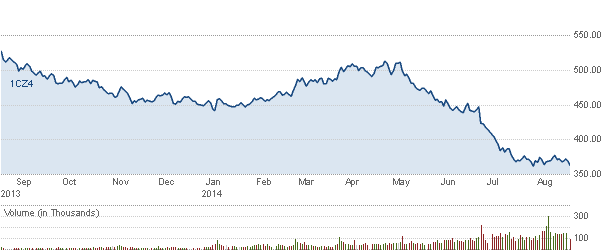 Source: CNBC
Commodity prices are as follows (at time of submission):
Gold: $1,284.20/ounce, down by $1.00/ounce
Silver: $19.355/ounce, down by $0.031/ounce
Oil: $94.05/barrel, up by $0.19/barrel
RBOB Gas: $2.7673/gallon, up by $0.0042/gallon
Natural Gas: $3.974/MMbtu, up by $0.063/MMbtu
Copper: $3.17/pound, down by $0.016/pound
Platinum: $1,421.70/ounce, up by $2.10/ounce
Cliffs' Buyback
We were a bit surprised to see that Cliffs Natural Resources (NYSE:CLF) announced a $200 million share buyback this week. The company has a large debt load and operating issues as their production costs are too high in today's market. We know some investors who were looking at Cliffs for the dividend, which they figured that they could collect as the China recovery story played out. It was a speculative play for them, but this buyback news raises some serious questions about how the company plans to fund its various obligations moving forward, including the dividend.
If management can buy the roughly 8% of the outstanding shares that the $200 million would purchase while overseeing a sale of Bloom Lake, then this might play out quite nicely for investors. We are skeptical as Cliffs is highly leveraged and iron ore prices appear headed in the wrong direction to benefit the company's operations.
Russia To Cut Off Gas Supplies To Europe?
Investors may not want to believe that Russia would be silly enough to cut off natural gas supplies to the EU this winter, but that is what the Ukrainians believe and are currently telling everyone who will listen. It is important to put this all in perspective, because the Russians and Ukrainians are currently meeting and trying to ease tensions.
Fighting continues in eastern Ukraine and with gas supplies cut off from Russia at this point one has to wonder whether the country has enough coal to make it through the winter. Even if they do, they may not be able to substitute coal for natural gas which could make this a very cold winter. Looking at Greater Europe, France would fare better than Germany were natural gas supplies cut off from Russia.
As winter approaches this will be a big story to follow and should it gain traction we would expect US investors to once again look at Cheniere Energy (NYSEMKT:LNG) which continues to hit fresh highs.
Petrobras Breaking Out
We pointed out the opportunity in Brazilian equities shortly after the World Cup and highlighted both Petrobras (NYSE:PBR) (NYSE:PBR.A) and Vale (NYSE:VALE) as names potentially set to break out. In recent sessions we have noticed Petrobras breaking out and finally pushing through the $18/share resistance level discussed previously.
This is an important area for Petrobras as investors look to see if the bulls can push shares through the $18/share level and keep the share price above that level.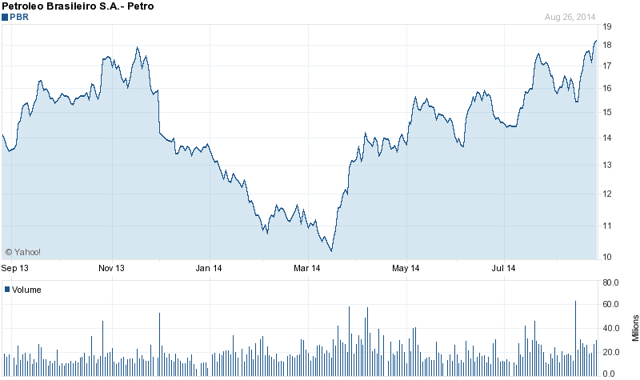 Source: Yahoo Finance
So what is causing the move? The latest news that has investors excited centers around the company's most recent extension well - Moita Bonita-3. Petrobras announced that the extension well, located in ultra-deepwater, encountered natural gas and light oil.
Kurdish Oil
The Iraqi Kurds continue their court battles against Iraq's lawyers to get their crude to market. A US judge has ruled that the government did not have jurisdiction over the United Kalavrvta, currently carrying 1 million barrels of Kurdish oil in the Gulf of Mexico, and that the ship should be allowed to move as it pleases. While it is good news for the Kurds, it still might not matter as the companies which unload cargo have steered clear of an engagement for their services and refiners such as LyondellBasell (NYSE:LYB) are no longer interested in purchasing oil which is in the middle of an ownership dispute.
The feds remain on the sidelines, but with the heavy fighting that the Kurds are doing against ISIS we think that diplomatic pressure will be applied on Iraq to give the Kurds oil revenue in order to continue fighting in the north. Without the Kurds, Iraq would surely have already been dealt a crippling blow which is why we think they will be rewarded sooner rather than later.
Disclosure: The author has no positions in any stocks mentioned, and no plans to initiate any positions within the next 72 hours.
The author wrote this article themselves, and it expresses their own opinions. The author is not receiving compensation for it (other than from Seeking Alpha). The author has no business relationship with any company whose stock is mentioned in this article.