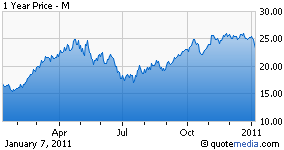 Macy's Inc. (NYSE:M) recently posted sales for the five-week period ended January 1, 2011, that fell short of the analysts' expectation but reiterated its outlook.
Macy's comparable-store sales for December 2010 rose 3.9%, following an increase of 6.1% registered in November 2010 and reflecting a sharp improvement from a marginal increase of 1% witnessed in December 2009.
Management pointed out that sales remained robust across Macy's and Bloomingdale's, despite unfavorable weather conditions. Comparable-store sales for the holiday selling period (November/December) rose 4.6%.
A Cincinnati, Ohio-based company, Macy's stated that year-to-date comparable-store sales grew by 4.7%.
Macy's said that total sales for December jumped 4.5% to $4,619 million from $4,422 million in the same month last year. Year-to-date, sales were up 6.6% to $23,695 million from $22,236 million in the comparable year-ago period.
Online sales, which include macys.com and bloomingdales.com, retained their growth momentum in December and soared 28.4% for the month under review, and were up 28.8% year-to-date. Macy's is seeking to expand both the Macy's and Bloomingdale's brands.
Macy's maintained its sales and earnings guidance. The company continues to expect comparable-store sales for fourth-quarter 2010 between 3.5% and 4.5%. Management hinted at fourth-quarter earnings in the range of $1.44 to $1.49 per share, translating into fiscal 2010 earnings of $1.96 to $2.01.
Macy's department stores sell a wide range of merchandise. Macy's products include men's, women's, and children's apparel and accessories, cosmetics, home furnishings and other consumer goods.
Macy's, which competes withJ. C. Penney Company Inc. (NYSE:JCP), currently operates approximately 850 department stores in 45 states, the District of Columbia, Guam and Puerto Rico.
The company is taking steps to increase sales, profitability and cash flows, which include integration of operations, consolidation of divisions, customer-centric localization initiatives, as well as development of e-commerce business and online order fulfillment centers. To help drive traffic Macy's continues to focus on price optimization, inventory management and merchandise planning. The company also plans to shutter three underperforming stores at Highland Mall in Austin; Chestnut Hill Shopping Center in Chestnut Hill; and Shannon Mall in Union City.
However, intense competition and higher debt-to-capitalization ratio are matter of concern. Moreover, Macy's customers remain sensitive to macroeconomic factors including interest rate hikes, increase in fuel and energy costs, credit availability, unemployment levels, and high household debt levels, which may negatively impact their discretionary spending, and in turn the company's growth and profitability.
Currently, we have a Neutral rating on the stock. Moreover, Macy's holds a Zacks #3 Rank, which translates into a short-term 'Hold' rating, and correlates with our long-term recommendation.
Disclosure: No position