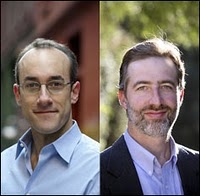 I had breakfast this week with one of my heroes, Saul Singer, who, along with Dan Senor, authored the best selling book on Israel's entrepreneurial culture, Start-Up Nation. Saul and Dan single-handedly (or, shall I say, two-handedly) changed Israel's branding globally, framing Israel as a unique, fertile environment for entrepreneurship and breakthrough cross-disciplinary discoveries. Decades of impotent government ministers, bureaucrats and stillborn government branding initiatives that cost hundreds of millions did not accomplish what one book did: Change Israel's branding and inspire millions. I have already tweeted that the prime minister of Lithuania mentioned in a meeting that I attended that his favorite book was Start-Up Nation. The book is in multiple reprintings in the US., Korea, China and is even being published in Arabic.
Saul and I discussed his book, his learnings and interactions since publishing the book and my three part Humus Manifesto, brainstorming over a good Israeli breakfast (no Humus) on what should be next for the start-up nation. He got me thinking about why the book was so successful and how we could leverage that to propel Israel forward and prove doubters like The Economist wrong.
The reason Start-Up Nation resonates is because it is authentic. It is not spin. It is real. Israel and Jews are good at innovation. It goes back actually almost 4,000 years when the Jews "started up" as a nation, introducing monotheism to the world and then publishing the most successful book of all time, the Bible. We introduced moral and ethical codes in the Ten Commandments and the Torah. Over the years, there have been other great Jewish innovators and then we started a country 62 years ago against all odds like a great start-up and we have been innovating in agriculture, technology, military (covert and otherwise) ever since. We are a start-up people that has been forced to start over many times against all odds and it is inbred at this point in our nature. We are less good at scaling up, to the frustration of many including myself. As a keen commenter on a Wall Street Journal article pointed out, Jews started up this great religion but Jesus took it in a different direction entirely and harnessed the Roman Empire to scale it up. So we are the people of the Book and the idea and we are crucible for innovation and cross disciplinary innovators. That is our authentic calling. If that is the case, and all start-ups need to focus, then maybe that "start-up focus" is our next step.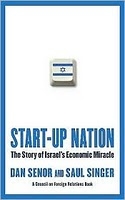 The country should launch the Start-Up Nation Institute. Israel should invite and generously fund the greatest scientific minds and innovators (read entrepreneurs) from all over the world in exciting and important fields such as biotech, agriculture, cloud computing, water technology, software and mobile devices. We should sit them together with our brilliant Israeli technologists and hutzpa-filled entrepreneurs in an open and beautiful setting for a number of years and give them access to university resources and simply let them germinate ideas that will solve the world's challenges from the same place that gave humanity the Bible and the Judeo Christian ethic.
With enough smart and innovative people there (and Saul and Dan's insight), great companies and start-ups will emerge. Don't put structure around. Israel should just seek the greatest minds from all over the world to come and bounce and test ideas off each other in the Start-Up Nation. It will inspire the brightest Jewish minds from all over the world to come, and given the high quality of life in Israel, it will likely attract American, Chinese, Indian and Singaporean talent as well. All of those brains and skills from abroad can help us scale up when these ideas reach escape velocity. This will not be, as Chief Economic Advisor to the Prime Minister Professor Eugene Kandell (Hebrew) says, a short term project, but it also will be a powerful branding exercise. And that concentration of brain power will give us economic advantage for the future, focused on what we are best at, Starting Up! A billion dollar investment in the world's greatest start-up to ideate the innovations of the future should be what Start-Up Nation is all about.