By Chris McKhann
Apollo Group's (NASDAQ:APOL) stock is falling sharply this morning, and the option traders are betting on still more downside.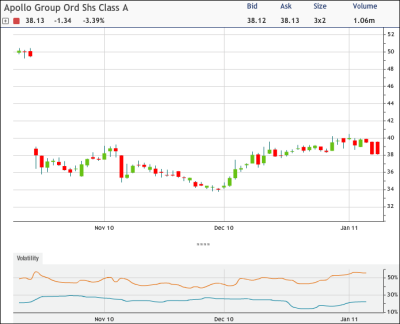 The education company is down 3.4 percent this morning to $38.13 after butting up against resistance for the last two weeks at $40. APOL fell from $50 in October and then bottomed below $34 a month ago as the sector has faced issues ranging from regulatory questions to objections over student loan rates.
Leading today's option action are the January 34 puts, which have traded almost 6,500 times against open interest of 1,415. The largest print of 5,854 was bought for $0.45, above the asking price at the time. We also see selling in the 40 calls, but only in small prints and less than open interest, so it doesn't appear to be directly related to these puts.
This put buying isn't tied to any stock trading today either, so it could be an outright bearish bet, especially given that it is in the front month. Most hedgers avoid puts with two weeks until expiration, given the rapid time decay of such options.

Disclosure: No position