Zynga (NASDAQ:ZNGA) has become famous over the last few years for both good and bad reasons. The company once touted as the most promising social gaming company went on to become a market leader in the business a couple of years ago. However, in the least two years, it has experienced one of the most humiliating downfalls, and in the process, ended up losing close to 70% of its December 2011 IPO valuation.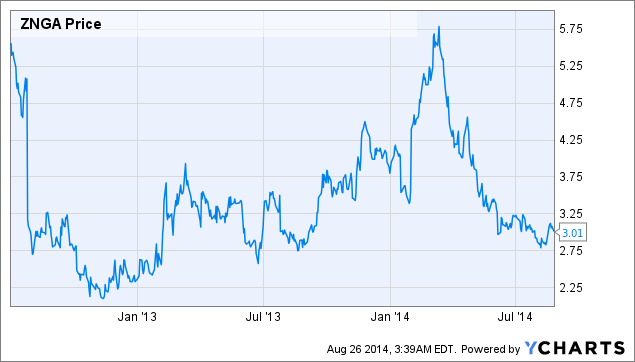 ZNGA data by YCharts
The interesting part is that even at 70% below the IPO price, the company is theoretically recovering from a worse situation. In late 2012, the stock did trade in the $2.10 per share range, and in mid last year, it traded in the $2.50 a share range at some point. This month it has dropped below the $3.00 per share mark a couple of times.
Now, between these dips, the company has also experienced successive rebounds in the promise of a turnaround. The thing is that Zynga, despite its troubles, it has been able to convince some investors occasionally that a turnaround is not far off. However, the results have been disappointing, which has made the highly anticipated turnaround look more like a mirage.
Therefore, Zynga's turnaround has continued to be a mirage in the eyes of investors, resulting in volatility for the company's stock. Note that in March this year, Zynga traded well above the $5.50 per share mark, a level that allowed some leading analysts to upgrade the stock and raise price targets.
Some of the notable analysts that either upgraded or boosted Zynga's PT during that bullish period include UBS in February 2014, Wedbush in March and Morgan Stanley in April, among others. This was all in the name of a likely turnaround as Don Mattrick's magic seamed to begin resonating within the company's operations. However, the dream was short-lived as soon Zynga collapsed to trade at lows of $4.00 per share within a month, before plunging to the current levels two months later.
Zynga's New Direction
Zynga has had what some may have conceived to be genuine turning points in the right direction. For instance, the departure of CEO/founder Mark Pincus was one of the bright moments for the company, as it sought to change leadership in the hope of a solution to its problems.
Then the appointment of Don Mattrick followed, which produced renewed optimism as investors bet on the ex-Microsoft executive. Now in Q1, this year, Zynga posted one of the most impressive results since its troubles began, but some cautious comments by the CEO during an investor conference overshadowed the good results, and since then, the company has not been able to recover.
Nonetheless, the company has been working on the means to make a u-turn from the current nightmare as it seeks to create new hits in its social gaming franchises. So far, Farmville has been the standout performer, contributing to a majority of the company's income. However, as the franchise fades, the fans/players get bored with it and hence the call for new hits.
After the emergence of King Digital's (BATS:KING) Candy Crush Saga, Zynga's social gaming market share has been under constant pressure. Candy Crush has been the most popular social online game and now, many know that gone are the days when Farmville used to resonate with nearly every Facebook social gamer. Very few can argue against this reality, but on the flip-side, King Digital is no different to what Zynga was a couple of years ago. King Digital's performance is driven by one title "Candy Crush Saga" and just like Zynga's FarmVille, its popularity will fade with time, and it might be quicker compared to the period FarmVille stayed on top.
The good news is that Zynga appears to be shifting its focus toward developing top quality titles, in which case would result in new hits. The company is not doing this from within its usual self. It has made a marquee acquisition that is bound to bring continuous success, although in the long term. The $527 million acquisition of NaturalMotion in January this year could not have come at a better time, when the company needs to rethink its approach to social gaming.
For instance, NaturalMotion's title, "Clumsy Ninja," gives Zynga a chance to leverage on a strong character IP for the first time. Additionally, this acquisition also brings onboard the team behind NaturalMotion's Euphoria physics engine, which has been for both "Clumsy Ninja" and "Grand Theft Auto V."
Now, with this team on board, Zynga can now develop more high quality titles, which are applicable in the broader market.
When you look at FarmVille and CityVille among other social gaming titles, one of the downsides to these titles has been the lack of emotional attachment. Without emotional attachment, gamers tend to get bored playing a certain game after sometime regardless of whether there are updates or not.
The new direction of building strong character IPs seems to be setting Zynga on the right direction toward a turnaround. This is because the company will be tapping genuine interest and building emotional attachment among gamers. If the company can maintain high quality titles, then it will be on the right track in terms of boosting its user base, which forms the basis for revenue generation.
Conclusion
Zynga's "New Direction" appears to be a genuine campaign for a turnaround, but as we have noticed in the past, promise has often turned out to be a disappointment and hence, it would be premature to assume this is it.
Nonetheless, one thing that is likely to happen subject to continuous release of quality character IPs is increased engagement per user. This is also likely to last for longer periods than in the past, when gamers got bored playing various titles.
The bottom line is that if Zynga is really going to make "The New Direction" count, then its new character IPs must be "infectious and addictive." This is one of the most trusted ways of ensuring gamers continue playing and the acquisition of NaturalMotion appears to fit the bill when weighed against top quality Character IP titles.
Disclosure: The author has no positions in any stocks mentioned, and no plans to initiate any positions within the next 72 hours.
The author wrote this article themselves, and it expresses their own opinions. The author is not receiving compensation for it (other than from Seeking Alpha). The author has no business relationship with any company whose stock is mentioned in this article.