Growth Catalysts
Nordson Corporation (NASDAQ:NDSN) has a growing backlog to help catalyze future revenue growth. The company's backlog increased 36% to $266 million for fiscal Q3. The 36% increase was broken down to include 25% from organic growth, with 11% coming from the Kreyenborg acquisition. Nordson's recent acquisition of Avalon Laboratories was not included in that backlog figure. I think that the outlook for the company looks positive going forward with growth coming from the increasing backlog and from new acquisitions. The resulting increases in revenue and earnings growth from organic and inorganic growth are likely to catalyze the stock for at least FY14 and FY15.
The Kreyenborg acquisition, which was completed in 2013 expanded Nordson's polymer processing offerings of screen changers, pumps, and valves to also include pelletizers. Not only does this provide the company with additional revenue, but it also adds value to Nordson's competitiveness. Kreyenborg achieved $82 million in revenue in 2012, as compared to Nordson's revenue of $1.4 billion that year. So, Kreyenborg represents about 6% of additional recurring revenue for Nordson.
On August 11, Nordson completed its acquisition of Avalon Laboratories. Avalon is expecting to achieve $34 million in revenue for the fiscal year ending in October 2014. Nordson paid $180 million for Avalon which was 11 times the company's estimated EBITDA for the current calendar year. Avalon complements Nordson's highly engineered single-use plastic components for fluid management and medical applications. Avalon offers highly specialized catheters and medical tubing products for cardiology, pulmonary, and related uses. With analysts expecting Nordson to achieve revenue of $1.69 billion for FY14, Avalon represents about 2% in new recurring revenue.
Nordson expressed its desire in the recent Q3 conference call that it will look to continue to acquire companies that would add value and enhance the company's current product line-up. Kreyenborg represented 10% of Nordson's 15% y-o-y increase in sales volume for the Adhesive Dispensing segment, with the remaining 5% coming from organic growth. Therefore, we can see the effect that a strategic acquisition can have on Nordson. Future acquisitions will bring in increased recurring revenue in addition to the organic growth.
Strength in organic growth is also a catalyst for future growth. The Advanced Technology segment is an example of this as sales volume for last quarter increased 15%. This increase was from organic growth in all of the segment's product lines. Specifically, increased demand was experienced for: automated dispensing equipment for electronic mobile device assembly; electronic test, inspection, and surface treatment equipment. Another positive sign was the 4% increase in this segment's operating margin to 32%. The operating margin for the Adhesive Dispensing segment increased 1% to 27% last quarter. The organic growth for the Adhesive segment was driven by disposable hygiene, rigid packaging, and polymer processing end markets. This strength in organic growth shows that Nordson's products compete well in the market. That performance will complement new growth from future acquisitions.
The company's strong performance for Q3 has created some positive momentum for the company. Nordson beat its revenue estimates by $8.78 million, which increased approximately 14% y-o-y to $458.55 million. The company also exceeded its EPS estimates by $0.07, which increased about 19% to $1.20. The stock is rising again from this performance as the future looks bright. Future analyst EPS estimates have been increased from $3.70 to $3.82 for FY14 and from $4.29 to $4.39 for FY15 just in the past 3 months. These increases should provide a catalyst for the stock heading into the next earnings report.
Nordson achieved a gross margin of 56% for the past twelve months. This is higher than 3M's GM of 48% and a point higher than Graco's GM of 55% over the same period. Nordson's higher gross margin allows the company to achieve more in earnings for every dollar of revenue. The company expects its GM to be 55% to 56% for Q4. Nordson's higher GM demonstrates the effectiveness of its strategic product mix and shows that the company is a strong competitor in the industry.
Nordson has $104 million remaining on its share repurchase authorization. The company has been buying back its stock at an average price of $73.35. Nordson stated that it will remain active in the market as the year progresses. The continuation of purchases will help to catalyze the stock as the reduction in the remaining shares outstanding make the Nordson investment more valuable for shareholders as it provides a boost in EPS.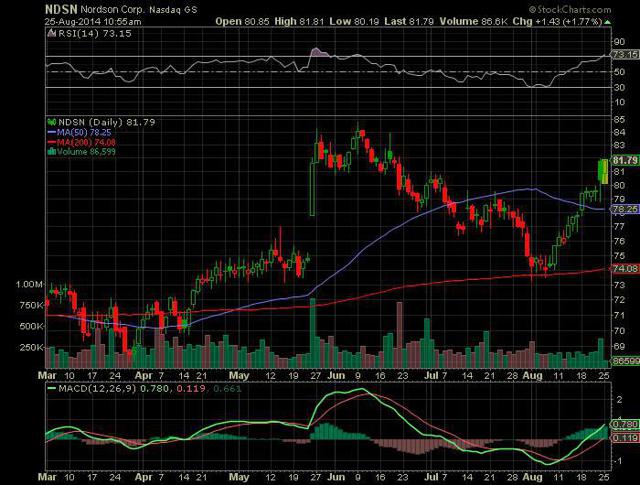 Valuation
Nordson has a PE to growth ratio of 1.32 based on analysts' 5-year expected annual earnings growth rate of 16%. This is lower than the Diversified Machinery industry PE to growth ratio of 1.88. It is also lower than competitor 3M's (NYSE:MMM) PEG of 1.61 and Graco's (NYSE:GGG) PEG of 1.4. As a comparison, 3M and Graco have lower 5-year expected annual growth rates of 12% and 15% respectively. Therefore, I think that Nordson has a slight advantage over its competitors as its valuation is slightly lower due to its higher expected EPS growth. If Nordson meets or exceeds its expected earnings, the stock is likely to outperform its competitors from these levels.
I performed a discounted cash flow analysis to see how the company is priced based on its free cash flow growth. Using a discount rate of 9% and FCF growth of 15%, Nordson's stock is worth about $150 today. The stock is currently significantly undervalued as it trades at only $81. The company did achieve average FCF growth of 15% for the past 4 years. I think the company can maintain 15% FCF growth going forward as it has a high ROE of 26.8%. This high ROE is approximately on par with 3M's ROE of 26.9%. This shows that Nordson earns a high net income in relation to its shareholder's equity. This makes it likely that Nordson will achieve its expected earnings growth going forward.
The Risks
Part of the company's growth has been the result of effective acquisitions. Nordson will have to continue to make effective acquisitions going forward in order to grow the business at a competitive pace. Nordson's organic growth will probably not be enough. Nordson has done a good job in making strategic acquisitions and the company will have to continue these efforts for effective future growth.
Nordson's stock has a beta of 1.4, so it is about 40% more volatile than the overall market. Therefore, the stock has more downside risk in the event of economic downturns or market corrections. However, since we are currently experiencing a growing economic cycle, I think that the stock is likely to outperform the market over the next few years.
Conclusion
With Nordson, investors have a stock that is undervalued in terms of the industry and in relation to its FCF growth. The company achieves a high ROE, which makes it likely that Nordson's above average expected earnings will be met or exceeded. The company's combination of organic and inorganic growth makes it likely for Nordson to continue its strong growth going forward. There are numerous catalysts to drive the stock higher for at least this year and next year.
Nordson pays a modest dividend of 1% on a payout ratio of 20%. The company raised its annual dividend for over 50 consecutive years. This shows that Nordson is able to balance the company's growth while also directly paying shareholders. The company is experiencing strong double-digit revenue growth in its largest segments. The backlog is also growing at a high double-digit rate. All of this acts as a synergy for the stock price to grow at an above average pace.
Disclosure: The author has no positions in any stocks mentioned, and no plans to initiate any positions within the next 72 hours.
The author wrote this article themselves, and it expresses their own opinions. The author is not receiving compensation for it (other than from Seeking Alpha). The author has no business relationship with any company whose stock is mentioned in this article.