EBITDA Multiple
I expect MasterCard (NYSE:MA) and Visa (NYSE:V) to benefit from powerful secular trends over the next decade as economies outside the United States grow and the use of cash declines. Both companies are projected to achieve double-digit EBITDA growth over the next several years, while regulatory issues pose the only real imminent threat. The market is currently placing a significant premium on these powerful trends, as both companies trade at over 16.0x EV/LTM EBITDA multiple, which is above their three- and five-year averages (shown in the table below).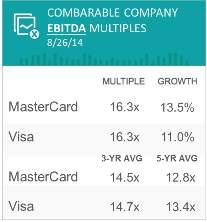 MasterCard has a bright future with outsized growth prospects, but I am skeptical that the company justifies an LTM EBITDA multiple above 16.0x. This is why I have selected a fair value EBITDA multiple of 15.0x shown below in the Levered Returns comparable company model. My selection implies MasterCard currently trades at approximately an 8% premium. At the time of this writing, the Levered Returns community is approximating the fair value of MasterCard at approximately $71.50, close to my fair value estimate of $71.00. In the model below, you can contribute your fair value to view the latest LR community's price estimate.
To further test my multiple selection, I forecasted MasterCard's revenues by operating segment and created a discounted cash flow analysis, which is described in the next two sections.
MasterCard's Operating Segments
Understanding MasterCard's operating segments sheds light on the company's important growth drivers. Thus, I've built a revenue forecast on an operating segment basis for the company:
MasterCard's operating segments are as follows (per 10-K):
Domestic Assessments (45.6% of Sales) -Domestic assessments are fees charged to issuers and acquirers, based primarily on the dollar volume of activity on cards and other devices where the merchant country and the issuer country are the same.
Cross-Border Volume Fees (33.5% or Sales) - Similar to Domestic Assessments, but where the merchant country and issuer country are different. In general, a cross-border transaction generates higher revenue than a domestic transaction, since cross-border fees are higher than domestic fees, and in most cases, also include fees for currency conversion.
Transaction Processing Fees (40.2% of Sales) - Represents transaction switching fees and connectivity fees charged for both domestic and cross-border transactions, and are primarily based on the number of transactions.
Other Revenues (15.9% of Sales) - Consists of other payment-related products and services, and primarily include fees associated with consulting and research, fraud products and services, and loyalty and rewards solutions.
Rebates and Incentives (-35.3% of Sales) - Provided to certain MasterCard customers, and are recorded as contra-revenue.
DCF Valuation Model
These revenue and profitability growth drivers are reflected below in the Levered Returns discounted cash flow analysis model to determine an Enterprise Value. I then deduct net debt, minority interest, and net litigation liabilities to conclude the total equity value and resulting per-share value for the company:
Other Key Assumptions
Capital Expenditures: MasterCard has historically spent between 1.1% to 2.0% of sales on capital expenditures. I've selected 1.5%, which is consistent with what equity research analysts are projecting, according to Thomson Reuters.
Working Capital: I've selected -12.9%, which equals the average net working capital dollar amounts over the last four quarters as a percentage of sales.
Conclusion
Based on my assumptions in the Levered Returns 5-year DCF analysis above, MasterCard currently appears slightly overvalued, with a fair market value price target of approximately $72. This is an outstanding company that is poised to benefit from powerful trends over the next decade without having to spend much in terms of additional capex. On a long-term basis I believe MA has some upside, but legal and regulatory pressure against interchange fees remain a real imminent threat. I do not recommend value investors increase their positions in MA at the current prices. However, the interactive tables above allow you to play with the assumptions and come to your own conclusions.
Disclosure: The author has no positions in any stocks mentioned, and no plans to initiate any positions within the next 72 hours.
The author wrote this article themselves, and it expresses their own opinions. The author is not receiving compensation for it (other than from Seeking Alpha). The author has no business relationship with any company whose stock is mentioned in this article.