By Scott Tzu
There are a few things that Microsoft (NASDAQ:MSFT) needs to work on, in my opinion. One of which I already discussed in an article where I suggested the company should make Opera the default browser for all Windows devices. Judging by the commentary to that article, not everyone agrees with me, and that's fine.
Maybe I will win your respect back with this piece.
We all know that Windows 8 has basically been a disaster from the get go. The style using "metro/tiles" from the get go wasn't well received and while Microsoft had the right idea to "think outside the box" and change Windows 8 drastically, many people found themselves firing up their computers and instantly putting them into desktop mode. I have two Windows 8 machines, one laptop and one desktop, and do not use either of them in "metro/tile" mode, ever.
The update to Windows 8, Windows 8.1, came a year late, but addressed a lot of the issues that users were complaining about. Things like Internet Explorer 11 and a new "Start" menu helped people ease into the continued launch of Windows 8. For some of us, it never really caught on. For me, the software integration between the "metro/tile" mode and the Desktop mode is horrible to deal with.
With my Surface, however, I use only in tile mode, and I like it that way. Imagine to my surprise when even though in desktop mode it acted like a normal PC, I couldn't download certain software on Windows RT. It was an incredibly frustrating experience at first.
So, I'll take whatever Microsoft evolution I can get at this point. With Satya Nadella slated to take the company into the great beyond, I'm approaching things with an open mind. Satya's story will tell itself in the coming years, although Microsoft has done pretty well since he's taken over. Investors seem to certainly prefer Nadella to his predecessor, Steve Ballmer.
The news today is that Microsoft is not only going to be releasing Windows 9 at some point around spring of next year, but that it also is going to be doing away with major updates every couple of years in favor of smaller updates occurring more frequently. This is the way that operating systems like Linux and all of its deviations have been doing it for years and is no doubt the best way to keep Windows operating at its prime, and also get at the adoption rate problem that the company is having with Windows 8.
(source)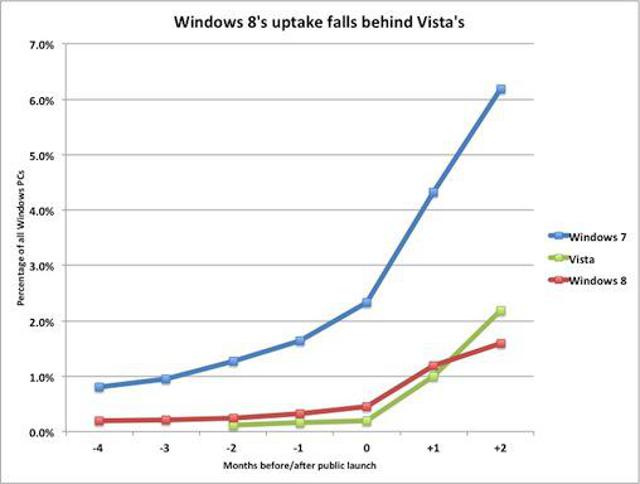 According to Seeking Alpha, the company also disclosed that they were going to be keeping that same schedule for Windows phone, where they're likely on the track to taking Windows RT, "Metro/Tiles" and desktop and trying to smash them all together somehow, so that every device is similar.
It's also fair to guess that Windows is (yet again) taking a page from Apple's book and could be offering updates to its OS for free in the future.
The Seeking Alpha news also notes that Apple (NASDAQ:AAPL), never to be outdone, is working on a 12.9" iPad (presumably going to be the direct competitor to the Surface 3 and exactly what we talked about in our article about the iPad just yesterday).
Regardless, we see the constant updates as a sign that Microsoft is moving in the right direction. The closer Microsoft can get to emulating Linux and Apple, the better the operating system is going to be and the less chance that those potentially thinking about defecting from Microsoft products will act. For now, Apple will continue to eat away at Microsoft's OS market share, until Microsoft can presumably do something to curb the ebb and flow of losing it. We think the attention to detail with Windows 9 can be a fantastic start.
We look forward to reviewing (and using) Microsoft's Windows 9 when it's released.
Disclosure: The author has no positions in any stocks mentioned, and no plans to initiate any positions within the next 72 hours.
The author wrote this article themselves, and it expresses their own opinions. The author is not receiving compensation for it (other than from Seeking Alpha). The author has no business relationship with any company whose stock is mentioned in this article.