Burger King's (BKW) purchase of Tim Hortons (THI) could be one of the better M&A deals we've seen in a while, for a couple of reasons.
First, both brands are fantastic; Burger King is a staple in the fast food industry, and Tim Hortons has a chance to be the next Dunkin' Donuts (NASDAQ:DNKN) as it continues its descent from the Northeast Canadian Region and spills over into the U.S. Tim Hortons is going to be giving Dunkin' Brands and Starbucks (NASDAQ:SBUX) more competition than they've bargained for once it starts to truly infiltrate the U.S.
You can see that Tim Hortons has the stronghold above the northern border (red vs. Starbucks in black), but once you move below the border, it's the inverse.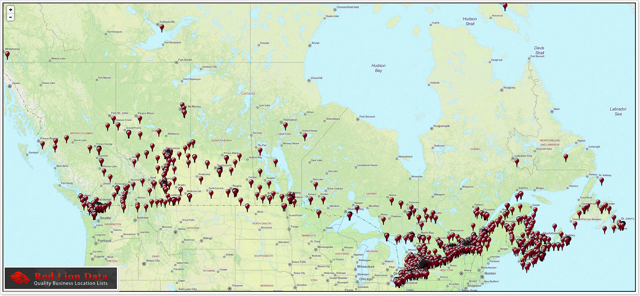 (Source: Red Lion data)
So, Tim Hortons has plenty of growing to do.
Burger King has so much to leverage from Tim Hortons; namely, its unbelievable coffee, donuts, and breakfast food menu. Tim Hortons newer foray into lunch foods, soups, and sandwiches could take a break once it belongs to Burger King. The companies are slated to remain two separate brands.
"Welcome back. We've just put on a fresh pot," the Tim Hortons front door used to say in Montreal. The coffee is unbelievably good, and captures a market segment that Burger King is slugging out with Yum Brands (NYSE:YUM) and McDonald's (NYSE:MCD), both of whom are fighting for breakfast share.
The news this morning was that Warren Buffett is actually helping to finance the deal. CNBC had the news, which was reported by Reuters; who initially cites the Wall Street Journal.
As he's done with many other companies, like Bank of America, Buffett is going to be investing in the merger by purchasing preferred shares. His stake, according to CNBC, is supposed to make up about 25% of the total financing necessary.
Many are worried that the deal has been made specifically to avoid paying U.S. taxes. However, as CNBC put it this morning before they had their Tim Hortons coffee (obviously), the "Tom Hortons Deal" would result in the U.S. receiving more in taxes after the deal goes through.

We're unfamiliar with Tom Hortons, but we're guessing it's very similar to Tim Hortons.
The U.S. will receive more money in taxes, not less, if the Burger King deal to acquire Tim Hortons goes through, sources said Tuesday.

The news comes after CNBC confirmed that Berkshire Hathaway chairman and CEO, Warren Buffett, is helping finance Burger King Worldwide's take over of Canadian chain Tim Hortons.

As part of that deal, there will be preferred dividends that come back to Berkshire Hathaway. Because the company is going to be based in Canada, not the U.S., instead of Berkshire paying a tax of traditionally around 14 percent on those dividends, the company will have to pay the full tax of 35 percent because it is a foreign company distributing dividends in the U.S., sources told CNBC.
As you may have remembered, nearly every headline about the acquisition yesterday was simply calling this deal a tax inversion. We think there's another huge reason.
Tim Hortons is an astounding bake shop; it's also at a very early stage in its growth. Burger King's marketing, advertising and capex spending would surely allow for Tim Hortons to move quicker across the U.S. and compete ferociously with other national chains. This deal could save in taxes, yes, but it's likely going to be an outstanding addition to Burger King's bottom line.
The merger would create the 3rd-largest fast food restaurant in the world.

The Peel's Feel:
Put simply, we like this deal. There's major brand power behind the Burger King name and a good thing going at Tim Hortons.
The fact that Warren Buffett has lent his name to the deal also lends it a bit of superpower charm that's likely going to make it even more attractive for investors.
Also, while we wouldn't mind owning Burger King stock, we continue to see this stage of M&A in the market as a sign that the market is robustly valued and semi-saturated with buyers.
We're expecting supercharged growth from Tim Hortons once it receives the backing of Burger King.
However, we think shares of Tim Hortons and Burger King both rightfully rocketed, as we see many synergies in this deal.
Disclosure: The author has no positions in any stocks mentioned, and no plans to initiate any positions within the next 72 hours.
The author wrote this article themselves, and it expresses their own opinions. The author is not receiving compensation for it (other than from Seeking Alpha). The author has no business relationship with any company whose stock is mentioned in this article.