The clash between Google (GOOG, GOOGL) and Microsoft (NASDAQ:MSFT) has already changed the landscape of productivity software, but the battle extends beyond Microsoft Office and Google Apps. These two titans continue to battle in terms of both technology and marketing, but when Google introduced the Chromebook, the nature of how we worked shifted again. Fortunately for Microsoft, Office remains the best software on the market for anyone doing serious work, and now, the company is helping OEMs like Dell, HP (NYSE:HPQ) and Lenovo (OTCPK:LNVGY) bring ultra-cheap laptops to market. Microsoft's ability to compete in this arena, when coupled with the continued strength of Office, makes Microsoft shares a buy at current levels.
Microsoft Office vs. Google Apps
Ever since Google introduced its web-based Apps productivity suite, Microsoft Office has been under attack. At the recent Microsoft Worldwide Partnership Conference, the company claimed that it had converted 785 customers to Office 365 from Google Apps. Not surprisingly, the King of Search immediately fired back with a claim that more than 5,000 businesses sign up with Google Apps every day, with an arguable percentage coming from Mr. Softy. While the truth remains somewhere in between - for example, many companies use both platforms in different capacities - there is no question that this is a critical fight for both.
A recent Wall Street Journal post comparing the two productivity suites - very much worth reading in its entirety - ultimately concludes that Microsoft is the winner if you want storage as well: "The free options from Google, Apple (NASDAQ:AAPL) and even Microsoft do just enough, which means paying only makes sense if you're shopping for cloud storage, too. That's where Office 365 adds up: Not only do you (and your spouse, your kids and maybe even your mom) get a terabyte of online storage but you get all the Office extras." Joanna Stern, the author, argues that the extras provided by Office 365, specifically the huge amount of cloud storage, give it the slight edge. She acknowledges that the functionality of Office 365 is typically more extensive, but argues that most of that functionality is wasted on most users.
My conclusion is a little more nuanced, in that much of that functionality is not only familiar, but necessary in some fields. While many users can accomplish the bulk of their work with stripped down programs like apps, higher-level spreadsheets, presentations and document functions require Office. Running regression models that rely on macros takes place on relatively few desktops, so the enterprise argument boils down to a limited number of functions and the familiarity of most business users. Google Apps drove Office out of the box and into the 365 model, but assuming the company cannot continue to adapt is short-sighted.
The Hardware Battle
Where Google made an until recently unanswered inroad into Microsoft's business was with the Chromebook. Microsoft overlooked the importance of price to many consumers, particularly within the educational realm, and focused on what a Windows laptop could do that a Chromebook could not. While Microsoft relied on the limited functionality of the Google devices to curtail sales, they quickly picked up market share.
There is no doubt that Microsoft was late to the party, but it has quickly answered the call: "Hewlett-Packard, Dell and Lenovo are selling laptops priced less than $250 that run on Windows 8.1 with Bing, a royalty-free version of the OS. The OS is the same as Windows 8.1 but with Bing as the default search engine in Internet Explorer." By offering a free OS, Microsoft is helping to lower the prices of these machines and make them, and the company, more competitive. Without the price incentive, there is little argument for buying a Chromebook instead of a Windows laptop - even one with significantly limited functionality.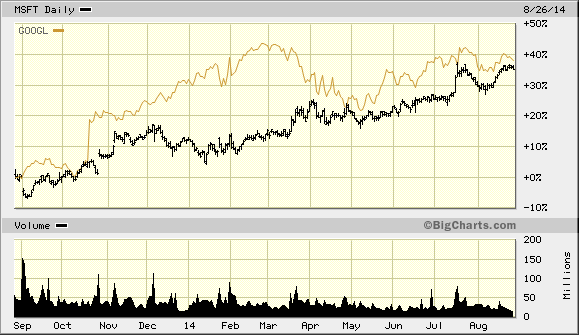 Given these continued strengths of Microsoft, the company looks like it has upside from here. The 2.7% dividend yield enhances the attractiveness of the shares, and when the $100 billion of cash and long-term investments enter the analysis, the stock is a buy.
Disclosure: The author has no positions in any stocks mentioned, and no plans to initiate any positions within the next 72 hours.
The author wrote this article themselves, and it expresses their own opinions. The author is not receiving compensation for it (other than from Seeking Alpha). The author has no business relationship with any company whose stock is mentioned in this article.