Fortuna Silver (NYSE:FSM) just announced its latest resource estimate for its San Jose mine in Oaxaca in Mexico. The number was substantially higher than the 60 million ounces of silver and 500,000 ounces of gold the company was reporting when I last wrote about the company in June. Specifically, the company's new estimate is about 100 million ounces of silver and 735,000 ounces of gold. The details can be found on the following table, taken from the above-cited press release.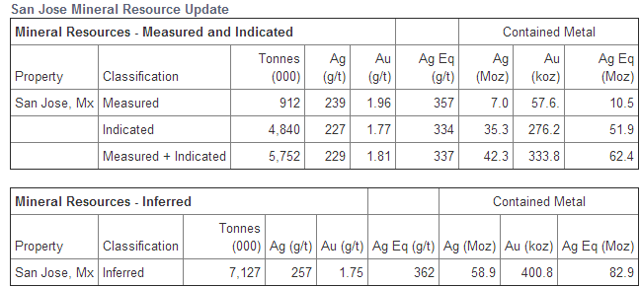 This updated resource estimate is good news. However we need to put it into context. First, a lot of investors have been anticipating a resource increase at the Trinidad North region at the San Jose Project, and as I argued in June this optimism went too far, especially since we had seen extreme pessimism just a couple month's earlier (the stock had nearly doubled in a very short time-frame). Second, the San Jose Mine produces about 3.5 million ounces of silver per year, and while a larger resource increases the mine's life-span we need to keep in mind that new ounces add cash-flow at the end of the mine's life, meaning that on a DCF basis these new ounces aren't so impactful unless management expands the mine. This option is expensive, and with the silver market so weak it is difficult to justify such a capital expenditure. Finally, the company, like many in the sector, is having a difficult time turning a profit in this silver price environment. The only justification one can give for owning this, or many other silver miners out there is that you believe the silver price will rise substantially While I believe this will happen Fortuna is not the best way to play this. Instead, investors should follow a strategy I outline here.
So given these points there is still no doubt that this is a positive announcement. But it is by no means a game-changer, and the company's strong performance in the face of a weak silver price is a disparity that is unsustainable, and while I like this company I think there is downside risk at the current valuation.
Disclosure: The author has no positions in any stocks mentioned, and no plans to initiate any positions within the next 72 hours.
The author wrote this article themselves, and it expresses their own opinions. The author is not receiving compensation for it (other than from Seeking Alpha). The author has no business relationship with any company whose stock is mentioned in this article.