The streak continues! In fact it is coming to an end.
We have already published other technology stock picks this week (among them are Dice (NYSE:DHX), Priceline.com (NASDAQ:PCLN) and Apple (NASDAQ:AAPL)) and this will be the last until one of them is closed out. It usually does not take too long but I will certainly keep you posted on the progress. If you have followed this very busy week on IntelligentSpeculator, you can probably guess what company I am going long in this post. Of course if I am selecting CTrip (NASDAQ:CTRP) as one of my four stock picks for 2011, it will be one of my picks here as well. Logic, right?
Before getting started, here are the main numbers that I used to decide on this trade:
| Ticker | Price | EPS | PE Ratio | PE Next Year | Return YTD | Sales Growth | Analyst rating | Book Value | Trend Analysis | | |
| --- | --- | --- | --- | --- | --- | --- | --- | --- | --- | --- | --- |
| CTRP | 40.82 | 0.72 | 44.16 | 27.18 | 13.69 | 34.08 | 4.35 | 6.08 | 60 | | |
| VCLK | 16.06 | 0.71 | 17.22 | 16.75 | 58.20 | (7.18) | 3.42 | 5.59 | -55 | | |
Trend Analysis
It's a no march in terms of trend analysis as Ctrip crushes Valueclick (VCLK) which had a good run but has slowed down quite a bit.
Long CTrip

CTrip is one of the leading internet travel companies and the leader in the Chinese market, which is booming. You will not be surprised to read that Ctrip's revenues and profits have been increasing quickly. The company has a great spot in an emerging business in China but still has its challenges, especially in dealing with Chinese airlines and other partner companies. If you look at its chart, you will see a major drop last July when there were problems while negotiating rates, and those could certainly occur at some point in 2011. However, the fact remains that the growth is too solid to pass by, especially for a stock currently trading at a reasonable P/E.
Short Valueclick
As I was writing about CTrip, it was difficult to focus on the Chinese company and all of its growth without remembering how little excitement there is for Valueclick. The company has been struggling to find any growth and it's not surprising when you look at how it is doing. Its technology has been lagging other companies such as Yahoo (NASDAQ:YHOO), Google (NASDAQ:GOOG) and Microsoft (NASDAQ:MSFT) and it owns few properties to offer to advertisers. It does have an impressive network of partner websites but given its problems in other areas, Valueclick is having trouble offering competitive payouts to those partners. The result? Lesser quality websites, less satisfied advertisers, etc. It's a fairly simply but sad cycle for Valueclick shareholders and I do not see any indications of a turnaround right now. This stock has little growth in it and makes for a perfect short.
Click to enlarge charts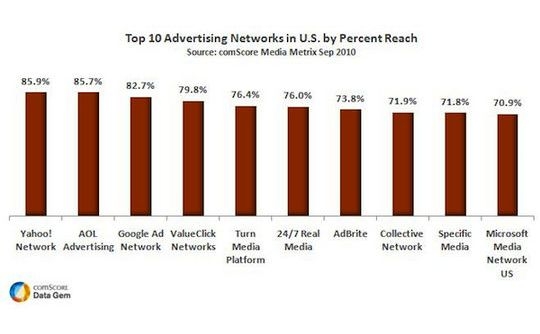 Take a look at the charts for both companies:
Click to enlarge charts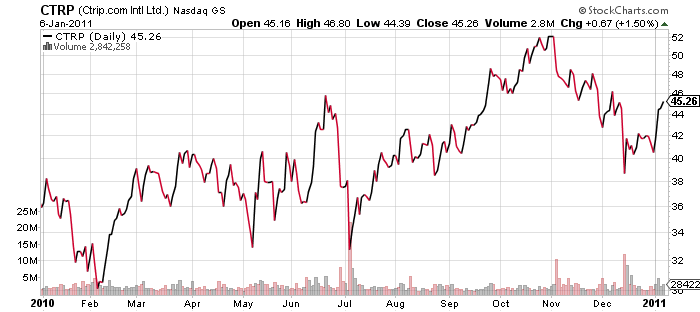 Disclosure: I do not hold positions on either stocks.