Franco-Nevada (NYSE:FNV) is a gold focused royalty and streaming company which also holds interests in platinum group metals and oil assets. The majority of the company's revenue comes from high margin assets in North America. The company has produced more than 130,570 gold equivalent ounces ((NYSE:GEO)) so far in 2014, which is significantly higher than the 114,978 ounces it produced at the same point in 2013.
With over 370 assets, including 47 producing assets, 36 advanced assets and 153 exploration assets, Franco Nevada is in a tremendous position to grow over the next several years. Following the completion of a recent equity raise, the company has approximately $1.8 billion in total available capital to complete more accretive deals.
Franco Nevada Corporation
Fully Diluted Shares Outstanding: 166 million
Recent Stock Price: $55
Market Capitalization: $8.2 billion
52-week range: $36.92 - $61.47
Dividend Yield: 1.4%

You'll see below that over the last five years, Franco Nevada has outperformed its peer Royal Gold (NASDAQ:RGLD), and only slightly underperformed rival Silver Wheaton (NYSE:SLW). The stock has returned more than 100%, but with dividends reinvested, the gains would be even greater.
Meanwhile, all three royalty companies have crushed the Gold Miners Index (NYSEARCA:GDX), which proves that royalty companies are a superior investment to miners.

(Credit: Yahoo! Finance)
Why Franco Nevada?
Franco Nevada runs a highly profitable and scalable business, with 80% margins and a ton of growth opportunities present. The company seeks to complete gold streams and royalty deals with mining companies - ones that have exploration and expansion upside, which leads to bigger profits for Franco. With its fixed-cost structure, the company is highly leveraged to a rise in the price of gold, platinum, and oil.
The biggest reason I like Franco as an investment is because the company is so well diversified, with 47 producing assets and 36 advanced stage assets that could potentially begin producing within the next five years. The company also has 153 exploration assets and 137 oil and gas assets, giving investors exposure to a potential spike in the price of oil.
You'll see below that Franco's revenue comes primarily from gold (67%), followed by oil & gas (18%), platinum group metals (18%), and other minerals (3%). When it comes to country location, Franco is only invested in the best mining jurisdictions - Canada (35%), US (21%), Mexico (17%) and Australia (5%).
(click to enlarge)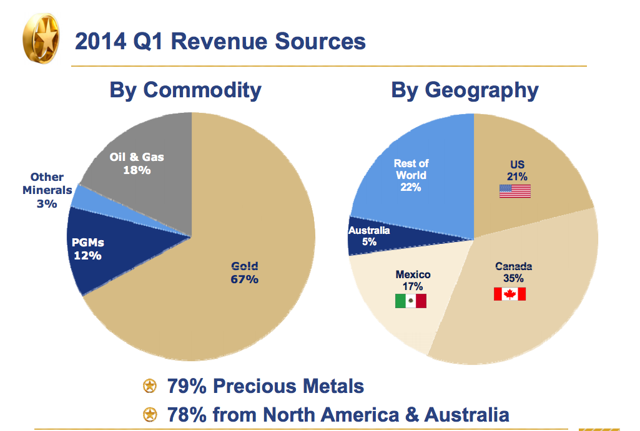 Click to enlarge
Franco Nevada's track record speaks for itself: the company has grown its revenue more than 130% since 2008, while its adjusted net income per share and producing mineral royalties and dividends paid per share have also followed.
(click to enlarge)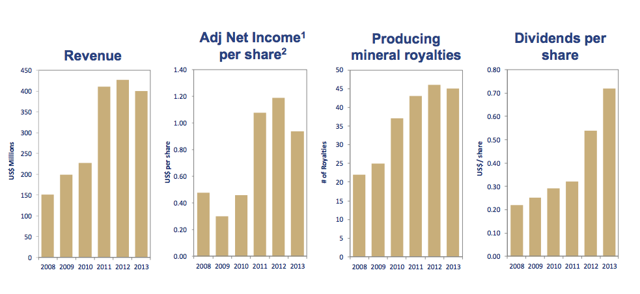 Click to enlargeThe dividend growth shows me that management is committed to returning money to shareholders. Since 2008, the dividend has increase from $.21 per share annually, to more than $.75 expected for full-year 2014, and it's increased its dividend every year for 7 years.
The company has increased its total dividends paid more than 500% since 2008 - from $20 million paid in 2008, to well over $100 million expected to be paid out in 2014.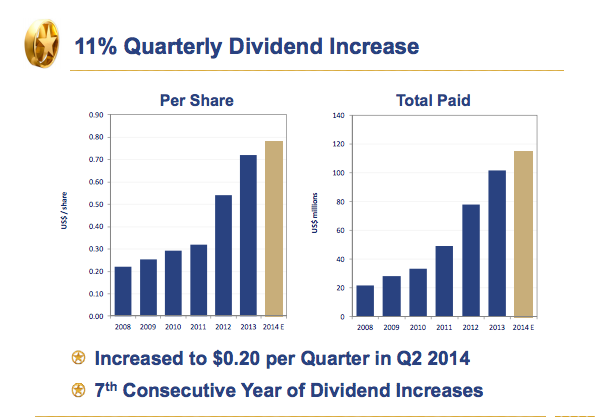 However, I believe Franco Nevada's growth is only just getting started.
Since 2011, the company has completed a number of exciting new deals, including the purchase of a royalty on Rubicon Minerals (RBY) Phoenix gold project which will begin producing in late 2015, a 2.25% net smelter royalty on the Timmins West mine owned by Lake Shore Gold (NYSEMKT:LSG) which is ramping up production, a 1.2% net smelter royalty on the exciting, high-grade Brucejack project owned by Pretium Resources (NYSE:PVG) which could begin producing in several years, and a 1.5% gross royalty on part of Yamana Gold (NYSE:AUY) and Barrick Gold's (NYSE:ABX) Canadian Malartic mine, which was formerly owned by Osisko Mining before the buyout.
A recent gold stream partnership with Sandstorm Gold (NYSEMKT:SAND) on True Gold's Karma project is another high quality deal that should provide free cash flow for Franco Nevada for many years to come. This deal will net Franco Nevada with 15,000 ounces of gold a year for 5 years, at 20% of the spot price of gold, followed by 4.875% of the production thereafter. The mine is expected to begin producing in late 2015 and should produce more than 150,000 ounces of gold in 2016, its first year of full production. The mine life is only 8.5 years, but Karma holds significant exploration and expansion upside, so it's entirely possible that True Gold will expand the life of the mine to at least 12-15 years.
These are all exciting royalties which are expected to produce significant cash flow to Franco Nevada for years to come. With a recent equity raise, the company has a cash war chest to complete even more deals.
Franco Nevada Closes $500 Million Bought-Deal Financing
Franco surprised some investors when it recently announced and closed upon an equity financing, issuing 8.37 million shares to raise gross proceeds of $500 million. This equity raise was very wise in my opinion, and only strengthens the investment case in Franco.
First, Franco-Nevada was able to issue shares at peak levels of its share price. Had Franco raised this money at the beginning of the year, they'd have done so at far lower share prices, raising less money.
Next, this deal gives Franco $500 million cash to complete more accretive gold streams and royalties. For the quarter ended June 30, 2014, Franco had $716 million cash and short-term investments. Working capital was $815.8 million. However, with the equity raise, the company now has approximately $1.3 billion in working capital and zero debt, with an undrawn credit facility of $500 million. This gives Franco Nevada total available capital of $1.8 billion The bottom line is Franco Nevada's in a great position to keep growing. I think the company is a strong long-term buy below $55 per share, and I intend to purchase shares on any weakness.
Disclosure: The author is long SLW.