King Digital Entertainment PLC (BATS:KING) released its Q2 2014 earnings on August 12th after the close. Sales missed consensus expectations by $14.5 million or 2.4% and the company lowered its guidance for gross bookings for FY 2014 by 11.8%. Predictably, the stock was punished. This article looks at King's results, guidance and plans and their implications for the value of its stock.
King's Q2 Results and News
The key takeaways from King's Q2 earnings report and conference call are:
Gross bookings were $611.1 million - a $30 million or 4.7% decrease from Q1. Over half of this drop ($16.1 million) vs. Q1 was due to collecting less sales tax. Web bookings were $10 million lower (-6.2%) and mobile bookings were $20 million lower (-4.2%). Mobile accounted for 75% of the gross bookings.
Revenue decreased sequentially by $13.1 million or 2.2%.
Non-Candy Crush games contributed 41% of the gross bookings up from 33% in Q1.
Monthly Active Users (MAUs) increased 1% sequentially to 485 million. Monthly Unique Users (MUUs) declined 2.0% to 345 million. The sequential increase of MAUs and the increase in MAUs/MUUs reflects the increasing number of games being downloaded and played.
Monthly Unique Payers (MUPs) dropped from 11.9 to 10.4 million quarter-over quarter (QoQ). The average monthly spend increased from $18.02 to $19.54.
The gross margin increased 51 basis points year-over year (YoY) and 154 basis points QoQ from 68.73% in Q2 2013 and 67.70% in Q1 2014 to 69.24% in Q2 2014.
While sales dipped slightly and the tax rate rose 5% from 21.1% to 23.3% QoQ, net profit increased 30% or $38.2 million primarily due to a $36.3 million decrease in general and administrative (G&A) expenses.
Since King's fixed costs are less than 10% of revenue (about $16 million per quarter), it was able to also cut its other operating costs, boosting profits. CFO Hope Cochran previously mentioned the benefits of King's low cost structure, but they were evident in Q2.
The company generated $222.8 million in cash, converting 38% of its sales to cash. After making equity share-based payments of $68.8 million, cash grew 23% to $832.2 million.
Headcount rose from 808 at the end of Q1 to 971.
The company announced a special dividend estimated at $0.469/share for stockholders of record on September 30, 2014.
Possible Reasons for the Decline in Sequential Gross Bookings
We already know that more than half of the decline in sequential gross bookings was due to less sales tax being collected. During the conference call, management offered the following comments about it. (Quotes are courtesy of the conference call transcript provided by Seeking Alpha.)
Candy Crush bookings fell more than expected due to lower monetization during the latter part of the quarter, specifically in the May-June timeframe. CEO Riccardo Zacconi said:
…we experienced the stepdown in monetization across our network during the latter part of the quarter. This monetization stepdown impacted our overall game portfolio.
2. Gross bookings from King's other games rose 19% or $39 million sequentially, but was not enough to offset the $69 million decline in Candy Crush bookings. In particular, Farm Heroes did not do as well as management expected during the same May-June timeframe.
3. Monetization was also adversely affected by a shift in the geographic mix of King's players. While the total number of players was about the same in Q2 vs. Q1, US players declined and those in the rest of the world (ROW) increased. The decrease in "high monetizing" US players reduced Q2 bookings.
4. Waiting 5 months between the launches of Farm Heroes and Bubble Witch Saga 2 (launched June 5-7) also contributed to lower Q2 sales in the US. CEO Zacconi remarked:
After the launch of Bubble Witch 2 we have seen a stabilization of the U.S. network while the rest of the world reach has continued to grow on all platforms and geographies.
5. The company also speculated that external factors may have caused some of the bookings decline: seasonality, the World Cup (played June 12 through July 13) and competition from other games that appeal to its core demographic.
6. In response to a question about whether revenue exited the market or went to other non-King games, COO Stephane Kurgan specifically mentioned two competing games: 2048 (Ketchapp) and Kim Kardashian: Hollywood from Glu Mobile, Inc. (NASDAQ:GLUU). However, there are few data on 2048's earnings and none for the US. Kim Kardashian launched 4-5 days before the end of the quarter, so its impact on King's Q2 was minimal.
7. CFO Hope Cochran commented that AppAnnie trends showed that all major game publishers saw a step down in revenue in the May-June timeframe.
Guidance
Guidance was disappointing. King forecasted Q3 bookings at $500-525 million. The company lowered FY 2014 gross bookings guidance from $2.55-2.65 billion to $2.25-2.35 billion.
Cochran noted that since King could not be certain that the lower run rate at the end of Q2 was a seasonal downturn, the guidance was based on this lower run rate.
FY guidance includes expected revenue from the introduction of two new games: Candy Crush Soda and another title. It does not include any income from the release of Candy Crush in China in partnership with Tencent.
Plans and New Initiatives
Candy Crush was released on the web in China by Tencent during the week of August 4th. The mobile release was August 22nd.
In addition to more fully exploiting casual, King announced its expansion beyond its current genre.

In mid-July, King released its first card game, Pyramid Solitaire.
On August 6, 2014, it bought Nonstop Games. New titles will be released in 2015.
Other acquisitions are possible as King broadens out into new genres with high monetization.

More frequent game releases and all existing franchises will receive extensions similar to Dreamworld in Candy Crush.

King will release two new games in Q4: Candy Crush Soda and a title to be announced.

King is working on Saga 1.5 which features new game mechanics, social engagement drivers and monetization opportunities that go beyond current games. Kurgan stated:

We're building these from the ground up on a new technology infrastructure which will offer a game play experience that's not available in the industry right now.
Thoughts about King's Results
1. King's Other Top 3 Grossing Games Are Very Successful
King is reducing its dependence on the blockbuster game Candy Crush. Non-Candy Crush bookings amounted to $250.6 million and came from: Farm Heroes, Pet Rescue and Bubble Witch 2 (launched June 6).
If we assume that each of these games generated the same daily bookings and allowing for Bubble Witch 2 only being available for 24 days (0.26 of the quarter), the average daily bookings rate was $1.21 million per game:
250.6/2.26 games = $110.88 million per game per quarter
$110.44 million/91 days = $1.22 million per day per non-CC game
For perspective, the average daily run rate of these non-Candy Crush games in Q2 was nearly four times what Glu Mobile Inc. reported for Kim Kardashian in Q2. ($0.32 million-$1.6 million over 5 days according to Glu CEO Niccolo de Masi.)
2. What Caused King's 2% Sales Decline?
King reported a step down in bookings in the May-June timeframe coupled with a drop in US payers. I believe much of the 2% sales decline was probably seasonal.
King's demographic is women in the ages 25-55. Many may have school-age children. Most schools in the US recess for the summer between late May and mid-June and resume in late August through mid-September.
In the US, people traditionally start taking vacations and weekend trips Memorial Day weekend (May 24-26, 2014).
King's sales decline does not appear to be explained by either 2048 or Kim Kardashian because the timeframe does not match.
The grossing ranks for King's top 3 games did not change materially between May 1 and June 30 even though its bookings stepped down.
US Grossing Ranks for All Games on May 1 and June 30
Date

Game

Apple App Store

Google Play

Rank Change

Apple Store

Rank Change

Google Play

May 1, 2014

Candy Crush

2

2

Farm Heroes

4

3

Pet Rescue

7

5

June 30, 2014

Candy Crush

2

2

None

None

Farm Heroes

5

3

-1

None

Pet Rescue

7

5

None

None

Bubble Witch 2

16

13

NEW

NEW

Kim Kardashian

11

33

NEW

NEW
Source: Distimo
This is consistent with Cochran's observation that all the major game developers experienced a step down in revenue in the May-June timeframe.
3. King Grew Its Monthly Active User Base
Despite the decline in paying users, King's MAUs grew 1% QoQ which should be a plus for the company once school resumes in the US.
Despite the decline in US players, King grew its ROW network.
4. King's Special Dividend Is Not Unprecedented for the Company
The firm was criticized for declaring a $150 million special dividend. But special dividends are normal for King. In its F-1 on page 40, King reported two other special dividends paid prior to its IPO:
"Special Dividends to Equity Holders:

i. October 24, 2013 paid $2.624/share or $287 million

ii. February 6, 2014 paid $1.987/share or $217 million"
The company chose to share its success with investors then and it is doing it again. It is returning cash to all its investors, because management determined it had more than enough cash to fund growth.
King's Sales Prospects
King's sales prospects are looking up.
Candy Crush remains the #2 grossing game in the US. Its other 3 top grossing games are moving up the US ranks again. It gained players in the ROW.
Bubble Witch 2 is a big success and shows that King can transform a low-grossing game into a high-grossing potential hit. It is neck-and-neck with Kim Kardashian in the US on iOS and 10 places higher on Android - #6 vs. Kim's #16.
King's first card game, Pyramid Solitaire, is the #1 grossing card game on Google Play in the US.
King intends to leverage its 485 million MAUs to further mine casual and enter new genres in 2015. Headcount increased 20% in Q2.
King launched Candy Crush on mobile in China on August 22. According to AppLift/Newzoo, the Asia Pacific market is 2.5 times the US market.
Licensing revenue should increase with regional agents worldwide.
1. King's Games Are Rising Again in the US Grossing Ranks
As of August 23, 2014, just 11 days since King's Q2 2014 earnings report, 3 of King's top 4 grossing games have increased their US rank (Candy Crush is unchanged at #2.) Meanwhile, Kim Kardashian has fallen 10 spots on Google Play. The recent rise of King's games shows their lasting appeal and suggests their decline was seasonal.
US Grossing Ranks for All Games on August 12 and 20
| | | | | | |
| --- | --- | --- | --- | --- | --- |
| Date | Game | Apple App | Google Play | Rank Change Apple Store | Rank Change Google Play |
| Aug 12, 2014 | Candy Crush | 2 | 2 | | |
| | Farm Heroes | 7 | 4 | | |
| | Pet Rescue | 12 | 8 | | |
| | Bubble Witch 2 | 13 | 7 | | |
| | Kim Kardashian | 10 | 10 | | |
| Aug 23, 2014 | Candy Crush | 2 | 2 | None | None |
| | Farm Heroes | 6 | 4 | +1 | None |
| | Pet Rescue | 9 | 7 | +3 | +1 |
| | Bubble Witch 2 | 11 | 6 | +2 | +1 |
| | Kim Kardashian | 10 | 16 | None | -6 |
Source: Distimo
2. Casual Is Still Underexploited
Zacconi noted that while King accounts for just 15-18% of the download activity on iOS and Android, competitors' casual games don't monetize as well as King's games. So, there is ample opportunity for King to further exploit casual. King has some 190 games in its stable. Saga 1.5 could be a large catalyst.
Although it received little media attention, Bubble Witch 2 has been very successful. Based on its US grossing rank on both Google Play and the Apple App store, Bubble Witch 2 is already much more successful than its predecessor, Bubble Witch, ever was as shown in these two graphs depicting their US grossing ranks on Google Play and the Apple App store.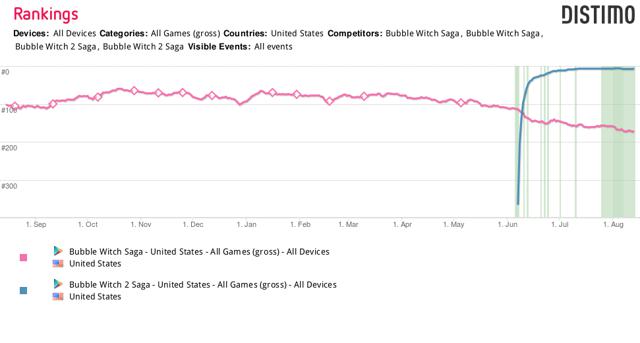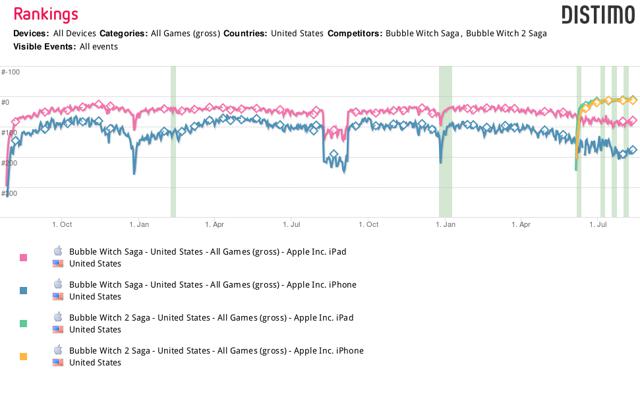 3. King Has Successfully Broken Out into Card Games
King released its first card game on July 3rd - Pyramid Solitaire. One month later, it was the #1 grossing card game in the US on Google Play and still is. Google categorizes Zynga Poker as a Cards and Casino game, so no direct comparison is possible. But, as of March 15, 2014 (when it was apparently withdrawn), Zynga Poker ranked #11.
Apple classifies Zynga Poker as a card game in its app store and it ranks #3 on the iPhone and #6 on the iPad. Unfortunately, Apple classifies Pyramid Solitaire as a puzzle game, so again no direct comparison with Zynga Poker is possible. In the category of puzzle games, Pyramid Solitaire ranks #18 on the iPhone and #16 on the iPad. But it competes with King's other 4 games which are ranked #1 through #4.
In addition to expanding its casual offerings, King intends to leverage its 485 million MAUs reach to other genres - one reason why it increased headcount 20% in Q2.
4. Candy Crush's Future
Despite a slowdown in Candy Crush's sales, it still has enduring, worldwide appeal. It is the #2 grossing game in the US on both Apple and Google Play and the #1 grossing casual game in the US on both platforms. While its download rank on Apple in the US has slipped to #13 and #15, respectively, on the iPad and iPhone, respectively, it has been the #1 or #2 downloaded game on Google Play since March 17, 2013. It also continues to rank highly outside the US. Saga 1.5 should boost sales.
Candy Crush was launched on mobile in China on August 22nd in both Tencent's App Center and Apple's App Store. Tencent has the largest mobile social network in China.
5. New Games in Q4
One of the new games King said it would release in Q4 is Candy Crush Soda. While some have labeled it the sequel to Candy Crush, King has not said it is replacing Candy Crush with it.
Candy Crush Soda was soft-launched on Google Play in 4 countries: Canada, Netherlands, Spain and Sweden. Some have expressed disappointment in its performance. But the game has done well considering its competition.
Candy Crush Soda competes against not only Candy Crush (the #2 grossing game in Netherlands, Spain and Sweden), but also King's other 3 top grossing games and Kim Kardashian. As of August 23rd, it continues to outgross Kim Kardashian in Netherlands and Spain, ranking #48 and #57, respectively vs. #56 and #131, respectively, for Kim Kardashian.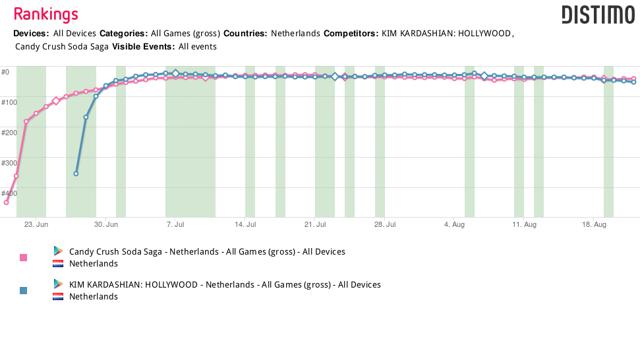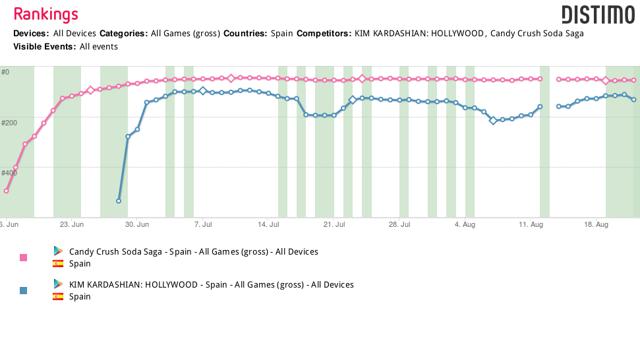 There is no information about the second game King plans to launch in Q4.
6. Acquisition of Nonstop Games
King's acquisition of Nonstop Games is only the company's second. The first one, Fabrication Games, led to Candy Crush becoming a mobile blockbuster. While the acquisition of Nonstop Games may not generate a similar sales boost, it provides King with an entrée into the action/strategy game category.
Nonstop is a small company and its only current game is Heroes for Honor which is similar to Supercell's Clash of Clans. Heroes for Honor has a small following and is a quality game (based on my experience) that would benefit from more visibility. While it's not going to overtake Clash of Clans with its huge lead, it has the potential to gain customers who are fed up with Supercell's prices.
King said that Nonstop will launch new games in 2015.
7. Licensing Revenue
King signed its first Candy Crush licensing deal on June 27, 2013, with premium sock maker Happy Socks. Since then, the company inked 3 more deals, most recently on July 31, 2014, with Spun Candies.
The company has stepped up this source of revenue. On June 6, 2014, King selected 10 new licensing companies covering the US and Canada, Latin America, Israel, Turkey, Southeast Asia Pacific, Australia and New Zealand, Korea and Greater China. European licensing will continue to be handled by King's in-house group.
Since Candy Crush remains popular in all these markets (China is new), a regional focus on licensing should boost sales. Licensing deals for King's other top grossing games is another source of untapped revenue.
Revaluation
Originally, King's value was estimated at $16.2 to $18.0 billion. This was based on the following expectations:
A 10-year CAGR of 13.4% in sales
Adjusted operating margin declining to 33.8% by 2023
Sales-to-capital ratio of 5.1.
Factoring in annual seasonal slowdowns in Q2 and Q3 sales coupled with increased competition against King's commitment to launch at least two new games a quarter, its excellent track record in producing high-grossing games, its expansion into other genres and China, the revenue boosting potential of Saga 1.5 and higher licensing revenue, we now expect a 10-year sales CAGR of 10.7%. A 10.7% CAGR assumes King's sales grow 17.2% annually through 2017 consistent with IDC's estimate for the mobile games market. Thereafter, the sales growth rate declines annually until it reaches 2.38% in 2023 - the rate of growth of the US economy.
In consideration of King's ability to control costs, the adjusted operating margin target was increased to 35.0% in 2023.
The sales-to-capital ratio was unchanged.
Updating the risk free rate to 2.38% reduced the initial cost of capital to 9.7% vs. 10.0% originally.
The initial tax rate was increased 180 basis points from 20.54% to 22.34% reflecting the company's most recent effective tax rate.
Based on these assumptions, sales in the terminal year are $5.2 billion vs. $7.6 billion originally.
King's estimated value is $14.6 billion. The value components are listed below. All amounts are in billions of USD. The dividend of $0.15 billion was not subtracted from cash because shareholders will receive it.
Value of Operating Assets $13.664
Less Operating Lease Debt -0.039
Plus Cash 0.832
Plus Non-Operating Assets 0.135 (income tax refund expected)
Less Value of Options -0.012
Estimated Value $14.580
With 314.93 million shares outstanding, the share value is now $46.30. By comparison with this same share count, the original estimate was $51.44 to $57.16. The margin of safety is 69%. The upside potential is 319% from the closing price on August 25 of $13.90.
Sales Sensitivity
Sales growth is the key to King's value. The following table shows the impact of different 10-year sales CAGRs.
| | | | |
| --- | --- | --- | --- |
| 10-Year Sales CAGR | Value in Billions of USD | Value per Share | Comment |
| -8.7% | $ 4.38 | $13.90 | Current Share Price |
| 0.0% | $7.12 | $22.61 | |
| 2.38% | $8.27 | $26.27 | Growth rate of US economy |
| 5.0% | $9.83 | $31.20 | |
| 10.7% | $14.58 | $46.30 | New Estimate |
| 13.4% | $17.88 | $56.77 | Original CAGR |
One needs a very pessimistic view of King's future to justify a share price of $13.90. Sales would have to fall to $756 million in 2023 vs. expected sales of $2.2 billion this year. We don't think this is probable.
Even if one treats King like a mature company growing at just 2.38% per year, its shares are worth nearly twice the closing price on August 25.
Conclusion
King is a bargain with substantial upside.
Disclosure: The author is long KING.
The author wrote this article themselves, and it expresses their own opinions. The author is not receiving compensation for it (other than from Seeking Alpha). The author has no business relationship with any company whose stock is mentioned in this article.