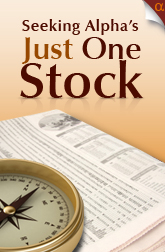 Several times a week, Seeking Alpha's Jason Aycock asks money managers about their single highest-conviction position - what they would own (or short) if they could choose just one stock or ETF.
---
William Baker is founder of Gaineswood Investment Management, a Baltimore-based RIA that manages equity portfolios for individuals, institutions, and an in-house limited partnership. A 25-year industry veteran, he previously worked as a portfolio manager at Reich & Tang, and spent nearly five years in portfolio management at Oppenheimer Mutual Funds.
If you could only hold one U.S.-traded stock position in your portfolio (long or short), what would it be?
An important sector for Gaineswood is gold equities, and within this if we were restricted to U.S.-traded companies our favorite idea is Fronteer Gold (FRG). The gold equity sector is represented nearly entirely by companies listed in Canada and other countries. However, we believe that Fronteer is one of the most interesting opportunities in any geography. We sometimes think of Fronteer as a "West Africa in Nevada" play, because its flagship property, Long Canyon, is a large oxidized resource close to the surface, and thus mimics the especially appealing economics Gaineswood has found in that region.
Gaineswood is a growth stock manager with a perspective of holding companies that possess substantial three-year-plus growth potential. Irrespective of the commodity situation, we feel that Fronteer Gold has this business profile mainly because exploration at Long Canyon is continuing.
Tell us a little more in detail about the company behind FRG.
Fronteer is a Nevada-based gold exploration firm. The company's flagship project is Long Canyon, which hosts 1.2 million ounces of gold resources. Fronteer's goal is to deliver at least 300,000 ounces of nondilutive gold production within five years corporate-wide. The company is in the process of swapping its Aurora uranium project in Canada for Paladin Energy (OTCPK:PALAF) shares.
Besides Long Canyon, Fronteer has two other Nevada projects, Sandman and Northumberland. The first to contribute to revenue will most likely be Sandman, which is controlled by industry giant Newmont (NYSE:NEM), which can buy up to 60% of the project. At low gold prices, Northumberland's three million ounces of refractory ore were not economic. However, presently the project is enhanced by encouraging drill results and higher prices.
Topping this off is the recent discovery of Halilaga, a potentially large copper-gold deposit in Turkey, which is operated by Teck (TCK), which owns 60%. We believe each of these are open-ended, thus offering some upside to the story as it is shaped currently. With the pending swap of Aurora to Paladin, Fronteer should have adequate cash and investments to fund its growth.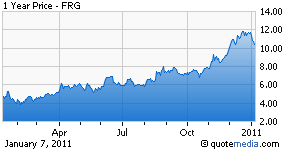 Encouraged by its drilling program, Fronteer consolidated its ownership at 100% of Long Canyon through a tender in November 2010 for AuEx Ventures (OTC:AUXVF), which had owned 49% of the project. We view this as a significant transaction, because the premium price paid of roughly $470 per resource ounce indicates that management is bullish about the potential for expanding the known number of ounces.
Nevada is a large gold province. Its Carlin trend generated much excitement in the 1980s, and it became the foundation for today's industry leaders, Barrick (NYSE:ABX) and Newmont. In 1966 Newmont had Nevada reserves of just 3.5 million gold ounces, but this grew to nearly 29 million ounces by 2009. However, Nevada has not spawned much new activity since then besides expanding these original discoveries.
Although Long Canyon is a "Carlin-style" deposit, it was not discovered until 1999, because it is 90 miles east, and its mineralization is oriented in a different direction. While it is possible that Fronteer's project could max out with only a few million ounces or less, the process of delineating a new discovery takes years, and it can unfold gradually over decades. In early 2011 management plans to provide a new resource estimate, which we think will show growth in Long Canyon's recoverable gold.
So how does the project look?
We are encouraged by recent drilling results, which show oxidized mineralization down to 350 meters. This means it should be easy to recover the gold with a low-cost process known as heap leaching, supplemented by a small mill. While most of the discovery has ore possessing just less than 2 grams per tonne (which is economic), in 2010 drilling at the north end of the project found 12.3 g/t over 50 meters and almost 14 g/t over 21 meters. Two November 2010 press releases describe these results, and these along with the AuEx acquisition positively affected the stock price.
Long Canyon is the sizzle behind Fronteer Gold, but investors should also realize there is plenty of steak in its Northumberland, Sandman, and Halilaga projects. Northumberland has over 3 million ounces of gold, but it is a refractory deposit, meaning recovery is difficult and expensive. Unless a plant is constructed on site, its ore must be trucked to a processing plant about 250 miles away. Its potential has been enhanced recently by encouraging drill results, and the company plans to explore from a new underground decline in 2011.
Sandman is only 40% owned, but it contains easily processed ore that is located near the surface. The operator, Newmont, conducted a $14 million program to delineate more than the project's current 270,000 ounces, and it is expected to announce the results of this work and declare its intentions with the property in mid-2011. Similarly, Halilaga is only 40% owned, and its operator (Teck) is busy probing seven porphyry targets. In mid-2011 we expect a resource statement to be issued that might build confidence in this becoming a substantial project. Eventually we think as many as 3 million gold ounces and 2 billion pounds of copper could be mined at this Turkish property.
How does your choice of Fronteer reflect your investment approach?
Gaineswood Investment Management invests in companies that have powerful drivers present that potentially produce earnings growth over a three-year time horizon or longer. Quality and competitive advantage are important considerations for us, also. We like to discover ideas ahead of the crowd, and as they evolve positively, we anticipate seeing other investors attracted to our thesis.
In the case of Fronteer, we believe we recognized that Long Canyon is a unique property that resembled others we favor, such as in West Africa, where companies are busy expanding within large unexplored districts containing high-grade ore found in abundance near the earth's surface. We believe the low operating costs of such deposits and having control over a large district provide a sustainable competitive advantage and an engine of growth for years.
How much is your selection based on Fronteer's industry, as opposed to a pure bottom-up pick?
We were originally moved to consider gold mining for macroeconomic reasons. I'm an Austrian economist, and my book Endless Money is an analysis with a favorable view of gold's role in monetary systems historically. Medical, technology, and other growth sectors have been the traditional sectors of emphasis for Gaineswood since its founding in 1995, and its approach is research-driven, bottom-up oriented, and strongly emphasizes competitive advantages. Gaineswood believes that Fronteer typifies its criteria, because Long Canyon in particular has open-ended potential, and has favorable economics compared to the rest of the industry (as well as absolutely). Moreover, with the added ounces from its other projects and its uranium holding, despite the price surge of late 2010, its market capitalization of just less than $2 billion represents good value before projecting growth in stated resources.
Describe FRG's competitive environment. How's it positioned with regard to competitors?
Gold mining has suffered because ore grades and discovery sizes have trended lower for decades. An extensive study of gold discoveries made over the last 60 years conducted by industry leader Gold Fields Ltd. for the Society of Economic Geologists thoroughly supports the view that the number of deposits and the ounces found has been steadily declining since the late 1980s. Ore grades dropped from over 8 grams per tonne in the late 1950s to less than 1 gram per tonne in 2008. The cost to discover new ounces has increased from $3 per ounce in the 1950s and 1960s to $19 per ounce in the 1980s, and has been an average of $47 per ounce since 2000.
For this reason, despite the recent climb in the gold price, mining has only recently become interesting economically. Fronteer has a competitive advantage from having discovered a large, rich ore body in a region where it can explore and potentially expand this resource for years into the future. Its other projects are also well enough along that they have good chances of being developed with favorable economics.
The company has been exploring in Nevada well before the present mining boom began, so it controls many other highly prospective leases, about 70 in number. It has demonstrated an ability to build upon the usual structural interpretation of the region's geology, thus placing itself at the center of an emerging new trend in one of the world's largest geologic provinces of gold. Fronteer was able to see the potential for continuing the Carlin trend when most competitors had diminishing success and many had de-emphasized the area. The notable exception is Cortez Hills, a longtime producer which Placer Dome turned into a major discovery in 2004-2005 just before selling out to Barrick. Newmont is also still active in Nevada. Agnico-Eagle (NYSE:AEM) has stepped into the West Pequops area, near Long Canyon. Exploration is picking up, which should increase the value of Fronteer's acreage.
And how does FRG's valuation compare to its competitors?
Fronteer is an explorer rather than a producer. Groups of both explorers and producers with above-average prospects that Gaineswood monitors tend to trade at a valuation of approximately $300 to $350 per resource ounce (includes inferred), with notable exceptions such as Andean (NYSE:GG), which was acquired at over $1,000 per ounce.
Interestingly, the valuation is similar for explorers and producers. Gaineswood believes explorers would normally be discounted by more than $100/ounce compared to producers. However, their resource statements tend to lag drill results, so this differential is narrowed in anticipation of added ounces not yet announced but nonetheless likely to be booked, because drill results give investors an idea of what is to come. If one reduces Fronteer's enterprise value by the pending investment in Paladin shares, Fronteer trades at $315 per total resource ounce of gold. Note this also excludes our assessment of substantial gold and copper in place at Halilaga. Since 2011 is likely to show significant increases in ounces contained at all of its projects, Gaineswood believes that Fronteer remains undervalued despite its recent share appreciation.
The stock's more than doubled over the past year; how does your take compare to current consensus on FRG?
Gaineswood believes the sentiment on the stock has gotten ahead of itself with all the good news coming out of Long Canyon, the AuEx merger, and the sale of the Aurora uranium project to Paladin. While this consensus is strongly favorable, Gaineswood believes the stock is not well known. Furthermore, while gold equities have performed well in absolute terms for a year or more, for years the value of gold equities has been compressing compared to the metal itself. Thus we conclude the consensus is for the gold price to decline over the next few years, whereas we are bullish for macroeconomic reasons, even if deflation of the credit bubble continues.
Gaineswood also believes U.S. institutional investors have not begun to invest in the sector to any significant degree. Should they do so, small- and mid-cap managers may be restricted to participating in domestic companies, and Fronteer is one of the few that might pass quality restrictions.
Does Fronteer management play a role in your selection?
We believe Fronteer's management is nimble and executing well. It has also demonstrated an ability to approach geological analysis differently from its peers operating in Nevada.
Another thing we like about management is its keen understanding of dilution, and its strategic priority to boost shareholder value through maintaining a tight control over shares issued.
Especially in an environment where discovery size has trended down, the big payment that Goldcorp made for Andean raises a natural question: What about prospects for Fronteer to get acquired by a major? (Though that certainly may have been cheaper last year.)
One of the unique aspects of our philosophy is that we are so focused upon discovering companies that can morph into much larger entities in a three-year-plus investment time horizon that we are adverse to managements selling out at the front end of that evolution. I think the environment prior to Andean was one where juniors were generally capital-starved, and only a handful of world-class projects spawned meaningful transaction activity.
We owned Red Back, which I think was misunderstood in the marketplace, save for Tye Burt. Its Tasiast mine may become the third-largest gold mine on the planet. We also owned Lihir, whose valuation was absurdly low, and its acquisition by Newcrest (OTCPK:NCMGY) enabled that company to simultaneously dilute its copper-related income stream, increase its gold wealth per dollar of market cap, and fill in its out-year production gap. Andean fits in as a potentially large deposit with rich ore grades, but it is not a giant, so its high valuation broke the trend set by these other deals.
So far, Long Canyon's Carlin-style mineralization looks like it could be significant as the AuEx purchase indicates, but I don't think it is destined to be a giant like these previous deals. The concept we have for Nevada is that a discovery like this would result in other important pods, and Fronteer is ahead of the pack both in terms of its acreage and in its understanding of the region.
And how does that affect valuation?
Long Canyon is unique in that it is in the U.S., where there has been a paucity of discoveries. However, I think Nevada will yield some major discoveries in the coming years, and with some luck it could continue to be among the world's most prolific regions long after we are dead and gone. Considering there is no foreign country risk, I think a major or one of the medium-sized mine builders would be intensely interested in Fronteer. Given the potential for each of its other projects, the stock has good value.
For example, the numbers I threw out regarding the large porphyry find in Turkey come from the low end of some work done by the geologists, and there are several more targets. Just based on this, the value of its 40% stake alone might exceed today's stock price. So there is definitely a sum-of-the-parts angle here. However, looking at Long Canyon only, I think you would need to see some major extensions beyond the positive announcements of last November to spark an increased valuation over the premium Fronteer paid for AuEx's 49% ownership, or for that matter, an event.
And speaking of events: What catalysts, near-term or long-term, could move the stock significantly?
In the next few months there could be a hiatus on drill results due to seasonality. However, by mid-year Gaineswood believes the likely catalyst could be announcements by its majority partner Newmont regarding Sandman, and resource statements showing greater ounces of contained gold at Long Canyon, Sandman, and Northumberland. Halilaga could be a sleeper, and Teck should have more to say about its drilling program. Gaineswood thinks that longer-term, Long Canyon could be the company's flagship project, expanding along its 2,600-meter strike length at depth, and also maybe in parallel zones and satellite deposits.
Moreover, highly prospective adjacent acreage such as West Pequops might contain multiple "pods," as is often the case when a large deposit exists nearby. Production at Long Canyon could begin as early as 2013, with Sandman coming on stream even sooner.
What could go wrong with your pick?
Gaineswood's thesis hinges on a combination of rising gold prices, resource expansion, and a smooth path to production. A protracted fall in the price of gold could force management to delay projects or scale back on exploration. A downward revision to resource statements could negatively impact the stock.
Fronteer has no gold reserves at present, but has mainly "indicated" and "inferred" resources. It is very challenging to model production volumes and costs before management has released bankable feasibility studies.
Thanks, William, for sharing your thesis with us.
Disclosure: Long positions in FRG, AEM, KGC.
Read more Just One Stock interviews »
If you are a fund manager and interested in doing an interview with us on just one stock or ETF position you'd hold, please email us at Just One Stock.