I think there's a lot of criticism floated around over Android's (NASDAQ:GOOG) (NASDAQ:GOOGL) ecosystem. On one hand, it's flexible, adaptable to the needs of multiple phone vendors. But on the other hand, it's not as standardized as it could be, and if anything, Apple's (NASDAQ:AAPL) ecosystem has much more consistency when compared to Android's fragmented ecosystem.
Despite these shortcomings, I anticipate Google will generate more revenue than Apple from application and media sales. However, intensifying competition will eventually result in declining market share for Android.
Fragmentation could be Google's greatest strength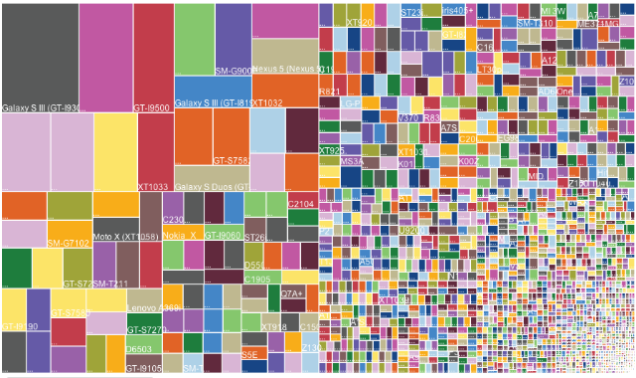 Source: Gizmodo
The above picture is the number of distinct Android handsets that downloaded Open Signal. The number of devices exceeds 18,000. By now, it's pretty obvious that Android is the most multipurpose OS, and there are pockets of users that are using older generation Android OS versions. However, whether it's Google's inability to convince consumers to upgrade their OS, or the lack of awareness of new versions, Android really needs to step up, especially if it wants to sustain its lead in terms of market share.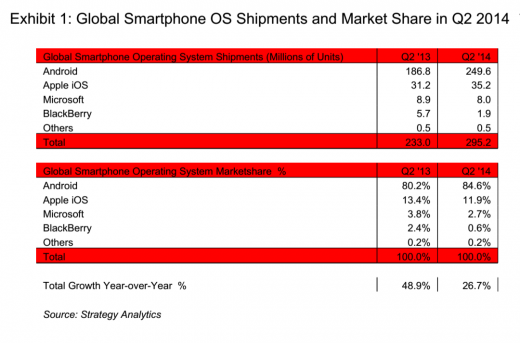 Quoted from: thenextweb
At the present moment, Android has 84.6% market share, making it the most dominant OS. The versatility of the OS, paired with the near minimal cost of operating the OS, is what makes OEMs use Android over Windows. However, Android does require more beefy hardware to run, when compared to iOS, but that's just because the internal components inside of an Android handset use application standard specific products, whereas Apple can develop semi-custom semiconductor solutions like the M7 co-processor, which improves performance and battery. Again, Apple has a comparative product advantage from being a vertical product ecosystem.
In Android's defense, Sundar Pichai (head of Android) mentions:
I have to think about building a platform and bringing as many people along on this journey and getting it right. I believe that ultimately it's a more powerful approach, but it's a lot more stressful as well. We serve the entire breadth of the market, globally across all form factors, et cetera. Android from the ground up is designed to be very, very secure… History shows typically that malware is also targeted at the more popular operating system. So you know there is that.
Despite the disadvantages that Android does face, there's no denying the overall success of Android when compared to competing mobile OS (Windows mobile), however I'm not exactly certain whether or not Android will continue its absolute dominance in market share when comparative OS ecosystems are either gaining market share or are also chasing after the low-end in an attempt to win mobile consumers.
I think that Android will continue to grow as organic growth is healthy for smartphone handsets, but I think that Android will eventually lose some market share to other handsets ecosystems, more specifically Windows in the mid to low-end, and iOS in the high-end.
However, I think Android's ecosystem will remain relatively robust when compared to niche operating systems, like Tizen, Symbian, BlackBerry and Fire.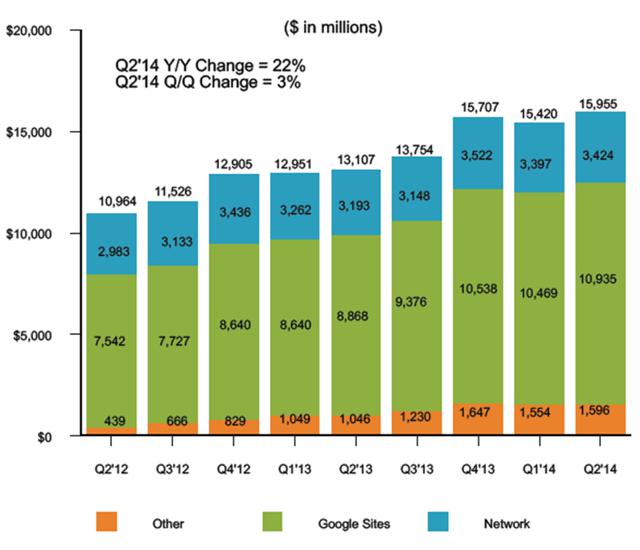 Source: Google
The other segment (Android) generated 52% year-over-year growth. I expect digital content sold through the Android app store to increase as a result of user growth, paired with higher spending per Android user.
In the same quarter Apple generated $4.485 billion in revenue from music, apps, games and services. I think Android will generate more revenue in this specific category as the company has significantly more market share, and it's only a matter of time as organic growth for application and other forms of media begin to pick up given the massive installed base. However, one notable disadvantage that Google faces is the difference in discretionary income between Android users and iOS users. The propensity to spend on a per use basis won't be as great as Android's installed base is global and has a higher percentage of mix from emerging and developing economies.
Conclusion
There's no denying Android has the most users in the world on its OS. From here on out, Google will need to focus on monetization metrics on a per user basis, if it wants to drive growth from this segment. Furthermore, Google's market position in terms of percentile share of total handset volume will eventually decline as price competitive alternatives are starting to emerge, i.e. Windows Mobile.
Despite the shortcomings I think that the segment will eventually catch up to Apple's media sales from music, apps, games, etc. Remember, Google's revenue growth in this category was significantly higher than Apple's (52% y-o-y, versus 12% y-o-y).
Disclosure: The author has no positions in any stocks mentioned, and no plans to initiate any positions within the next 72 hours.
The author wrote this article themselves, and it expresses their own opinions. The author is not receiving compensation for it (other than from Seeking Alpha). The author has no business relationship with any company whose stock is mentioned in this article.