Best Buy (NYSE: BBY) just released second quarter results and investors are not loving them: Though the electronics retailer presented a sizable earnings beat, revenues in the most recent quarter didn't look great at all: They declined 4% year-over-year to $8.9 billion.
Investors are quite sensitive when it comes to the revenue trends of traditional brick-and-mortar retail operations. This is not something particular specific to the electronics business; other retailers also face particular scrutiny when it comes to their sales development. J.C. Penney (NYSE:JCP) is a good example of how investors nowadays react when sales don't meet expectations: Investors largely follow the sales trend. If sales increase they purchase the shares of the company, if sales fall they sell their shares.
This might seem intuitive, but I think it is really not. Chasing the stock price or getting rid of a stock based on the beat of the market is not a good way to make sound investments in the long-term.
Many investors often question my contrarian stance on companies such as J.C. Penney or Best Buy. I still think there is a lot of value in select retailers and both sales as well as investor sentiment should change when the economy does a little better in the future. Why?
Because retailers are the prime beneficiaries of a cyclical upswing and higher consumer spending. When customers have more money in their pockets and their own earnings expectations are adjusted upward, they are more likely to open up their wallets on go on spending sprees.
Though a real boost from consumer spending might still be a couple of quarters away, if not years, there are powerful cyclical tailwinds in the making for retail operations such as Best Buy.
Second quarter results
Best Buy reported sales of $8.9 billion for the most recent quarter which came in short of revenue consensus estimates of $9.0 billion. Best Buy reported sales of $9.3 billion in the year ago quarter.
Comparable same store sales also declined 2.7% while analysts expected a decrease of 2.2%.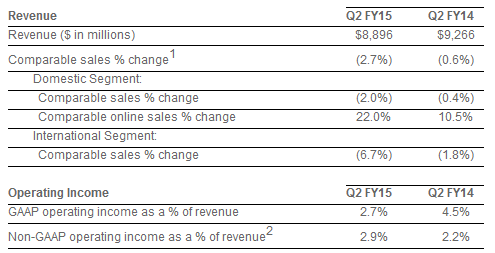 (Source: Best Buy Second Quarter Earnings Release)
On the other hand, Best Buy reported better-than-expected earnings of $0.44 per share vs. analyst estimates of $0.31 per share. Best Buy earned $0.32 per share in the same quarter last year.

(Source: Best Buy Second Quarter Earnings Release)
Other noteworthy developments in the second quarter were surely the healthy pop in online sales which increased 22% year-over-year as well the improved adjusted operating income margin of 2.9% which compares against a margin of 2.2% in the year ago quarter.
Cost savings are another issue of interest to investors: Best Buy squeezed out another $40 million in annualized cost savings in the most recent quarter, which brings Best Buy's total cost reductions under the present Renew Blue restructuring program to $900 million.
In the second quarter of 2014, Best Buy further tackled SG&A expenses which declined 11% to $1.8 billion compared against $2.0 billion last year. The SG&A margin now stands at 20.4% compared with 22.0% a year ago: A y-o-y improvement of 160 bps. Respectable.
Chart situation
Best Buy's sales development certainly was nothing to cheer about and investors quickly sold their shares as they realized that top line challenges at the retailer persist. Shares are now down approximately 6% after results release, which I think is a good purchase opportunity for investors who believe Best Buy can continue to execute on its Renew Blue program.
I also think that the market extremely overreacts with respect to Best Buy's second quarter results: Earnings have been strong and Best Buy's Renew Blue cost savings initiative is bearing fruit, too.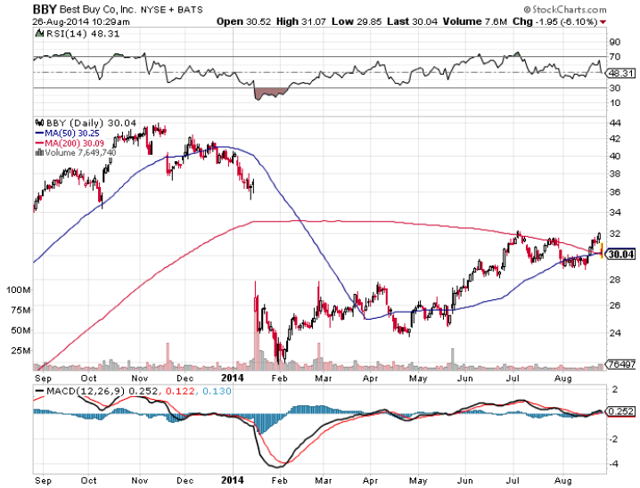 Click to enlarge
(Source: StockCharts.com)
Conclusion
Investors always have extremely high expectations when it comes to performance results, especially with respect to companies that go through hard times. What they have got to consider, though, is that turnarounds are neither easy nor quick to pull off: Turnarounds take time and setbacks can and will happen. This is part of how restructurings and reorganizations work.
Best Buy's underlying financials, apart from the sales development, actually don't look that bad at all and investors should give Best Buy more time to remodel its stores, close unprofitable ones and to go all in on 4k televisions. The sell-off today is a good opportunity for investors to get exposure to a retail turnaround play in the electronics segment. My target price remains unchanged at $35 representing about 17% upside potential. Strong Buy.
Disclosure: The author is long BBY, JCP.
The author wrote this article themselves, and it expresses their own opinions. The author is not receiving compensation for it (other than from Seeking Alpha). The author has no business relationship with any company whose stock is mentioned in this article.