It's only been a couple of weeks since I last touched on Trina Solar Ltd. (NYSE:TSL). A lot has happened, however, particularly with the Tuesday night release of Q2 earnings, and I feel it is important to clear up some misunderstandings the market appears to have about what was reported.
Earnings per share for Q2 were in-line with consensus analyst estimates of 14 cents, but Trina Solar's stock was beaten up pretty hard on their "miss" of their own shipment guidance for the quarter.
Shipments
Trina Solar reported 943.3 MW of shipments in Q2, a trivial amount below the guidance they had offered of 950 MW. That's not a "miss," that's likely a single small-ish shipment slipping into the next quarter.
Underscoring how little that means, Trina Solar's FY2014 guidance remained totally unchanged, still between 3.6 and 3.8 GW. That's a substantial increase over the module shipments in previous years, reflecting the compelling growth the company is experiencing.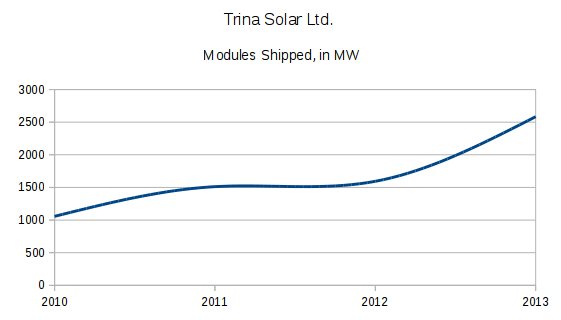 Shipments: The better news
Between US tariffs (more on that later) and low prices in China, this is a tough solar market, and a lot of companies are revising their guidance for FY2014 down substantially. Trina Solar is not.
In fact, Yingli Green (NYSE:YGE), Trina Solar's primary competitor, was guiding at over 4 GW for the year, and revised downward into the exact same range as Trina Solar is. That Yingli's shipments are falling and Trina Solar's are not is huge, and leaves open the possibility that, by year's end, they could surpass Yingli as the world's largest shipper of photovoltaic cells.
There's a lot of competition out there in solar, and modules have practically been commoditized at this point. Being the largest producer confers considerable competitive advantage over those smaller players, and will help Trina Solar remain among the lowest cost major players out there.
US tariffs hurt, but demand still growing
The US Department of Commerce has been slamming Chinese solar makers with substantial tariffs for "dumping." Trina Solar has been affected as well, with a 23% tariff which is somewhat below the industry average of 31%.
That's still not good news, of course, and the punitive tariffs will keep the United States a comparative backwater with respect to adopting solar power. Yet Trina Solar offered surprisingly upbeat news, saying that "demand for our products has increased even after the ruling."
Even more impressive is that Trina Solar reported that their sales to the US remain profitable. That's doubly surprising, because the tariffs were nominally for "dumping," or selling products on the American market at a loss.
Going forward, Trina Solar says it is looking into building some manufacturing capacity outside of China and Taiwan, which could allow them to bypass the harsh treatment the US is giving to China-made solar modules. While that's obviously something for down the road, it should allow them to continue to grow their market share in the US, even as the bulk of their sales are in China and Europe.
By the numbers
If there was a miss in Trina Solar's Q2 figures, it was on revenue. That reflects the pricing problems everyone is having in China, though with some currency gains and their low costs, it didn't impact the bottom line.
Trina Solar Assets vs. Market Cap
| | | |
| --- | --- | --- |
| | Q2 2014 (8/26/14) | FY2013 (3/4/14) |
| Total Assets | $2.88 billion | $2.56 billion |
| Total Liabilities | $1.94 billion | $1.74 billion |
| Net | $0.94 billion | $0.82 billion |
| Market Cap. | $0.98 billion | $1.31 billion |
As you can see, the market's harsh reaction to tariff rulings that didn't dramatically hurt Trina Solar, along with the beat-down they took for the putative "miss" of shipments, has brought those rising net assets roughly in line with the company's entire market capitalization.
That's nothing short of shocking, especially considering the substantial positive EPS surprise in Q1 and the staggering growth the company continues to experience in this struggling solar market.
Conclusion
With FY2014 estimates still at $1.01, and FY2015 at $1.33, Trina Solar stock is trading at an extremely cheap price, particularly given their growing market leadership and their growth in general.
The market seems to be broadly bearish on solar right now, and is using the shipments "miss" as an excuse to get more pessimistic on Trina Solar. All that's really doing is giving people an opportunity to enter the stock at extremely appealing levels.
The negatives surrounding the solar market are more than baked into Trina Solar's price at this point, and even if gross margins continue to suffer somewhat in the near-term, it cannot be denied that the company's position is improving, even if investors haven't realized it yet.
Disclosure: The author has no positions in any stocks mentioned, and no plans to initiate any positions within the next 72 hours.
The author wrote this article themselves, and it expresses their own opinions. The author is not receiving compensation for it (other than from Seeking Alpha). The author has no business relationship with any company whose stock is mentioned in this article.