Tekmira Pharmaceuticals Corp. (TKMR) is located in Vancouver Canada and is a world leader in RNA interference, RNAi. Description of RNAi from the TKMR website:
"RNAi has the potential to generate a new class of therapies to take advantage of the body's own natural processes to silence genes and, by extension, treat serious human diseases that often rely on the production of certain proteins at the genetic level. This method of treatment is not currently available with conventional drugs."Tekmira Pharmaceuticals Corp. is located in Vancouver Canada and is a world leader in RNA interference, RNAi. Description of RNAi from the TKMR website:
This potentially enables the generation of a new and safer class of medications.
Their LNP Delivery Platform gives them a way to successfully deliver and enable the RNAi drugs.
"LNPs are designed to stay in the circulation long enough to accumulate at disease sites, such as the liver or cancerous tumors. Through a process called endocytosis, cells take up the LNPs which allows them to migrate into the cell. The LNPs then undergo an interaction within the cell and the siRNA drug is released, mediating RNAi."
The most recent annual report, Form 10-K was filed 3.28.14. They had 92 employees at the time of that filing. Most of them are in research and development. They also have three wholly owned subsidiaries. (Protiva Biotherapeutics Inc., Protiva Agricultural Development Company Inc. and Protiva Biotherapeutics U.S.A. Inc.).
Collaborators and partners since inception include Alnylam Pharmaceuticals, Inc., Bristol-Myers Squibb Company, Merck & Co. Inc., Takeda Pharmaceutical Company, the US government's Transformational Medical Technologies program, aka TMT, Monsanto, and others.
The current outbreak of Ebola is the worst case since it first showed up in 1976 and has thrust the company in the news almost daily. This in turn, has caused volatile trading of the stock.
The Pipeline
Tekmira is much more than an Ebola trade since TKM-ebola isn't the only therapy they are working on. The products in their pipeline target unmet medical needs in large and growing markets.
TKM-HBV is an RNAi therapeutic designed for the treatment of Hepatitis B infection. According to the 8.13.14 press release an Investigational New Drug, IND application will be filed in the second half of 2014 for a Phase I clinical study of TKM-HBV. Initial data is expected in 2015.
The same press release indicated a Phase I/II clinical study of TKM-PLK1 has been initiated in patients with Hepatocellular Carcinoma. And, the following was said about the trial targeting GI-NET and ACC patients:
"we saw an additional RECIST qualifying Partial Response (PR), defined as a greater than 30 percent reduction in target tumor lesions. This patient is continuing on therapy and has achieved a 44 percent reduction in their target tumor mass, located outside of the liver. Furthermore, scans of the target tumor lesions demonstrate signs of necrosis, indicative of anti-tumor activity."
It's one more study showing the value of this oncology drug. Higher levels of PLK1 in tumors usually correspond with lower survival rates. Lowering PLK1 expression prevents tumor cell from completing cell division and results in the death of the cancer cell. The RNAi approach exploits a naturally occurring mechanism of action. It effectively silences PLK1. These results from using TKM-PLK1 are quite promising.
The following chart shows where their drugs are in the clinical trial process: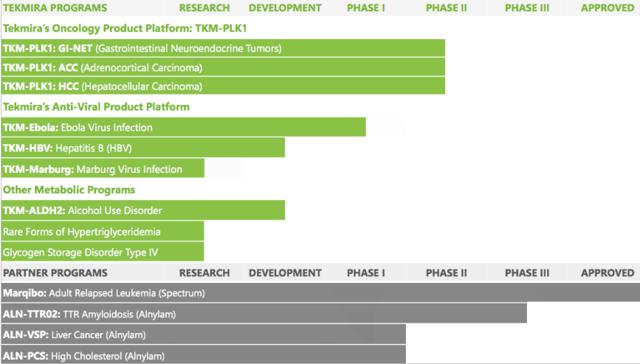 Regarding TKM-Ebola, from the 8.13.14 press release:
"Our therapeutic, TKM-Ebola, is currently an unapproved agent and the regulatory framework to support its use in Africa has not yet been established. Given the severity of the situation, we are carefully evaluating options for use of our investigational drug within accepted clinical and regulatory protocols. This includes discussions with government agencies and NGO's, including the WHO, in various countries on the potential use of TKM-Ebola to treat Ebola virus infected individuals. There can be no assurance that an appropriate framework for the use of this product will be found. We will continue to provide updates as necessary when clinical and regulatory pathways become confirmed."
Tekmira's Lipid Nanoparticle (LNP) Technology Targeting Marburg Virus Highlighted in Scientific Publication announced in press release 8.20.14
"Tekmira, along with its collaborators at the University of Texas Medical Branch at Galveston, USA, published data demonstrating complete protection of nonhuman primates against lethal Marburg virus-Angola hemorrhagic fever (MARV-Angola) when treatment began even up to three days following infection. The study appears in the August 20, 2014 edition of the journal Science Translational Medicine."
Keeping all of the treated monkeys alive is quite incredible. The untreated monkeys died within 7 to 9 days after infection. Marburg and Ebola are both filoviruses that cause hemorrhagic fever with the same symptoms.
Tekmira is ahead of the competition in the race to find a cure for ebola.
Tekmira has FDA approval to treat sick ebola patients with TKM-Ebola, their experimental ebola treatment. They are the only ones with this FDA approval thus far. They are collaborating with scientists from Boston University and the US Army Medical Research Institute for Infectious Diseases (USAMRIID). The studies were funded in part by the US Department of Defense "DoD"
They are in the midst of a current Phase I ebola trial. They are the second company to do ebola clinical trials in humans and the only one doing so currently. (Others are ramping up to start human trials.) Their product TKM-ebola is curative and, it was granted the Fast Track designation in March 2014 by the FDA.
A hold was put on the trial until further talks with the company about side effects on healthy patients. The hold was changed to a partial hold last month, which allows them to treat sick patients.
Of the publicly traded and private companies, Tekmira Pharmaceuticals appears to be the furthest along with an ebola therapy at this point. They are also the only ones given FDA approval to treat sick patients thus far. It's highly probable for them to be on the WHO list of companies allowed to treat sick patients in Africa.
Their primate studies using TKM-ebola were superior to the ZMapp primate studies.
Manufacturing capacity shouldn't be an issue due to the fact there are several U.S. Emergency Labs Ready to Work on Ebola Drugs if Requested. Developing a framework to treat sick patients with an experimental drug is the issue. The upcoming WHO meeting should resolve this.
WHO is holding talks next month on various Ebola treatments.
"The consultation has been convened to gather expertise about the most promising experimental therapies and vaccines and their role in containing the Ebola outbreak in West Africa," it said in a statement on the talks set for Sept. 4-5 in Geneva.
The list of therapies and vaccines they want to use should be published after this meeting.
Risk relating to TKM-Ebola
There are no guarantees that the FDA will lift the partial hold and allow the multiple ascending dose portion of the Ebola trial to continue with healthy volunteers. Tekmira and the FDA are in talks regarding this issue and Tekmira expects it to be resolved by the end of 2014.
The FDA could impose additional requirements that cause delays.
TKM-Ebola may not work in humans as it does in animals.
A competitor could pull ahead.
Competitors listed in alphabetical order
BioCryst Pharmaceuticals, Inc. (NASDAQ:BCRX) is located in North Carolina with an additional location in Alabama. They use a process called structure-guided drug design to identify and determine molecular structure of the protein in order to design a drug for optimal interaction with the protein. They just received funding to advance development of BCX4430 for treatment of hemorrhagic virus diseases. They are currently in pre clinicals with BCX4430. This funding will allow moving forward with important primate studies, filing of an IND and Phase I clinical trials.
Chimerix Inc. (NASDAQ:CMRX) is located in Durham, NC, and is focused on developing oral antivirals in areas of high unmet need. They've put out a press release 9.3.2014 updating their Ebola work. There are no test results from animals yet. All work thus far is in test tubes. They are also one of the companies attending the WHO conference in Geneva.
Fujifilm Holdings Corp. (OTCPK:FUJIY) U.S. partner MediVector Inc. in Boston is privately held and in contact with the FDA regarding their anti-viral compound Favipiravir for usage against ebola. Most of their funding is for their work against the flu. They've started enrolling patients in a Phase 3 clinical trial for Favipiravir against the flu.
GlaxoSmithKline plc (NYSE:GSK) GSK has a significant global presence in over 150 countries. They are working with research partners to develop a vaccine to prevent ebola. GSK acquired the product when they purchased Okairos in May 2013. Discussions with regulators are ongoing to advance to a Phase I clinical trial later this year.
Immunovaccine, Inc. (TSX.V:IMV) (OTCQX:IMMVF) is in Halifax, Nova Scotia. They have recently been testing a vaccine for the prevention of ebola on exposure. The two primates that were vaccinated and then exposed to ebola 70 days later lived. Hopefully, this eventually works as a preventive in humans too.
Inovio Pharmaceuticals, Inc. (NYSEMKT:INO) executive offices are in Plymouth Meeting PA. They published pre clinical data on their DNA vaccine preventing Ebola and Marburg filoviruses in May 2013. Press release can be found here. The published abstract from the trial can be found here.
Mapp Biopharmaceutical produces ZMapp, and they are located in San Diego CA. The company is privately held and can't be traded. Their antibody treatment is produced in tobacco plants. Licenses are transferred to Mapp's commercialization partner, LeafBio. The treatment was only effective in 43% of the animals when they did the pre clinicals.
ZMapp has been used in six human patients thus far. Two US missionaries, one Spanish priest and three other doses. The two missionaries are alive, but the priest died. Of the three doses sent to Africa, one Liberian doctor that received a dose has died. The status of the other two is unknown as I write this. We can't tell from this small number of patients whether or not these antibodies work. 55% have died from the current outbreak and those with supportive care have usually done the best. The two that lived most likely have better immune systems than those living in the outbreak sites in Africa. Better immune systems coupled with better supportive care make a difference in itself. Again, we don't have enough data to know whether or not this drug actually made a difference. I hope it did since we need an effective treatment, but, we simply don't know yet. The recent deaths of ebola patients using ZMapp may dampen the demand for it in the near future.
NewLink Genetics Corporation (NASDAQ:NLNK) is based in Iowa, USA. The company is cancer focused, but, expanding its pipeline to address Ebola viruses via its subsidiary BioProtection Systems Corporation. The letter contract they have with the US Defense Threat Reduction Agency (DTRA) is for studies that will bring an ebola vaccine closer to human clinical trials. Their product has been developed by the Canadian government.
Peregrine Pharmaceuticals, Inc. (NASDAQ:PPHM) is in Tustin CA. The company is developing antibodies for the treatment and diagnosis of cancer. They did some research in 2010 dealing with Ebola, but, it doesn't appear to be a focus of theirs now. The most recent press release that mentions ebola is from November 17, 2010
Profectus Biosciences is a privately held company with locations in Baltimore MD and Tarrytown NY. They are working on vaccines to protect against exposure. According to this press release, they look forward to combining their vaccines with both Tekmira's therapeutics and the Vanderbilt antibodies.
Siga Technologies Inc. (NASDAQ:SIGA) is in New York NY. They develop vaccines and therapeutics. Ebola is one of their discovery targets.
A recent court ruling requiring them to pay lump sum damages to PharmAthene PIP may change some of their priorities. They intend to appeal.
Sarepta Therapeutics (NASDAQ:SRPT), formerly AVI BioPharma is in Cambridge MA. They use RNA technologies to find new therapies. They completed Phase I safety studies in 2012 in both the ebola and marburg viruses. Study results aren't released for either one on the Clinicaltrials.gov site. The ebola trial scheduled to start next was withdrawn due to funding constraints.
Tekmira should be one of the companies chosen by WHO to treat patients in Africa
TKM-Ebola will likely be chosen by WHO as one of the experimental drugs to be tested against the current Ebola outbreak. Tekmira is clearly ahead of the competition being the only company with a current clinical trial testing humans. WHO will most likely decide on the proper framework to do so in their upcoming meeting in Geneva on Sept 4, 2014.
Tekmira's TKM-HBV could be a blockbuster if it ends up being a functional cure for Hepatitis B virus infection. There are no current cures for HBV. Tekmira is much more than just an Ebola play.
Those looking for a short-term trade will be able to make money in both long or short positions due to the current volatility. Entry and exit will be the issue.
Many new eyes are on Tekmira now and it should pick up new investors to hold for the long run. It's still well below the high of the year. The recent low on 7.17.14 was a result of the FDA hold. It's now moving back to the upside since the FDA turned the hold on TKM-Ebola into a partial hold allowing Tekmira to treat sick patients.
Good luck in your trading/investing.
Disclosure: The author is long TKMR.
The author wrote this article themselves, and it expresses their own opinions. The author is not receiving compensation for it (other than from Seeking Alpha). The author has no business relationship with any company whose stock is mentioned in this article.
Additional disclosure: I've been trading in and out of TKMR recently and will most likely retain a smaller position for the long haul due to the pipeline and many partners. That could change if information changes.
Editor's Note: This article covers one or more stocks trading at less than $1 per share and/or with less than a $100 million market cap. Please be aware of the risks associated with these stocks.