In a stock market near historic highs, bargains are hard to come by and therefore investors have continued to look at emerging markets for bargains. Gafisa S.A. (NYSE:GFA) fits the bill -- an out of favor Brazilian company trading near historic lows. The company is the fourth largest Brazilian residential homebuilding company (after Cyrela Brazil Realty, MRV Engenharia and Brookfield Incorporações), but the only one to trade on the NYSE. The firm was formed in 1954 and has three segments that target customers from low income to high.
Three Segments
Gafisa -- Focuses on residential development for medium and high-income customers.
Tenda -- Focuses on housing for people on low income.
Alphaville -- Develops gated residences (the firm now has a 30% stake in this segment for reasons given below)
It is worth noting the firm intends to split Gafisa and Tenda in to two separate entities in 2015.
"Rocky" History
The growth of the middle class in Brazil and expansion of credit markets has created a housing boom in Brazil over the last few years. The housing market really took off when the previous president Luiz Inacio introduced the ''My House, My Life'' program, which was endorsed by the current president Dilma Rousseff. Brazilian homebuilding companies grew too optimistic, as was the case with Gafisa and engaged in ambitious expansion plans. Gafisa acquired other homebuilders and expanded their construction plans. These had to be reined back though as there were losses from lower-income customers defaulting and debt spiraled out of control. The existence of the firm was questioned. The firm has engaged in a restructuring program since then to bring the firm back to profitability.
Sale of Alphaville to Blackstone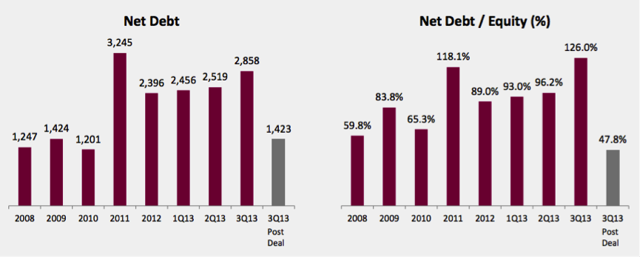 (Source)
You can see the high level of debt the firm had in 2011 and most recently in 2013. Management sold a 70% stake in their Alphaville division for US$1 billion to Blackstone Group LP and Patria Inveimentos Ltda., which provided a huge cash boost for GFA. This deal took place in June 2013 and as you can see from the graph above, greatly reduced the gearing of the company.
Management had intentions to reduce their pile of debt before the deal and had this to say about the new eebt/equity ratio, "Sharp drop in debt reduces financial costs, lower perception of risk, resulting in reduction in the company's funding costs." To me, this deal was significant because it highlights the first investment in Brazilian homebuilders for Blackstone. The private equity firm has previous investments in the European and American homebuilding areas but specifically highlighted they wanted to increase their exposure in Brazil. Private equity firms are known for their focus on longer time frames and attention to valuation. They clearly see an undervalued industry.
Gafisa S.A. reported they received a takeover offer from Latin American private equity firms GP Investimentos and Equity International in 2012. They rejected the offer "due to a significant undervaluation of the assets and businesses involved." The stock was trading at around $5 at the time in 2012, and the company currently trades for $2.82. We can assume a premium for the company was offered when the takeover offer was made.
Institutional Holders
Institutions hold around 15%-20% of the shares. Banking giants such as Morgan Stanley, UBS and Bank of America hold the firm. The table below shows how the institutional holdings looked as of June 30, 2014. I must emphasize Morgan Stanley increased their stake to 5.2% of the firm (from 0.42%) on Aug. 22, 2014. They have noticed that their holding is trading at a bargain and taken advantage of the cheap multiples the firm is currently trading for.

(Source)
Previous Earnings
Earnings have not entirely been profitable, with earnings of small losses/profits in the past few quarters, however the firm looks to be returning to profitability. The latest quarter (announced Aug. 11, 2014) saw a small net loss of $0.85M. The firm has a more attractive debt/equity ratio, and the restructuring plans the company has undertaken look increasingly like they are taking effect.
The firm invested in new areas of Brazil in 2011 that had no track record of profitability and lost a lot of money in the process. The company has learned from the experience. In a recent shareholder presentation the firm stated their intentions to focus on profitable areas.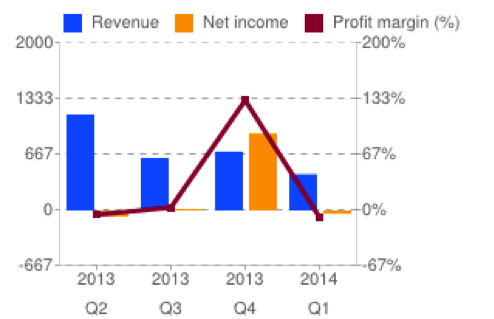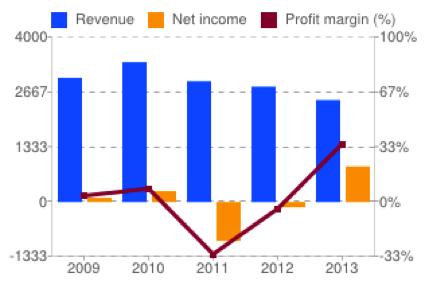 (Source)
Valuation Metrics
That leads me on to valuation metrics. The firm is trading at a bargain:
Price/Book Value 0.43
Price/Cash 0.92
Price/Sales 0.59
Price/Earnings 4.69
The firm is trading at a discount compared to the total cash it has. It is clear Mr. Market is overly pessimistic on this company. It is worth noting that U.S. companies were previously trading at price/book value similar to GFA during the worst of the financial crisis. They now trade at a multiple average of around 1.2-1.4.
The chart below shows some of the valuation metrics of GFA in comparison to other U.S. residential firms with a similar market cap.

(Source)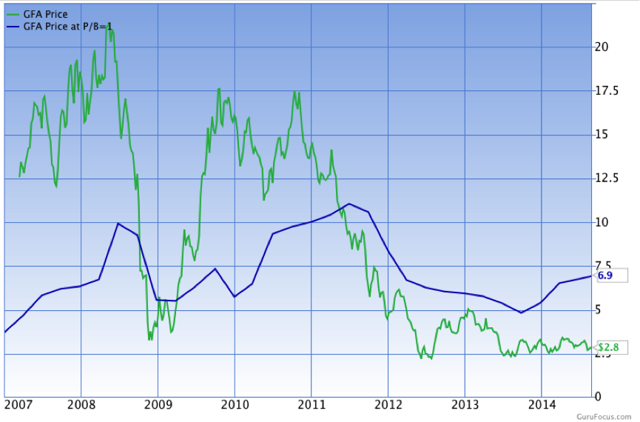 (Source)
In my graph above, the blue line represents where GFA should be with a P/BV of 1. From the graph you can see the firm traded above a P/BV of 1 over several years. I believe as the firm engages in its successful turnaround plans and consistently becomes profitable again, it will once again trade with a book value above 1.
Conclusion
Gafisa S.A. is undervalued. The firm has management that have turned the firm around, nearly back to profitability with a healthier debt/equity ratio. The firm is worth $3.11 based on the cash it has (9.5% upside from here). I can see the firm trading at a P/BV ratio of 1 conservatively, if the firm can return to constant quarters of profitability. The firm will return to over $6 a share in the medium to long term (112% upside) based on this.