My preferred path to high-probability stock market profits is to invest in companies that increase dividend payments at significant rates of growth. For pass-through companies such as REITs, dividend growth will be a driver of share price growth over time. As I was working through my database of REITs and historical dividend payments, the idea arose that it would be interesting to write a series of articles covering those REITs with the highest recent historical dividend growth rate and try to forecast where the dividends and share prices will go from here.
Over the last four years, no REIT in my database has increased its dividend faster than Extra Space Storage, Inc. (NYSE:EXR). After not making a distribution for the middle two quarters of 2009, the EXR dividend has increased by a compound average growth rate of 65% per year from the $0.40 annual rate paid four years ago in 2010 to the current $1.88 annualized following the dividend increase for the 2014 second quarter announced in May. The pre-crisis dividend of $0.25 per quarter was again attained and paid in December 2012. Over the six quarters since then the dividend has been increase twice and is now 88% higher. The most recent increase for Q2 2014 was a 17.5% increase over the rate paid for the previous four quarters.
The recent increase, although very strong, is down significantly from the 50% plus annual increases in the EXR dividend over the last several years. The question to be answered now is whether or not the dividend increase rate will continue to slow or can Extra Space Storage keep up a double-digit annual distribution growth paste.
Three-Pronged Strategy for Growth
Extra Space Storage owns, operates and manages self-storage facilities. If managed well, this real estate sector is nicely profitable. The biggest challenge is to maintain the highest possible percentage of unit occupancy, since many uses of self-storage do so for limited periods of time. Extra Space measures its rental success by calculating same-store net operating income. This metric combines the results of occupancy percentage, rental rates and rate increases. The company defines same store as a property that have been owned and open for three years or has sustained average occupancy of 80.0% or more for one calendar year.
In a recent presentation, the company stated that out of the four storage space REITs, EXR was the top performer for the last 33 consecutive quarters for year-over-year net operating income growth . Over that 8 year period, NOI increased by an average of 5.6% each quarter compared to the year earlier period. In recent years the NOI growth has been significantly higher, up right at 10% for 2012 and 2013. For the first half of 2014, year-over-year NOI has increased by 9.7%. According to management, about 1% of this growth comes from properties purchased over the last 1 to 3 years that reach the stage to be included in the same store calculations. For the second quarter Extra Space Storage report same store results on 443 of the 535 wholly owned properties. That leaves almost 90 still to be leased-up and stabilized to meet the criteria of same store and add to the net operating income growth.
Acquisitions are the second tier of cash flow and FFO growth. In 2013 Extra Space Storage closed on 78 properties for $586 million. For the first half of 2014 acquisitions totaled an additional 29 properties. During the Q2 conference call CFO Scott Stubbs noted that "The acquisition environment has becoming increasingly more competitive." However, to answer a question, CEO Spencer Kirk replied: "The only additional color I might give you is I think you'll still see Extra Space participating in the open market acquisition environment as well as what I call the off market where we've got the JV and the managed assets that have provided meaningful growth for our company over the last several years." Kirk expressed confidence that the company would make $500 million of purchases this year. One newer and growing area of acquisition prospects are "certificate of occupancy" or C/O deals where an outside developer builds a property with Extra Space contracted to purchase the property when it is complete and ready to start leasing. C/O acquisitions avoid the risks of in house property development.
Finally, Extra Space Storage is the largest self-storage management company in the U.S. Currently EXR operates 264 properties for other owners and 274 in which Extra Space is a joint owners. A major strength is the company's sector leading customer database combined with an effective online and mobile device marketing system. It was noted in the conference call that new management clients come from property owners that first approach Extra Space. The management of third-party properties generates additional revenue growth and opportunities for acquisitions that are not made available to competitive buyers.
Double Digit FFO Growth to Continue
Current 2014 FFO guidance is $2.46 to $2.54 per share, up 17% from the $2.13 FFO per share generated in 2013. Extra Space Storage has produced double-digit year-over-year FFO increases for 15 consecutive quarters. With a base NOI growth rate of 9% to 10% per year, an average number of accretive acquisitions and new management contracts easily drives annual FFO growth to 15% or better. The current dividend rate annualized is 75% of FFO guidance and 73% of the Q2 $0.64 FFO per unit. EXR typically maintains a 75% of FFO payout ratio.
Extra Space Storage has not maintained a regular schedule of dividend increases. Dividend rates have been maintained for 2 to 4 quarters before being raised again. The Q2 increase bumped the EXR yield up to a current 3.6% from the 3.2% based on the previous dividend. The shares are not a bad value at the current yield, but EXR becomes a great longer-term growth investment if the share price drops below $47 for a 4% yield before the next dividend increase.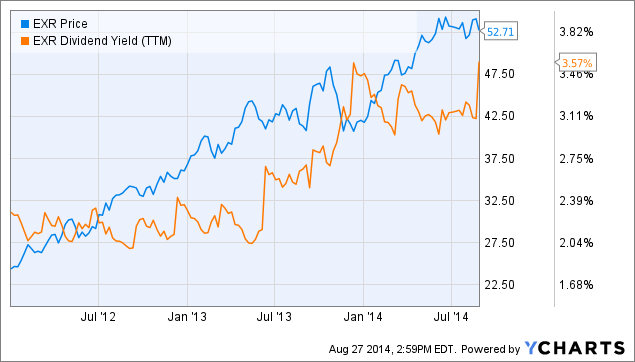 EXR data by YCharts
Disclosure: The author has no positions in any stocks mentioned, and no plans to initiate any positions within the next 72 hours.
The author wrote this article themselves, and it expresses their own opinions. The author is not receiving compensation for it (other than from Seeking Alpha). The author has no business relationship with any company whose stock is mentioned in this article.