Magna International (NYSE:MGA) is one of the largest and the most diversified auto-parts suppliers in the world. The company's stock value has appreciated by more than 40% in a year. Magna caters to those investors who prefer value investing. After all, who doesn't want to find stocks that have low PEs, solid outlooks, and decent dividends?
These characteristics are part of the company, at present. In this article, I will go through Magna's latest quarterly performance and will highlight the important details that the investors look for. Later, I will discuss the future potential of this fast-growing organization.
Second Quarter
During the period, Magna's revenue went up by 5.6% to $9.46 billion, beating the analyst's estimate of $9.37 billion. The year-over-year increase came from higher sales in North America, Europe and Asia. Some negative pressure prevailed due to slowing business in tooling, engineering and complete vehicle assembly sales. However, it wasn't ample enough to bring a dent to revenue. This is because in North America vehicle production went up by 3% to 4.4 million units and by 2% in Europe. These higher production rates imply growing demand for auto parts and, hence, more business for the company.
The company's income from operations, prior to taxes, reached $692 million, which was 27% higher than the same quarter in 2013. The more-than-revenue increase was a result of greater margins earned from higher production sales, new programs that were launched during or subsequent to the second quarter of 2013, productivity and efficiency improvements at facilities, and the benefit of restructuring and downsizing activities recently undertaken.
Though all firms put efforts for restructuring and improving cost, a significant improvement in operating margin explains that the efforts have been successful for Magna. The end result of the above cost-saving and higher top-line was that the diluted earnings per share grew by 30% to $2.32. This was a substantial improvement since the second quarter of 2013, and for reasons discussed below, I believe that the trend should continue in the future.
Magna's success is primarily dependent upon the level of North American and European car and light truck production. Automobile manufacturers continue to increase the range of vehicles built from high-volume global platforms, allowing automobile manufacturers to obtain economies of scale. This is also allowing Magna to benefit as it delivers parts, in larger volumes, which are common across multiple vehicles built from the same platform.
Additionally, the importance of electronics in the automotive value chain has been increasing in recent years as automobile manufacturers seek to replace vehicle functions traditionally performed using mechanical hardware with electric and electronically-controlled alternatives. This trend is being driven largely by automotive manufacturers' weight reduction and fuel-efficiency initiatives. This growing demand leads already-established suppliers, like Magna, to innovate and deliver. Thus, allowing them to materialize the opportunities available in this higher-growth segment.
A recent example to explain my point comes from Magna's association with Ford (NYSE:F) to develop the first-to-market design of seamless sliding rear window for Ford's F-150. The design sets a new trend for power sliders by reducing component need and improving the overall functionality and the manufacturing efficiency. Instead of three pieces of glass, it uses two; helping both Magna and Ford to reduce the component cost.
We can quantify the growing macro prospects for the company by looking at the recent numbers. In July, Bureau of Labour Statistics reported that unemployment is declining and more jobs will boost the economy. The auto sector is the one that contributed in creating high-wage jobs in the economy as it added almost 12,000 new jobs. This is an indication that the sector is experiencing higher demand for its output.
Also, the rise in demand is evident from the June auto-sales number. Auto sales on a seasonally adjusted annualized rate "SAAR" grew to 17 million from last year's level of 15.9 million units. This was the first time, since July 2006, when SAAR reached up to 17 million. In the first half of 2014, US light-vehicle sales improved by 4% year over year to 8.17 million units. This trend also confirms that the market is expanding. Thus, Magna should benefit.
Bottom Line
The board of Magna has declared a quarterly dividend of 38 cents per share. The dividend will be payable next month to the shareholders who are on record by August 29. This is just two days away from now. If the dividends don't interest you, the company has also raised its yearly guidance due to the growing market prospects. It now expects to deliver revenue between $35.6 billion and $37.3 billion this year, up from the previous estimate of $34.9-$36.6 billion.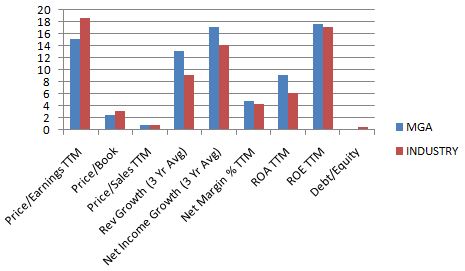 Source: Morningstar
The company's fundamentals have been better than the industry in all aspects (see graph above) in the past. This confirms that Magna has an edge over its peers, and this advantage will let the company reap a better result than others in the future. Consequently, the company should continue posting higher top-line figures. Higher revenue means more profit, and satisfied investors. Therefore, the company holds a buy rating.
Disclosure: The author has no positions in any stocks mentioned, and no plans to initiate any positions within the next 72 hours.
The author wrote this article themselves, and it expresses their own opinions. The author is not receiving compensation for it (other than from Seeking Alpha). The author has no business relationship with any company whose stock is mentioned in this article.