Invesco Mortgage Capital Inc. (NYSE:IVR) is a mortgage REIT that invests in Agency and non-Agency RMBS, CMBS, and residential and commercial mortgage loans. It attempts to provide risk-adjusted returns to shareholders through dividends and secondarily through capital appreciation. IVR is externally managed and advised by Invesco Advisers Inc., which is a subsidiary of Invesco Ltd. (NYSE:IVZ) -- a leading independent global investment management company.
A few of the facts for IVR for 1H 2014 are:
The stock price is up +16.49% year to date through the close on August 22, 2014.
IVR has paid $1.00 per common share in dividends for 1H 2014.
The dividend amounts to 11.5% annualized.
The book value gain amounts to +10.2% for 1H 2014 or +20.4% annualized.
The total economic return for 1H 2014 was approximately +16% (or +32% annualized).
For an income equity, the above are very desirable numbers, and they would more than satisfy most income investors.
The earnings numbers for Q2 2014 for IVR also seem to support all of the above well. The Core Earnings were $62.1 million (or $0.50 per common share). The Comprehensive Income attributable to common shareholders was $217.9 million (or $1.77 per common share). There was a GAAP net loss of $95.1 million; but this was primarily due to changes in value of interest rate swaps. This was of course counterbalanced by the fact that the MBS they covered went up in value, so there were no effective real losses.
Some investors may want to look more deeply at IVR than the above data allows. The graph below depicts the portfolio as it has changed over the last year and a half.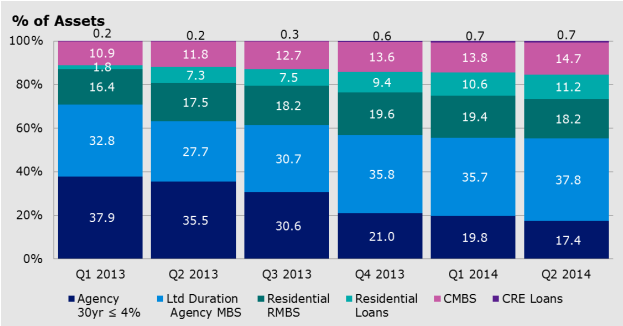 As investors can see, the amount of Agency MBS has decreased over the last 1.5 years from 70.7% of the portfolio's assets to 55.2% of the portfolio's assets. This makes sense for a likely increasing interest rate environment. The graphic below gives a more exact depiction of the Agency changes.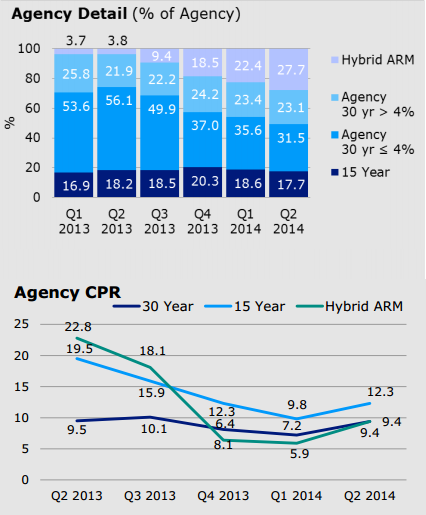 As investors can see, IVR reduced the amount of 30-year fixed rate Agency RMBS and added Agency Hybrid ARMs to replace them. It also sold off its lower coupon Agency RMBS in favor of higher coupon Agency RMBS greater than 4%. This left IVR with an average 30-year fixed rate Agency coupon rate of 4.17% and an average 15-year fixed rate Agency coupon rate of 4.04%. This reduced IVR's extension risk. IVR also decreased the Agency MBS leverage to 9.8x from the 10.9x of Q1 2014. This again reduced risk. Yet IVR was still able to easily cover its dividend.
The MBS portfolio as of June 30, 2014 is below in monetary detail.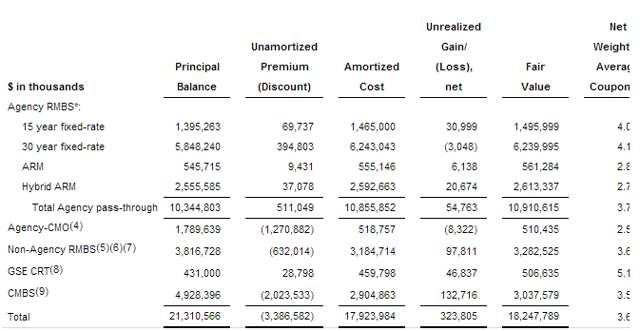 The MBS portfolio as of March 31, 2014 is below in monetary detail.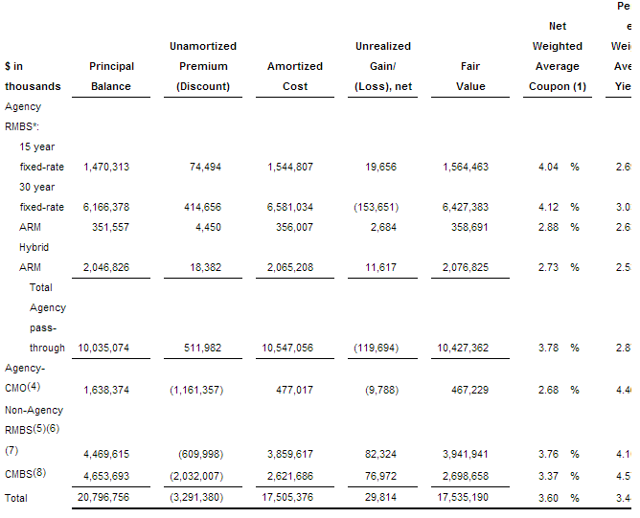 Readers can see that the amount of Hybrid ARMs went up by approximately +$536.3 million in fair value terms. This accounted for almost all of the change to the Agency pass through totals. This is in line with management's view that interest rates will eventually increase with the end of QE3 and the start of Fed Funds rate raises shortly thereafter. Hybrid ARMs will likely only see short-term reverses. Longer term they will reset to higher rates if rates do go higher.
The total amount of non-Agency RMBS went down about -$659.4 million in fair value from Q1E 2014 to Q2E 2014. This is very much in line with IVR's belief that home price appreciation will moderate to about +5% in 2014. The recent June Case Shiller report saw the National Home Price Index gain only +6.2% year over year in June 2014. This is in line with IVR management's thinking. The book value gains in non-Agency securities will likely be lower as time goes on. Management's strategy to deemphasize these securities seems appropriate.
The total amount of CMBS was higher in fair value terms by about +$338.9 million. Management sees the business environment eventually picking up. The US GDP growth rate was +4% in Q2 2014; and growth is expected to be good in 2H 2014. If there is more business activity, it logically follows that there will be more interest in commercial real estate. Again this seems like a good strategic move by IVR's management. The company overall seems to be positioning itself to profit well in future quarters.
The above were the major changes to IVR's portfolio. It appears that IVR's management believes that Hybrid ARMs will be a good bet for a rising interest rate environment. The management apparently expects non-Agency RMBS to possibly weaken (or at least provide lower gains). Hence, IVR has lowered its amount of this holding. However, IVR apparently expects the commercial real estate market to remain strong. Hence, it has increased its investments in that area. I can't find fault in management's logic. Their assumptions are as reasonable as any I have seen. IVR management (or IVZ as the case may be) seems to be doing a good job; and the great recent results confirm that. Plus they are setting up well for what they logically believe the likely future to be.
The company had about $12.8B in notional value of interest rate swaps as of June 30, 2014 for a portfolio fair value of about $18.2B. Given the large concentration of non-Agency RMBS and CMBS, this appears a reasonable approach, especially since interest rates have been going down. IVR is a buy.
The two year chart of IVR provides some technical direction for this trade.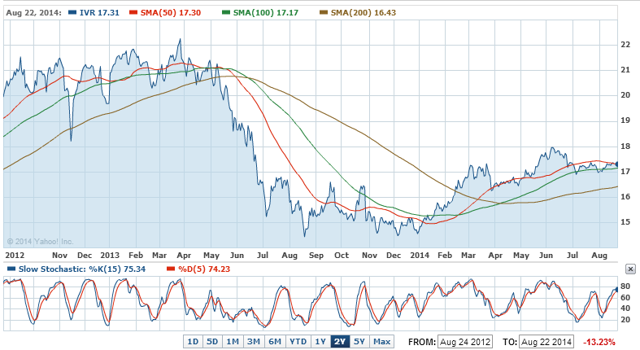 The slow stochastic sub chart shows that IVR is near overbought levels. The main chart shows that IVR is in a weak uptrend. The Q2 2014 gain in book value of $1.27 from $18.53 as of March 31, 2014 to $19.80 as of June 30, 2014 argues for continued upward stock price movement as the stock price closed at only $17.31 per share on August 22, 2014.
The further drop in the 10-year US Treasury Note yield from 2.53% as of June 30, 2014 to 2.39% as of August 25, 2014 (-14 bps) indicates that IVR's portfolio, especially its Agency portfolio, has had further book value gains since June 30, 2014. IVR's book value is assuredly over $20 per share as of this writing August 25, 2014. IVR's closing stock price on August 22, 2014 was $17.31 per share. That means IVR would have to climb 15%+ to get near its current book value. Since the portfolio is being actively managed with the most likely long-term interest rate scenario in mind (safety in mind), this makes IVR a buy at its currently undervalued price.
The current world economic situation is very uncertain. Italy recently went back into recession. The 18-country euro area had 0.0% GDP growth in Q2 2014. Russia is in recession. The increasing sanctions between the US and EU and Russia will have a negative effect on GDP growth of all of the countries involved. I could go on; but the point is that we could see a decreasing interest rate environment for the near future as we see economic slowing in many of the world's major economies. IVR seems well-positioned for the above scenario, and it should profit handsomely if we see that scenario.
Alternatively, we could see rising interest rates. The Fed expects to end QE3. Soon afterward it expects to begin to raise the Fed Funds rate. If this is coupled with rapid US GDP growth, interest rates may rise quickly. In that case, IVR would likely lose some of its book value. However, investors should get ample opportunity to sell, if they need to do so.
There is a strong possibility that interest rates would only rise very slowly as the US and world economies slowly recover. In this scenario, IVR might lose a little book value (or not); but it should be able to manage through such a scenario well. Plus, it will continue to pay shareholders it great 11.5% dividend. Keep in mind that commercial property should do well in that case; and Agency Hybrid ARMs should perform well over the long term if interest rates rise slowly. Only in the case of quickly rising interest rates is IVR's book value substantially in danger. IVR ought to be able to manage its hedges to deal with that.
In sum, IVR is becoming better positioned for rising rates as time goes on. Yet it is continuing to profit nicely from falling rates. This seems to be the best of both worlds for a company that is not being a glutton during the time of falling interest rates. It sees the almost certain future, and it is using this time to position itself for that future. This is good management, and that along with the 11.5% dividend is something a lot of income investors will want to buy. Of course, the stock price is also likely to rise roughly $2 in the near future. That is roughly another +10% gain (beyond the 11.5% dividend), so the outlook for IVR is very rosy for the near term.
NOTE: Some of the fundamental fiscal data above is from Yahoo Finance.
Good Luck Trading.
Disclosure: The author has no positions in any stocks mentioned, and no plans to initiate any positions within the next 72 hours.
The author wrote this article themselves, and it expresses their own opinions. The author is not receiving compensation for it (other than from Seeking Alpha). The author has no business relationship with any company whose stock is mentioned in this article.