Hello everyone! I hope all has been well over the past couple of weeks. My school year is off to a great start. Thank you for the well wishes in the comment section of my last article.
Let's get started on our regular volatility outlook for the month of September by a quick recap.
August Recap
On 8/8/14 I initiated a short position in ProShares Ultra VIX Short-Term Futures ETF (NYSEARCA:UVXY) using options. I posted this update under my Instablog. To ensure you get real-time updates (such as Instablog posts), please subscribe to me on SeekingAlpha. On 8/18/14 I decided to close out that position after a substantial gain (again alerting you via my Instablog). Each time I initiate a sizeable position I will post it on my Instablog to provide full transparency.
I received questions about holding the position further. If you are a regular reader you know I am on the more conservative side. In a two week period I made a sizeable gain. At that point I had more to lose than gain by holding the position. I will now sit and wait for the next spike in the VIX which is, historically speaking, one to five months away.
Patience is key when shorting volatility. Entry points are crucial, exit points are left up to the individual investor. I have plenty of other articles that cover strategies and the timing of shorting volatility. Please have a look at them!
September Outlook (and beyond!)
We are now entering the period leading up to the holiday season. Historically the holiday season is when the markets make the most gains and also when volatility tends to be at its lowest (Christmas effect).
From an economic standpoint we are now getting data that shows housing is leveling off, consumers may be spending a slight amount more, wage growth may creep up due to supply and demand, and jobs numbers continue to be positive. We could also provide arguments that each of these data points could be leading to a market bubble. I personally think we have entered the expansion phase of the economic cycle. I don't predict it will end in September.
Housing - I welcome a leveling housing market. The past two years have pushed housing to unaffordable levels for a lot of lower wage earners. I would like to see home prices rise no more than 1.5x inflation. Anything above that, in my opinion, will eventually lead to another housing downturn. In this article posted to Yahoo! Finance, the author argues that the housing market is in a downward spiral. The evidence they site is the fact that single family construction is low and multifamily construction is very high. I believe this is the new normal. Supply and demand. Multifamily homes are more affordable, take up less land (which is not infinite), and are profitable for builders. In my area it is the lack of available land driving multifamily growth. I don't see housing in a downward spiral.
Consumer Spending - Consumers are spending less on gas and hopefully more on discretionary items. Consumer spending is still showing mixed results but I am optimistic as we head into this holiday season. This is a huge part of the US economy and bears continuous monitoring. I like to follow the investing.com economic calendar for daily updates.
Wage growth - If you have followed my articles you know I deeply care about wage growth. I am all for organic wage grow, not government mandated wage growth. If the unemployment rate remains low, my outlook is that employers will begin increasing wages to retain talent and attract better employees. For far too long, the mantra has been take it or leave it on wages and jobs. Now employees may begin to feel their stock rise should they remain in lower supply.
Jobs numbers - The JOLTS jobs report and the unemployment readings continue to provide hope that the above answer on wage growth may come true.
Wild cards
The reason I initiated a short position in UVXY during August was due to the Middle East violence. These problems have been ongoing for hundreds of years. This is nothing new and did not deserve the market reaction that ensued.
US market reactions should be based off of US involvement, commodities movements that affect the US, and threats to the US economy. The August VIX movements were based on emotions and not concrete evidence that the US economy faced consequences from these events.
The Middle East and the Russia/Ukraine saga still bear watching.
Futures
Personally I have noted the difference between the spot VIX and the futures prices during the last couple of weeks. I wanted to make a chart that would shed more historical light on what is happening. See below: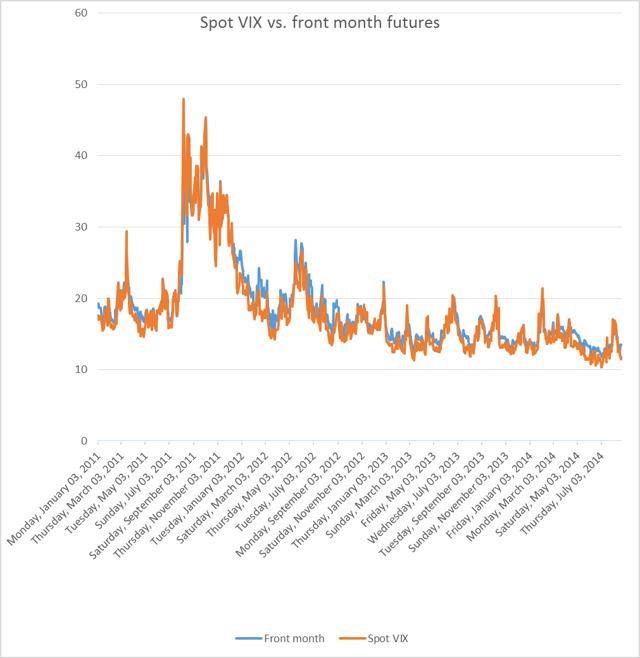 Chart created by Nathan Buehler using data from The Intelligent Investor Blog. Chart from 1/3/11 to 8/22/14. No Saturday or Sunday data was used, please disregard that on that chart. If anyone knows how to exclude that from Excel please send me a message.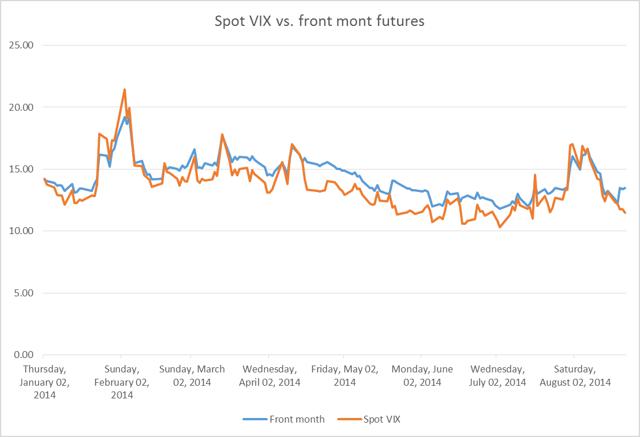 Chart created by Nathan Buehler using data from The Intelligent Investor Blog. Chart from 1/2/14 to 8/22/14. No Saturday or Sunday data was used, please disregard that on that chart. If anyone knows how to exclude that from Excel please send me a message.
Takeaway: To me the divergence between the front month futures and the spot VIX is a normal occurrence. Judging from these two charts we are currently in what I consider to be a larger gap period. If the spot volatility continues to remain low, I expect the futures to move lower as well.
Here is a look at how the top short-term volatility products have performed over the past month.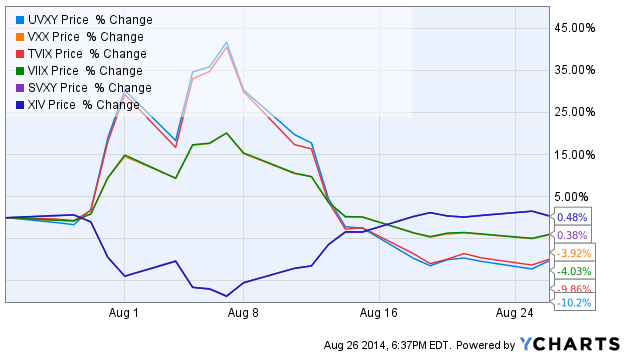 Conclusion
I recommend sitting on the sidelines before preparing to short UVXY or purchase SVXY in the future. My strategy has always been to focus on the downside of volatility, not the upside. Shorting UVXY at these low levels is not advisable (I would actually never advise purchasing UVXY).
With current economic data supporting the move in the markets I would continue to watch geo-political events for future shorting opportunities. Mid-term elections are coming up and should provide a better picture of the political makeup for the next debt ceiling debate in March of 2015.
I hope you have found this information helpful to your VIX investing strategies. I sincerely appreciate all of my readers!
Disclosure: The author is short UVXY.
The author wrote this article themselves, and it expresses their own opinions. The author is not receiving compensation for it (other than from Seeking Alpha). The author has no business relationship with any company whose stock is mentioned in this article.
Additional disclosure: I have a very small long-term short in UVXY still left over from my August trade.