Rapid Growth With Low Inflation?
Given the controversial nature of the new monetary policy experiment, it is likely that the country's inflation rate will come under increasing scrutiny. After keeping its benchmark interest rate unchanged at 7% since November 2009, the central bank has now lowered the rate to 6.5%, even as the economy continues to show signs of strong growth in credit driven consumer demand.
[click to enlarge charts]
The bank has justified its decision by highlighting the fact that core inflation rate is falling, and in fact came in under their year-end target for the first time since the central bank introduced an inflation targeting regime. They also strongly draw attention to the potential negative consequences of raising rates in an environment where this may only accelerate the inflow of short-term, speculative funding. Given that one of the key objectives of the central bank has to be reducing the level of interest rates in order to make it easier and more attractive to invest, the bank is likely to show great reluctance in moving towards monetary tightening and will most probably continue to rely on other tools to keep inflation in check, such as increasing reserve requirements to control credit growth.
Since the start of the crisis the central bank have lowered rates 14 times from their October 2008 high of 16.75%. The Bank's stated objective is to bring the level of interest rates permanently down to well below their long term historic levels. Their ability to do this, however, is conditional on their success in reducing the endemically high levels of inflation which have continually plagued the economy.
Certainly Turkey's inflation rate is now extremely low compared with levels considered typical only a decade ago, but it is still an upside outlier in comparison with regional peers, and in recent months it has been showing renewed signs of an uptick.
Despite the country's secular disinflationary tend, inflation has remained stubbornly high in recent months, although it did fall for the third consecutive month in December, registering a 12 month low of 6.4%, and down from the 9.3% seen in September. Nevertheless this level is still way too high for comfort, and especially in the context of an appreciating currency. The December inflation drop was largely due to a fall in volatile food prices, which were down 2.7% from November. The ex-fresh-food-and-energy core reading has been falling all year, and stood at 3.18% in December.
This core inflation is one of the central bank's preferred measures of underlying inflation, so they will have drawn some comfort from downward rend, but they will also have noted that producer prices rose by an annual 7.73% in December (as compared with 4.16% in December 2009), a detail which may not alarm them at this point, but which will certainly give them food for thought if the rate remains high as 2011 advances.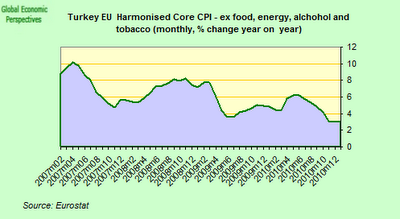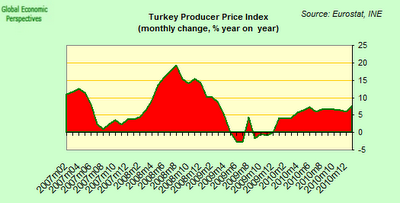 Public Indebtedness Is Not A Serious Problem
After many years of extremely high government deficit, Turkey has been remarkably prudent since the turn of the century . The country's fiscal deficit has remained low since the implementation of the IMF program, and this despite the recent crisis-generated increase. As a result, with low deficits, strong growth and high inflation debt to GDP has fallen steadily (don't start letting your mouth water Greece, this combination is impossible in a currency union). Driven up by the recession, the deficit hit 5.6% of GDP in 2009, and according to IMF projections it is expected to fall back again to 3.4% in 2011. Gross debt peaked at 45.5% of GDP in 2009, and is in the process of falling back steadily, although we shouldn't get too excited about this, since it is what you should expect to see in a country with such a comparatively young population: real pressure on the sovereign debt will only start when the population median age rises to current EU levels .
So there is little room for complacency. The recent decision by the Turkish government to shelve the proposed Fiscal Rule legislation (a measure which would have permanently committed the government to target a 1% fiscal deficit) has come in for a lot of criticism, most notably from the IMF. But caution is called for here, since the decision most likely reflects the government's concern not to prematurely tie its hands in the face of what might be a quite closely contested election in 2011. So a wait and see attitude might be more appropriate before passing any kind of definitive judgment.
Certainly the data we have to date show quite a strong fiscal performance throughout 2010, with the government posted a primary budget surplus of TRY4.6 billion in November compared with a TRY1.2 billion deficit in the same period of 2009. Central government revenues rose by an impressive 42.4% YoY in November, while expenditures rose by 22.9%. In fact November's results bring the year-to-date general budget deficit to TRY23.5bn – almost half of the budget deficit in January-November 2009 – and the primary surplus to TRY 23bn (Jan-Nov 2009: TRY 5.8bn), which means last years budget deficit may well come in at under the EU limit of 3%, and will in any event be significantly below the government target of 4% So despite credibility slippage, in the short term the strong economic expansion may well assuage concerns about longer term sustainability. What really matters is what happens this year, and in the years which follow. The government has budgeted for a 2.8% fiscal deficit in 2011, and given the credibility issues involved I wouldn't be surprised to see them keep to this, despite the coming election.
However, in taking what seems to be the easier path now and postponing the watertight commitment to fiscal stability for some moment in the future, the government may be storing up trouble for itself or its successor. Spending excess tax revenues is only stimulating an economy which is not in need of stimulation, whereas saving them would not only be building a cushion for the future, it would also help reduce pressure on the current account deficit by draining some demand from the economy.


Private Sector Debt Not A Problem At This Point Either
Nor is the level of private sector debt a problem, since even though it has been rising rapidly of late, the level (at around 35% of GDP) is still quite low, and relatively sustainable for a rapidly developing country.
Household debt, which has been rising at rates close to 40% this year should be brought under greater control, since while current levels are not worrisome, letting these growth rates continue is not desirable.
The same goes for housing loans. The current boom in construction activity and household mortgage lending is fine, but it does need to be kept in check.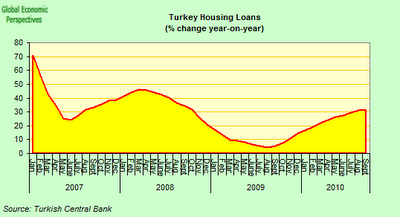 Outlook: Steady Growth, Falling Long Term Interest Rates and A Round Of Credit Rating Upgrades
So 2011 looks like it will be a pretty good year for Turkey. Of course, not everyone is convinced by the new monetary policy initiative, and the IMF have been quick to warn of the dangers. In particular they warn about the continuing practice of unsterilized purchasing of foreign currencies. The answer here is not too difficult: sterilize, that is withdraw liquidity to compensate, which is what the bank seems intent on doing via the increase required reserves.
However the IMF also warned of the danger that, even if sterilized, large purchases by the central bank could become unsustainable, given the aggressive nature of the liquidity withdrawals which would be required to maintain the stance. Undeterred by the device, on 21st December 21st Bank Governor Durmus Yilmaz announced that the Bank was not only set on continuing its policy of carrying out forex purchases, it was actually going to increase them, taking the amount of its daily foreign-exchange purchases (as of January 3rd 2011) from US$40m to US$50m. It is quite possible the IMF have a serious point here, and the bank may do well to consider more actively their proposal that the Bank apply the increased reserve requirements on both TRY and forex denominated accounts, and that they also extend coverage of the requirements to other credit providers and instruments in an attempt to rebalance the maturity profile of their borrowing, ie reduce their dependence on short term borrowing.
On the other hand, while one EU sovereign after another finds itself facing ever increasing borrowing costs, the process in Turkey moving in the opposite direction. Just last week Turkish bond yields extended a record low, registering their steepest two-day decline in almost eight months on speculation inflation will continue to slow, thus allowing the central bank to cut its interest rates even further. The Turkish lira depreciated to its weakest levl in six months last week, touching 1.5683 per dollar at one point last Friday. The yield on the benchmark two-year lira bond closed the week at 6.98 percent after the two-year debt yield fell below 7 percent for the first time ever on Wednesday.
So far, then the policy is working, even if it is early days yet. Lower bond yields may also be favoured by forthcoming credit upgrades. Fitch Executive Edward Parker stated last month that while the Central Bank faced many challenges in 2011, Turkey's sovereign credit rating would be positively affected if the new policy proves successful. Fitch currently has a local and foreign-currency bond rating for Turkey of BB+, one level below investment grade.
He also noted that Turkey's sovereign rating would be positively affected if Turkey's debt to GDP ratio continued to decline and if there were no change in political stability following the general elections. In effect it is not likely that Turkey will become an investment grade country until after the June general elections since the rating agencies will want to see the results of the revised monetary policy stance, the fiscal performance ahead of the general elections and the political landscape following them before making this kind of rating upgrade. That being said, it is perfectly possible that both Moody's and S&P's (which currently rate Turkey at Ba2 and BB, respectively, that is more than one notch below investment grade) could make an initial upgrade in Turkey's sovereign rating (by one notch say) even before the general elections are held.
The outlook for Turkey is thus extremely positive, even if there are concerns about the short term bias in bank funding, and longer term worries about structural distortions from the current account deficit. On the fiscal side the government is likely to have reduced the budget deficit to below 4% of gross domestic product in 2009 from 5.5% in 2009, and is quite likely to fulfill its target of 2.8% this year, making it one of the very few countries in the EU orbit to come in with a deficit within the 3% official target level. So while there are no guarantees that the latest initiative from the Central Bank will work, there are grounds for hope and expectation that both they and the government will make changes and search for solutions even if they don't.