DSW (NYSE:DSW) beat Wall Street earnings expectations by a wide margin on Tuesday, and to many investors, it came as a shock. Shares of DSW had been trading just shy of $30, only two thirds of their 52 week high ($47.55). Tuesday morning, DSW crushed its quarterly earnings expectations from Estimize, driving shares 9% higher.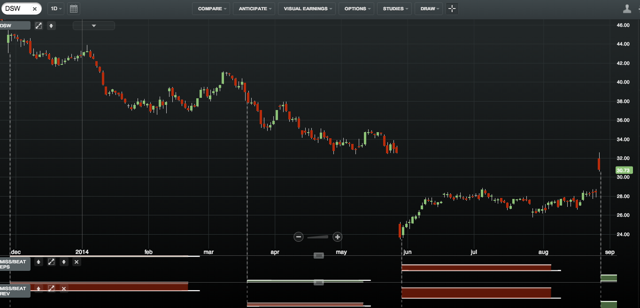 Click to enlarge
(Graph above from ChartIQ Visual Earnings)
DSW stock fell off a cliff last quarter after badly missing earnings estimates. Shares plunged 27% as the shoe retailer reported earnings of 42 cents per share, while analysts on Estimize had predicted 49 cents.
DSW wasn't the only retailer in a funk last quarter. Retail sales across the board were a disaster, and most retail company CEOs, including DSW's Mike MacDonald, stuck to the script, blaming the poor weather for the challenging quarter and reduced store traffic. On top of a weak quarterly sales figure, DSW lowered its earnings outlook for the remainder of year, which resulted in many shareholders abandoning ship.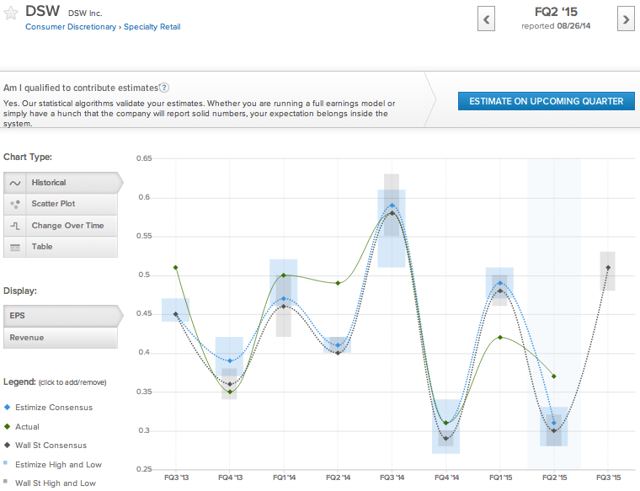 Click to enlarge
Tuesday morning DSW made a change of course, revealing a stronger than previously forewarned second quarter. Earnings jumped to 37 cents per share, and DSW increased its outlook for the remainder of the year slightly, but did not fully restore the guidance management had initially set for 2014.
Click to enlarge
Although earnings did come in better than expected on Tuesday, not everything was peachy. Profits fell considerably compared to the same quarter of last year. In FQ2 of DSW's fiscal 2014, the shoe seller produced EPS of 37 cents per share, impressing investors given the low expectations, but the company's earnings slipped from 49 cents last year to only 37 cents per share this quarter.
DSW's earnings have now fallen in 3 consecutive quarters, and Wall Street is predicting that the downtrend will continue through the current quarter. Management has given bleak guidance, suggesting that same store sales are likely to remain flat for the remainder of the year. Given the conflicting nature of DSW's first 2 quarters of calendar 2014, this is a stock that has the potential to move significantly in either direction over the next 6 months.

Disclosure: None