Earlier this month I launched a new Passive-DGI portfolio for next 10 years with the purpose to demonstrate how a common investor could build a solid stream of income over time without spending too much time on a daily basis. More details about this portfolio, its rules, goals, etc. can be read here or here. As I promised, from time to time I would review the individual stocks from this portfolio, which will also provide me an opportunity to look into a company's financial and competitive standing with its peers and review if it continues to fit the goals of my portfolio.
For this portfolio, I had selected 30 companies from many different sectors and industry segments. I wanted to pick one company from the "'Agriculture" sector, and I considered Monsanto Co. (NYSE:MON) and Archer Daniels Midland Co. (NYSE:ADM), though they operate in different segments. I finally zeroed in on MON primarily due to its above-average dividend growth and the prospects for future earnings and thus dividend growth. Today I am going to review Monsanto, its relative strengths and weaknesses and how it compares with its peers, and why it fits my portfolio.
Monsanto Co: Introductory information
Monsanto Company is a provider of agricultural products and inputs that include seeds, biotechnology trait products, and herbicides that provide farmers with solutions to improve productivity, improve crop yields, reduce costs, and produce cheaper foods for consumers and feed for animals. It manages its business in two segments: Seeds and Genomics, and Agricultural Productivity. In April 2010, the company completed the acquisition of a corn and soybean processing plant located in Chile from Anasac. Also in 2013, it acquired the Climate Corp, a farm analytics company that specializes in customized weather information.
Seeds and Genomics Segment:
This division produces and markets some of the well known seed brands for crops like Corn, Cotton and Oilseeds such as Soybeans and Canola, as well as small-acre crops like vegetables. It develops biotechnology traits that assist farmers in controlling insects and weeds. It sells products under Monsanto brands but also licenses technology and genetic material to others for sale under their own brands.
Agricultural Productivity Segment:
In addition to their seeds and traits business, the company also manufactures the best-selling herbicide Roundup, and other herbicides used by farmers, lawn-and-garden professionals and consumers.
Strengths and Positives:
Monsanto has paid dividends since the year 2000 and regularly increased dividends for the last 13 years.
The current dividend payout ratio is 34%, which is pretty low and has ample room for increasing dividends in the future. In the last 5 years, the dividend has gone up 14% a year on average.
The company's revenue has grown 5.51% and 15.99% over the last 5 and 10 years, respectively, and EPS (earnings per share) grew 31% during the last 3 years. It generates a lot of cash and boasts of a healthy balance sheet.
By 2050, the world population is likely to exceed 9.5 billion, and hence the food demand is expected to grow at a rate faster than that of the world's food production. That will provide ample future growth to companies like Monsanto. It is expected to grow earnings at a rate of 13% over next 5 years.
Earlier this year, the company announced a two-year $10 billion share buyback program, though it will be partly funded by issuing new debt. The company targets to double the EPS by 2019 and the share buyback program will definitely help in achieving that goal.
Monsanto invested more than $1.5 billion last fiscal year in R&D. The company invests roughly 9%-10% of its revenue in R&D every year, which will help bring new and improved products to the marketplace faster than its competitors.
Weaknesses and Challenges:
The company has announced that it will issue new debt to partially fund the share buyback. Until recently, the debt was relatively low at $1.3 billion after adjusting the cash position, but it will likely increase to $6 billion-$7 billion range after the new debt issue is completed. This has also prompted rating agencies like S&P to cut the company's credit rating by a notch. The new debt levels will still be in line with its peers, but it does weaken the balance sheet a little bit.
For now the company's efforts to acquire/merge with Switzerland-based rival Syngenta AG (NYSE:SYT) have ended due to regulatory opposition.
Monsanto definitely has a PR problem. It is not the only company that deals in Genetically Modified Crops/plants, but still gets the most criticism. Growing health concerns surrounding GMO foods and conflicts over seed patents are some of the challenges that can slow the future growth of Monsanto.
Company's Key Metrics and Comparison with Industry Peers
The below table that I created shows key metrics based on the full financial year 2013, as taken from Morningstar and Google Finance, as well as fair values calculated based on the DCF (Discounted Cash Flow) model. For comparison sake, I have included Monsanto's two primary and direct competitors DuPont (NYSE:DD) and Syngenta AG.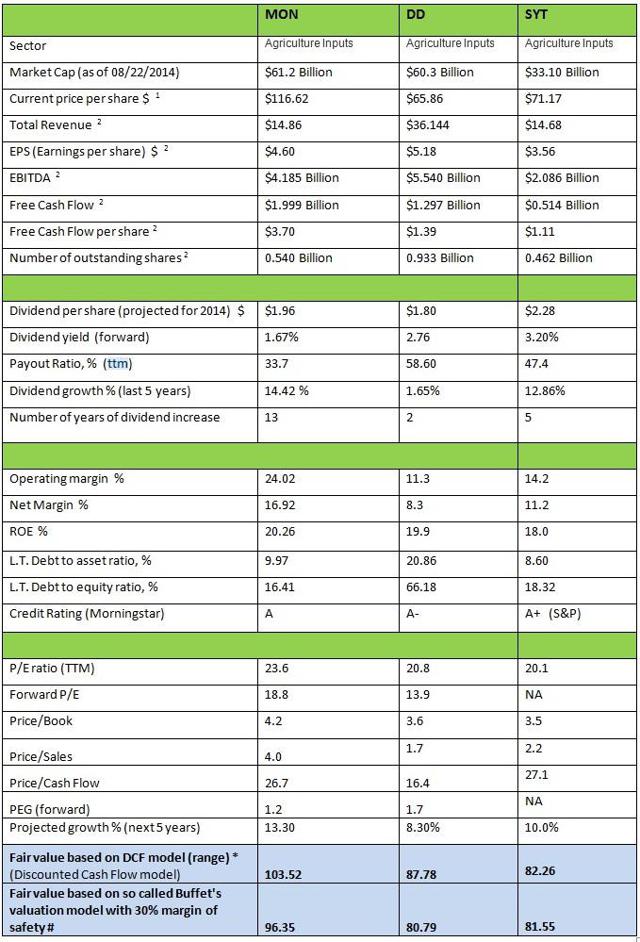 Relative Rating
Now, let's assign a rating to the company based on the information that we already have and by feeding it into to a simple rating system that I have created for my own use and is available here. This system takes into account three sets of elements: fundamental ratios, growth estimates and the dividend strength of the company. Each of the criteria gets assigned a rating based on certain pre-defined rules. The net rating is the sum-total of individual ratings and results in a value in the range of 0-10, 10 being perfect and 0 being the worst. Like any other mechanical rating system, this system is not perfect by any means and would not substitute other means of research, but what it can do is to offer an un-biased decision point while comparing two or more companies. Below is a table that I created showing the relative "rating" for MON. Please see the complete rules and disclosures about this rating system here.
Criteria

MON

1

Forward P/E

0.80

2

Current P/E

0.64

3

Price/FCF (free cash flow) ratio - Avg for 5 years

0.67

4

Net margin (last 5 years)

0.75

5

Revenue growth over the last 3 years

0.72

6

Total return over last 5 years

0.68

7

Total Return over last 10 years

0.81

8

Total Debt ratios (debt to asset)

0.90

9

L.T. Debt ratios (debt to equity)

0.84

10

Dividend Aristocrat or Div Champion

0.52

11

Dividend Yield

0.33

12

Dividend growth last 5 years

0.70

13

Payout ratio

0.66

14

Projected growth estimates

0.63

15

Total projected return
Over the next 10 years (based on Proj EST)

0.95

NET RATING (between 0 -10) **

7.07
**Net rating is derived by adding the ratings from 15 criteria and dividing the sum by 1.5
The above model assigns MON, an overall rating of 7.07 (out of 10 max), which is pretty decent. Even though individual ratings could vary widely, the overall rating is an average of the sum total on a scale of 1 to 10. It is important to note that this rating model is more heavily weighted towards the past than the future. Only 3 criteria out of 15 are based on future expectations, so, it should be taken with a grain of salt.
Concluding Remarks:
Overall, shares of Monsanto are expensive at this time, even after the recent slide. The current dividend yield is not very attractive either, even after the 14% dividend increase in 2014. One reason for this is that all the good news around the company is already built into the price. Still, I selected this company as one of the 30 companies for my Passive-DGI portfolio and the reason is twofold: expectation of strong future earnings growth and its track record of strong dividend growth. Also, the way this portfolio is structured, the buying will occur in a staggered manner over the years, thus buying at high as well as low prices (dollar cost average). In any balanced DGI portfolio, while it is necessary to have some very stable companies with a long history of dependable dividends, like Johnson & Johnson (NYSE:JNJ), but it is equally necessary to have a few companies that may have the potential to grow their future dividends much faster, possibly in the range of 15% or above. Monsanto fulfills the need for the latter camp.
Full Disclaimer: The information presented in this article is for information purpose only and in no way should be construed as financial advice or recommendation to buy or sell any stock. Every effort has been made to present the data/information accurately, however the author does not claim for 100% accuracy. The stock portfolio presented here is a virtual portfolio for demonstration purpose, however the author holds many of the same stocks in his personal portfolio.
Disclosure: The author is long ADM, JNJ, MON.
The author wrote this article themselves, and it expresses their own opinions. The author is not receiving compensation for it (other than from Seeking Alpha). The author has no business relationship with any company whose stock is mentioned in this article.