On Wednesday, shares of social media giant Facebook (NASDAQ:FB) declined after the company got a rare downgrade from Janney Capital. Shares of Facebook were close to their all-time high, so a downgrade based on valuation concerns may not be too surprising to some. Today, I'll analyze the recent analyst note and detail why it may be a buying opportunity for those that still believe in the name.
Janney Capital cut its rating on Facebook shares from Buy to Neutral. However, it is important to note that the analyst left his $82.50 price target unchanged. That target still represents upside from current levels, so that's something to think about. The following quote details the analyst's move, taken from the link above:
We are downgrading FB to Neutral from Buy as we reposition our picks for the forthcoming year, and as we believe FB's strong performance to date will start to face valuation headwinds in 2015 as top line growth, engagement, and MAU naturally decelerate. We suspect we are already seeing some of this as the stock has started to react less to earnings upside. The company has tremendous monetization opportunities beyond its massive core mobile ad market as it finds ways to make more through video advertising, new online assets (e.g. Instagram), and new products (e.g. search). Many investors already expect this to happen. Our earnings numbers, which also reflect this optimism, and FV are unchanged at $82.50.
It's important to note that the analyst talked about a natural deceleration of growth. Facebook is still a growth company, but it is unreasonable to expect the company to continue growing at the same rate it has been in recent years. You won't find too many companies with a near $200 billion valuation growing this quickly. In the table below, you can see where analyst estimates stand.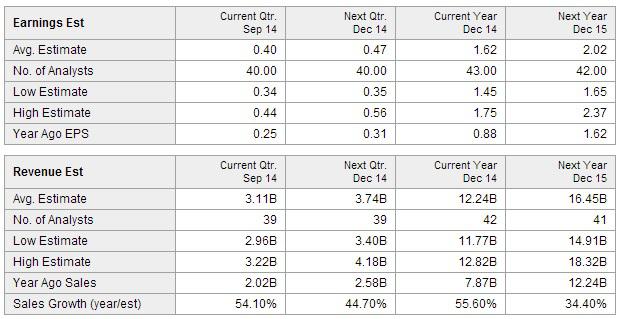 Analysts still expect more than $4 billion in revenue growth in 2015, but obviously the percentage increase will be less than in 2014. When you are working off a much higher base number, it is going to be tougher to grow at these 50% plus rates. This is simply the law of large numbers, and that's something the analyst was referring to. Additionally, analysts expect a huge slowdown in non-GAAP earnings per share growth in 2015 at the moment. We'll see if that actually happens, because Facebook has been able to blow out estimates consistently in recent quarters. Going into 2014, analysts were expecting just $1.13 in EPS this year, and that average has risen by about 50 cents since. That 2015 estimate might prove to be exceptionally low when all is said and done.
Now the question of valuation is certainly an interesting one. Facebook, like many social media and momentum names, does not come cheap. When you think of a normal market multiple, these high growth names look extremely overvalued. To do a proper comparison, I'll compare Facebook against Twitter (NYSE:TWTR), LinkedIn (NYSE:LNKD), Zillow (NASDAQ:Z), and Google (NASDAQ:GOOG) (NASDAQ:GOOGL). The table below shows what each name's expected growth is for 2014 and 2015, based on current estimates, which can be retrieved from the link above. The valuations are based on Wednesday's close and those current estimate values.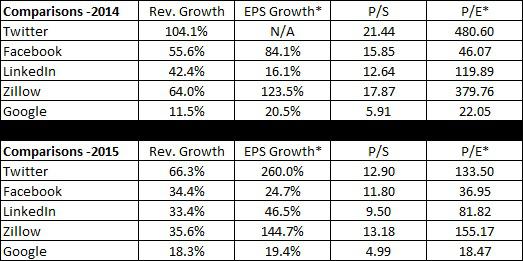 *Non-GAAP for EPS growth and P/E.
Other than the established industry giant Google, Facebook has the lowest P/E value. Facebook has the second lowest P/S of the four social media names, with LinkedIn being lower. However, Facebook offers a lot more growth in 2014, with LinkedIn trying to play catch up a bit in 2015, especially when it comes to earnings.
I showed above that the average non-GAAP EPS estimate for Facebook in 2015 is currently $2.02. Let me also remind you that in late January that average estimate was just $1.48. What if Facebook ends up doing say $2.50 in earnings next year? That would mean the stock would be at less than 30 times earnings right now, which for the growth you are getting, seems very reasonable. Don't forget, Facebook has done the best job of monetization in this space, in terms of both revenues and profits.
Facebook was downgraded on Wednesday, and shares declined by 1.75% as a result. The analyst cited valuation concerns as the company's growth naturally slows down. While I understand what the analyst is saying, let's not forget that the analyst kept his $82.50 target on the name. After Wednesday's decline, Facebook shares have more than 10.5% upside to this analyst's target, which was below the street average to begin with. For those looking for the leader in the social media space, Facebook is certainly it, and a pullback from recent highs may provide a decent opportunity for investors to enter the name.
Disclosure: The author has no positions in any stocks mentioned, and no plans to initiate any positions within the next 72 hours.
The author wrote this article themselves, and it expresses their own opinions. The author is not receiving compensation for it (other than from Seeking Alpha). The author has no business relationship with any company whose stock is mentioned in this article.
Additional disclosure: Investors are always reminded that before making any investment, you should do your own proper due diligence on any name directly or indirectly mentioned in this article. Investors should also consider seeking advice from a broker or financial adviser before making any investment decisions. Any material in this article should be considered general information, and not relied on as a formal investment recommendation.