China Jo-Jo Drugstores (NASDAQ:CJJD)
operates and owns a retail pharmacy chain in China. The company currently has 31 stores in Hangzhou, the capital of Zhejiang Province, located approximately 112 miles south of Shanghai. Its stores provide customers with a wide variety of medicinal products, including prescription and over-the-counter ("OTC") drugs, nutritional supplements, Traditional Chinese medicine ("TCM")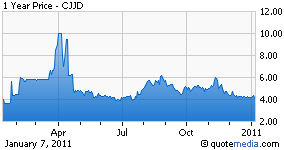 products, personal care products, family care products, and medical devices, as well as convenience products including consumable, seasonal, and promotional items. In addition to these products, the company has licensed doctors of both western medicine and TCM onsite for consultation, examination, and the treatment of common ailments at scheduled hours. The company attempts to tailor its product offerings, physician access, and operating hours based on the community in which each individual store is located.
China has 1.3 billion people, making up approximately one-fifth of the world's population. The portion of the Chinese population aged 60 and above has been increasing for the past two decades. On average, older people spend more on healthcare, particularly because the prevalence of several diseases typically increases with age. The significant growth of China's economy, as well as the increase in disposable income among its consumers, has in turn led to a stronger demand for pharmaceutical and other healthcare related products, including nutritional supplements, Traditional Chinese Medicine ("TCM"), and herbal products.
China's total expenditure on health care was RMB 1.5 trillion in 2008 and is forecasted to expand to RMB 2.5 trillion by the end of 2012, representing a CAGR of 14.6%. Current estimates put U.S. health care spending at approximately 16% of GDP. In China, health expenditure as a percentage of GDP is forecasted to grow to 6.4% in 2012, representing a CAGR of 6.0%.
The business mode of CJJD is to provide a convenient, high quality healthcare services to its customers. Among CJJD's competitors, it is the first retail drug store that has licensed physicians onsite during scheduled hours.
Furthermore, some stores have adjoining medical clinics that offer customers health consultations and minor outpatient surgical treatments. CJJD's customers appreciate the onsite physician service and give very positive feedback. This is a key distinction between CJJD's stores and its competitors.
The short-term strategy of CJJD is to expand into other cities within Zhejiang Province. Zhejiang Province is one of the wealthiest provinces in China. It has 51.8 million residents and Hangzhou, its modern provincial capital, has a population of over one million people. The economy of Zhejiang Province has grown significantly in recent years, and was the fourth largest among the provinces of China in 2009. According to the PRC National Bureau of Statistics, from 2000 to 2008, the average per capita annual household disposable income of urban residents in Zhejiang Province increased from RMB 9,279 to RMB 24,611. The urban population as a percentage of the total population in Zhejiang Province increased from 60.0% in 2005 to 63.0% in 2008. Rapid urbanization is expected to continue to fuel the rapid growth of urban residential communities, presenting a significant opportunity for expansion. Also contributing to the growth of the healthcare sector in Zhejiang Province is its aging population: the percentage of people who are 60 and above increased from 13.6% in 2003 to 15.6% in 2008.
In the recent quarterly report, the company reported a very healthy financial situation. It has $12.4 million in cash and only $6.8 million liability. Gross profit in CJJD rose to $4.4 million, up 26% year from the previous year. CJJD is currently traded at $4.2, a P/E less than five, and has the lowest valuation in the healthcare industry as shown below.
The business of CJJD is very similar to CVS in the United States but CJJD is still a fast growing company. The superior service, reliable quality, and affordable drug prices are the key factors that drive CJJD's growth. In the meantime, the low valuation and growth of China's health care industry makes CJJD very attractive to value investors.
Disclosure: I am long CJJD.