Apple (NASDAQ:AAPL) seems to have a winner with its iPhone 6 despite not having announced the product. Rumors, leaks and general scuttlebutt have created a frenzy of demand with surveys showing that the new products - likely to be a 4.7 inch screened version and a 5.5 inch screened version - will sell like hot cakes worldwide following their expected release in late September 2014.
RBC Capital Markets projects as many as 10 million iPhones will sell on opening weekend, a massive number and 1 million more than the wildly successful iPhone 4S.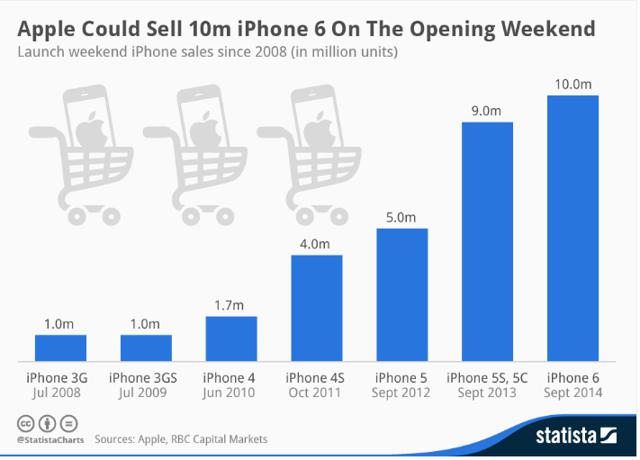 Click to enlarge
New iPhones often create a buzz but nothing like this one. A survey by RBC Dominion based on 706 respondents found that a vast majority would buy an iPhone 6 with 26% willing to pay an extra $100 to get the 5.5 inch screened version.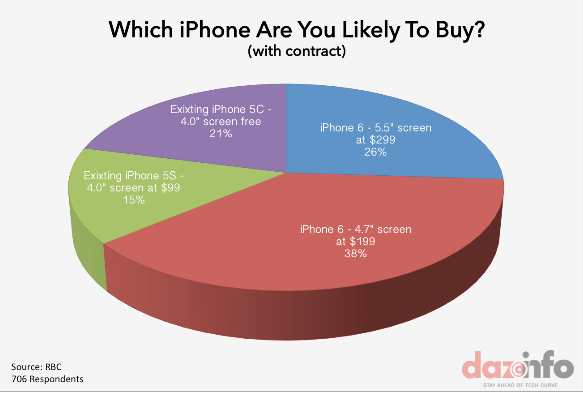 Source: Dazeinfo.com
A somewhat larger group of respondents surveyed by RBC Dominion showed a distinct preference for an iPhone over a Samsung with 49.4% of those responding saying they are likely to purchase an iPhone.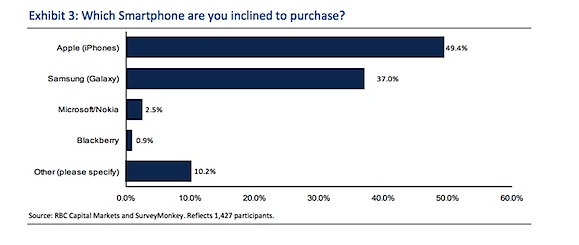 Source: Electronista.com
The survey data translate into sales of 56 million iPhones in the December quarter according to Anit Daryanani, the RBC analyst reporting the survey results. That compares to 51 million units sold in the December quarter of 2013. Daryanani sees an upside number of 60 million units in the December quarter following as many as 15 million units sold in September.
No surprise that the pundits see as many as 10 million iPhones sold over a weekend. Given the enormous appetite Americans have for the iPhone, I would not be surprised if it was even higher.
Those are big numbers and Apple investors will cheer the results if they pan out.
I won't be among them.
First, the survey results showed demand if the new iPhones were offered at $199 or $299 with a contract - that is, they depend on carrier subsidies. Carriers are more reluctant to subsidize high end smartphones today than previously and while I have no doubt North American carriers may sign on to subsidies, the evidence is that may not take place in the world's largest market - China. China Mobile (NYSE:CHL) just announced a reduction in the amount it will spend on smartphone subsidies.
A recent article by SA Author Doug Young points out a more serious problem for both Apple and Samsung - that is, pressure by the Chinese authorities to promote local brands and curtail subsidies of foreign made smartphones altogether. Full curtailment is unlikely to occur in my view, but the direction is clear and even a cut in subsidies will affect those users who rely on the subsidy to be able to afford high end devices - a large percentage in China I have no doubt.
Second, my belief is that smartphone upgrade cycles will take longer as the quality of smartphones continues to improve and the new features being offered are really tweaks rather than anything groundbreaking. The iPhone 6 will have a larger screen and hopefully a longer lasting battery. Beyond that it will demonstrate to users that not much has changed since the iPhone was first released. It will look the same; run the same applications; cost about the same; and, tag its users as part of a group willing to pay more money for a pretty ordinary device so they can put an Apple logo on their Seeking Alpha profile and handle. It is sad to see adults whose lives are so empty they need to define themselves by what smartphone they use, but there seem to be scores of them who read every Apple article to evangelize the company and demonstrate their devotion to the cult.
Finally, and it would be a mistake to minimize its effect, competitors are reacting and will react, with a broad range of new devices and operating system upgrades are coming into the market.
Samsung (OTC:SSNLF) plans to launch new devices at its "Unpacked" event scheduled for September 3, 2014. Samsung is widely expected to release its latest Galaxy Note phablet at that launch, a direct competitor to the iPhone 6.
While Samsung is Apple's traditional competitor and has typically beat Apple in terms of market share in most markets, in China the emerging competitor is Xiaomi which recently displaced Samsung as the number one vendor in the country. Xiaomi offers a compelling product - a 5.5 inch screened smartphone with long battery life and excellent cameras for under $200. That is less than half the cost of the leading high end smartphones. The latest Redmi Note 4G model has a fast Qualcomm (NASDAQ:QCOM) processor; a slot for a MicroSD card; and, for the first time, supports 4G. The Dual SIM capability is useful for Chinese users who travel allowing them to switch carriers while abroad.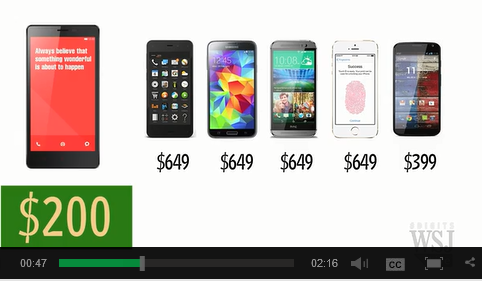 Source: Wall Street Journal
Other competitors are also active. HTC, while struggling, continues to produce high quality, high end smartphones like its iconic One M8. HTC also released a Windows 8.1 version of its M8, which looks to be very impressive.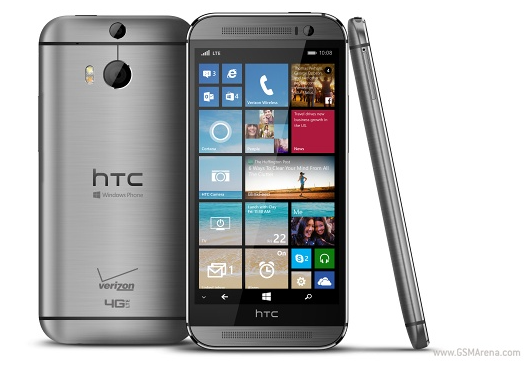 In addition, HTC recently launched its Butterfly series of outstanding smartphones outside of Japan.
Sony (NYSE:SNE) just launched its Experia X2 Aqua smartphone, a device that can survive indefinitely in up to 1 meter of water. Sony smartphones are typically of very high quality with excellent cameras and features. They are also expensive and not a threat to Apple in terms of price but will still find customers who value the Sony brand and the device's ability to resist water damage.
Lenovo plans a September launch for its latest in its flagship Vibe Z2 series of smartphones. With a six inch screen and a 16 megapixel camera, the new Vibe Z2 will be a serious alternative to the 5.5 inch iPhone 6 for many users.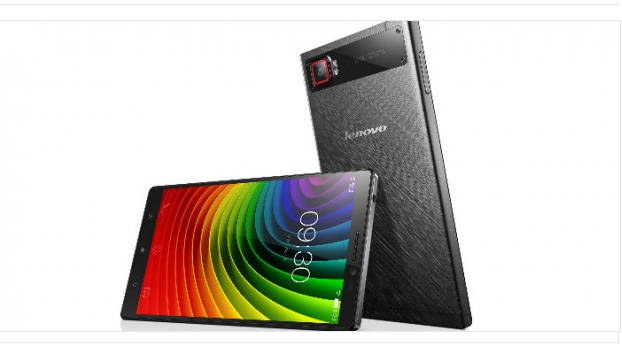 Source: Gulfbusiness.com
LG just launched its excellent G3 device in China where it has struggled against strong competition from Samsung, Lenovo, and Xiaomi but has had a strong reception to its G3 with its 5.5 inch screen and upscale camera features. The G3 is another iPhone 6 direct competitor and will win some customers.
Motorola has a September 4, 2014 date for the launch of its new Moto G with a 5 inch screen and a vastly improved camera. Feature rich and aggressively priced Moto smartphones have given the Motorola brand a new lease on life making them a competitor to be reckoned with in Europe and Asia.
Windows phone 8.1 has been released and anyone who has tried it knows it is an outstanding upgrade. Cortana makes Siri look silly, in my opinion. The Nokia 530 has just been launched in India at an aggressive price of about the equivalent of $120 U.S. and will run the latest Windows 8.1 OS. This device may be a serious competitor to the iPhone 4S Apple is selling at discounted prices in BRIC countries. At the higher end, Microsoft will launch the Lumia 730 and Lumia 830 in Berlin on September 4, 2014. Both phones will sport large screens and high resolution cameras and will be meaningful upgrades to last year's models.
Industry laggard BlackBerry (NASDAQ:BBRY) is set to roll out its innovative Passport device in early September. Dyed in the wool BlackBerry fans (like me) will want to see how this unconventional device fits with their expectations. Sporting a full Qwerty keyboard but with a large square screen the device has an unusual look that might be tagged either cool or quirky as it gets into use.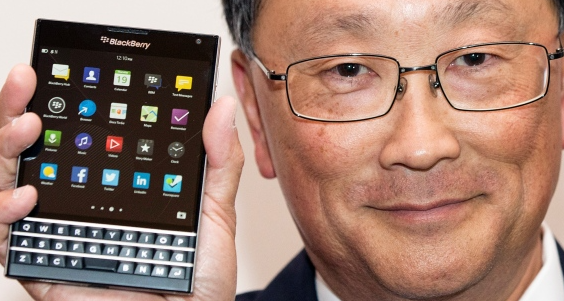 Source: technesstivity.com
The Passport will be followed in November by the BlackBerry Classic which brings back the mini-track pad; back button, and other features that made the BlackBerry Bold 9900 such a popular device but now with the BB20 operating system and a vastly improved library of applications. BlackBerry claims the Classic will have the longest battery life of any smartphone offered, a feature which I find compelling.
Fast rising Huawei is about to launch a sapphire glass version of its very popular Ascend P7 with its 1080p five inch screen and tons of high end features. The Ascend flagship phone has been instrumental in Huawei's 62% growth this year, far outstripping the iPhone which continues to lag industry growth. Huawei is less than half Apple's size today in terms of smartphone units sold, but is rapidly gaining ground and is emerging as a competitor to watch.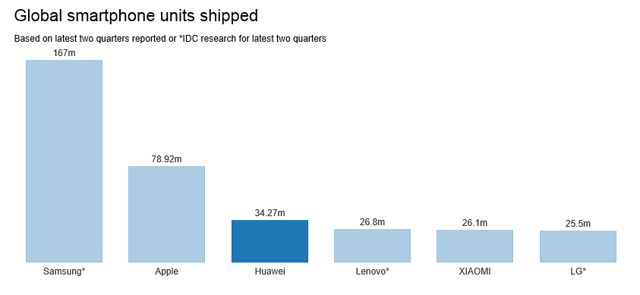 Click to enlarge
Source: cityam.com
Despite the competition, there seems little doubt that Apple will sell a lot of its iPhone 6 devices. Having said that, expectations are very high and there is little room for error with the stock price now back to record levels while net income is likely to remain at or below the $42 billion earned in 2012.
Back to earnings and earnings trends.
Apple was cheap when it was $400 and earned $37 billion. Today it is the equivalent of $700 and earning about the same net income, more or less, achieving earnings per share growth at the expense of its balance sheet through share buybacks. History may show the shareholders who sold into the buybacks fared better than those who held their stock if I am right about the company's future prospects.
Apple is a great company with great products and a tremendous consumer franchise. At the same time, it is vulnerable to competition in a maturing market where competitors have upped their game and Apple is content to respond with a larger screened phone about two years after most competitors offered similar devices.
I think it will be too little, too late. Apple stock is at an all time high and Apple earnings are likely no better than 3 years ago. I remain short the name.
Disclosure: The author is short AAPL.
The author wrote this article themselves, and it expresses their own opinions. The author is not receiving compensation for it (other than from Seeking Alpha). The author has no business relationship with any company whose stock is mentioned in this article.