By Todd Shriber & Tom Lydon
There are different ways to skin the dividend exchange traded fund cat, but what is not up for debate is the ongoing devotion to some of these ETFs possessed by investors.
That devotion is highlighted by the nearly $8 billion that has flowed into dividend ETFs this year with field's more prosaic options remaining among the most prolific asset gatherers. "Prosaic" in this case applies to those dividend ETFs that either focus on a yield-based methodology or that track an index that mandates constituent companies have a minimum increase streak of, say, 10, 20 or 25 years.
Other dividend ETFs, such as the WisdomTree U.S. Dividend Growth Fund (NasdaqGS: DGRW), take different, more-forward looking approaches. Investors will and should investigate whether these differing dividend approaches bear fruit relative to more familiar options. In the case of DGRW, data prove the answer is a resounding "yes."
With its May 2013 debut date, DGRW is one of the newer funds on the dividend ETF, but as it moves further away from its infancy, DGRW continues proving its worth. It is a message prescient investors are listening to as DGRW topped $100 million in asset under management in March and has since grown by nearly 30%.
However, AUM is a superficial statistic. What should matter to income investors are DGRW's returns relative to its competitors and the ETF's ability to give investors exposure to future sources of dividend growth. The ETF delivers on both fronts.
As WisdomTree Research Director Jeremy Schwartz pointed out in a note published Monday, DGRW focuses on two key factors in its stock selection: 1) Quality, defined as companies with high return on equity and high return on assets - both key profitability metrics tied to dividend growth potential 2) Growth, defined as companies with high expected earnings growth, as future dividends must be funded from cash flows companies generate.
Put simply, by not eschewing a devotion to dividend increase streaks, DGRW is a forward-looking ETF. In terms of returns, looking forward means, "DGRW has outperformed its benchmark index by 4.69%" since coming to market in May 2013, according to Schwartz.
That benchmark is the NASDAQ U.S. Dividend Achievers Select Index, the underlying index for the Vanguard Dividend Appreciation ETF (NYSEArca: VIG). Said another way, DGRW has easily outpaced the largest U.S. dividend ETF by a notable margin since coming to market.
As has been previously noted, a significant part of DGRW's past advantage and future allure comes from its technology sector exposure. VIG's exposure to that sector is fair among some dividend ETFs at 10.4%, but the bulk of that exposure is concentrated among just two stocks - IBM (NYSE: IBM) and Qualcomm (NASDAQGS: QCOM).
Conversely, tech is DGRW's largest sector weight at 22.2% and because the ETF is not restricted by dividend increase streaks, it has been getting a boost from the likes of Apple (NASDAQGS: AAPL) and Microsoft (NASDAQGS: MSFT). Those are DGRW's second- and third-largest holdings, respectively, and combine for 9.7% of the ETF's weight.
On its own, Apple is nearly 4.5% of DGRW's weight. While that may not sound like much, that exposure has proven efficacious.
"An approximate 4.5% over-weight to Apple over the time period contributed 2.3% toward DGRW's outperformance. Even though Apple only reinstituted its dividend in 2012, it is now the second-largest dividend payer in the U.S., and it is responsible for approximately 2.8% of total dividends paid.3 The NASDAQ US Dividend Achievers Select Index had zero exposure to Apple over the period, and, based on the Index's current methodology, Apple would not be eligible for inclusion until 2023," according to Schwartz.
WisdomTree U.S. Dividend Growth Fund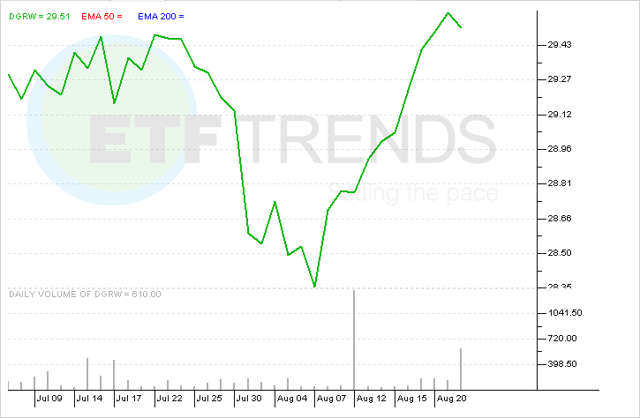 Todd Shriber owns shares of DGRW. Tom Lydon's clients own shares of Apple.
Disclosure: The author is long DGRW, AAPL.
The author wrote this article themselves, and it expresses their own opinions. The author is not receiving compensation for it. The author has no business relationship with any company whose stock is mentioned in this article.