Yesterday I wrote an article on National Retail Properties (NYSE:NNN), a blue-chip REIT that I dream of owning when the price is right. I already own a number of Triple Net REITs and even though I'm relatively over-weight in the free-standing asset class, I'm always looking for a deal.
While many people enjoy investing in vintage cars, my passion (some would argue it's a vice) has to do with my roots in net lease development. I got bit by that bug around 25 years ago when I built my first Advance Auto Parts Store in Union, SC. I can't remember much about the other 100 plus free-standing stores I developed but I can recall attending the ribbon-cutting of my first project in Union.
But it's not just my passion for free-standing real estate, but more the defensive nature of the business model. Using the same car analogy, Triple Net REITs hold their value extremely well and because of the long-term nature of the leases, there is considerably less volatility in cash flows.
Currently I own seven Triple Net REITs and here's how they have all performed year-to-date:

Although the Triple Net REITs do pay the highest dividends in the equity REIT sector, I own shares in these REITs because of the dependability of the dividend income. I look at my Triple Net REITs, much like vintage cars, as buy-and-hold vehicles and when I plant a seed in shares of these securities, I intend to take advantage of the power of turbo-charging or compounding.
So think of my Triple Net REIT collection as a portfolio of high-quality cars. I own Realty Income (NYSE:O), my Corvette; W.P. Carey (NYSE:WPC), my Cadillac; Lexington Realty (NYSE:LXP), my Buick; Gramercy Property (NYSE:GPT), my Volkswagen; Chambers Street, my BMW; and American Realty Capital, my Audi.
That was six. I left off one and that's the topic of this article…
STAG Industrial: The All-American Muscle Car
STAG Industrial (NYSE:STAG) is the All-American muscle car in my REIT portfolio. This Boston-based REIT was formerly known as STAG Capital Partners, and the predecessor company has been around since 2004. STAG Industrial closed on its IPO in April 2011 when it generated around $205 million (in gross proceeds). The offering included 13,750,000 shares of common stock priced at $13 per share. The STAG acronym stands for "Single Tenant Acquisition Group".

Since the IPO STAG has grown considerably with assets today of around $1.35 billion and market capitalization of around $1.31 billion. Here is a snapshot of STAG's historical assets and debt: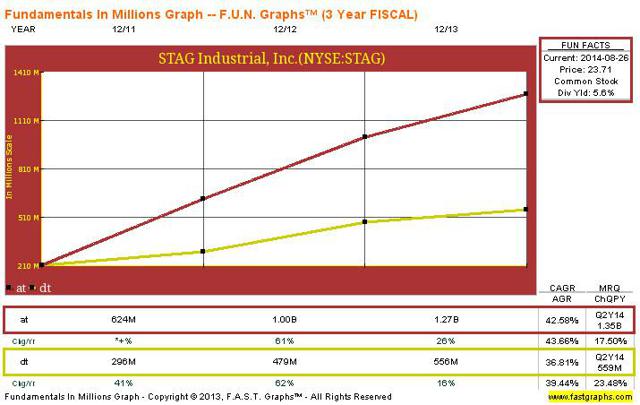 STAG's differentiated single tenant net lease thesis is rooted around its attractive current and total returns that offer less historic volatility than other sectors. Because of STAG's Class B Industrial investment rationale the company enjoys low capital expenditures and lower tenant improvement costs (relative to other property types).
Also, STAG's Class B tenants tend to stay longer since moving costs and business interruption costs are expensive relative to relocating a "critical function" facility. Consequently, these stable occupancy metrics make STAG less volatile with more predictable cash flow generators.
STAG also benefits from more stable occupancy rates than the primary markets, and because of the smaller deal sizes, STAG has limited competition. Most of STAG's competitors are poorly capitalized local buyers with limited competition from larger investors (or REITs). Here's a snapshot of STAG's acquisition activity since the IPO (April 2011):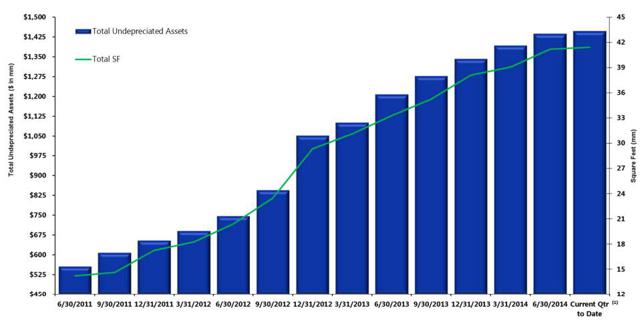 STAG has acquired more assets (since 2011) on a net basis than many of its "pure peers". Here's a snapshot illustrating net acquisition volume (in $mm):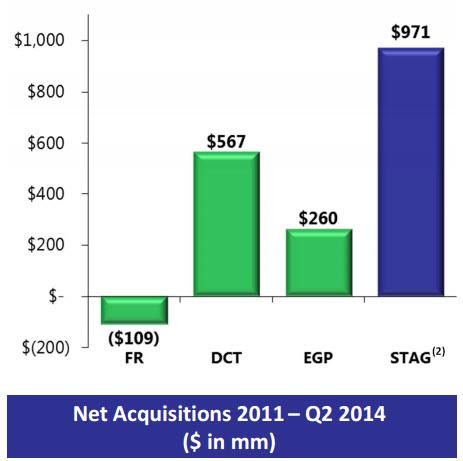 Here's a snapshot illustrating acquisition volume based on total undepreciated assets: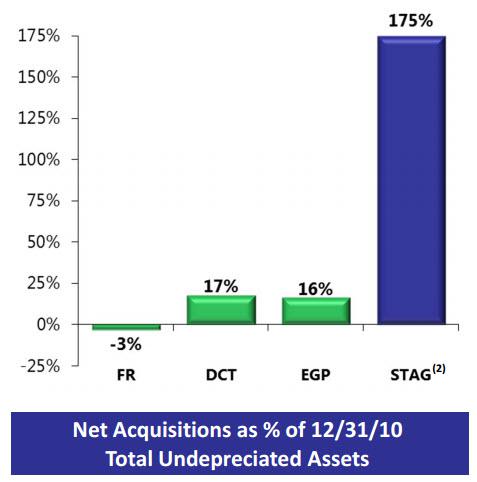 As compared with smaller single tenant leased assets with 15 to 20 years of lease term, the "big box" industrial tenants typically execute leases of around 5 years or less. STAG has a weighted average portfolio lease term of almost 5 years because of the risk profile associated with short-term leased assets in secondary markets, there is a greater return (higher cap rate) threshold. Here's an overview of STAG's portfolio:

The majority of STAG's buildings are leased to warehouse tenants (around 81.5%):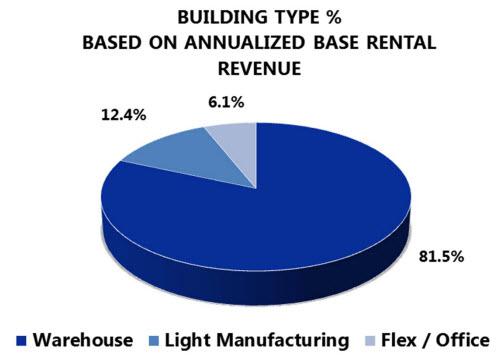 STAG has also performed like a "well-diversified virtual industrial park" (source: Investor presentation) as evidenced by the increased diversification in STAG's tenant industry makeup: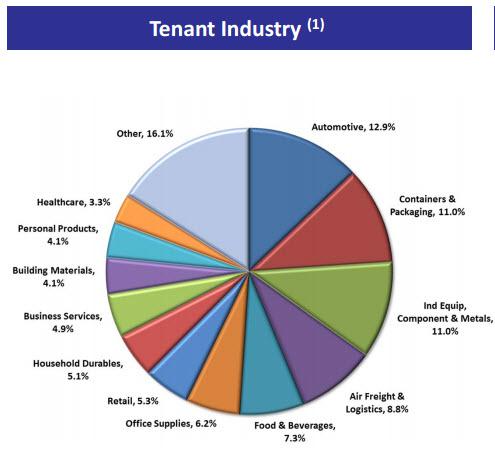 STAG's top tenants represent less than 2.6% of total revenue and the largest tenant, Solo Cup Company, represents $3.8 million in annual base rent.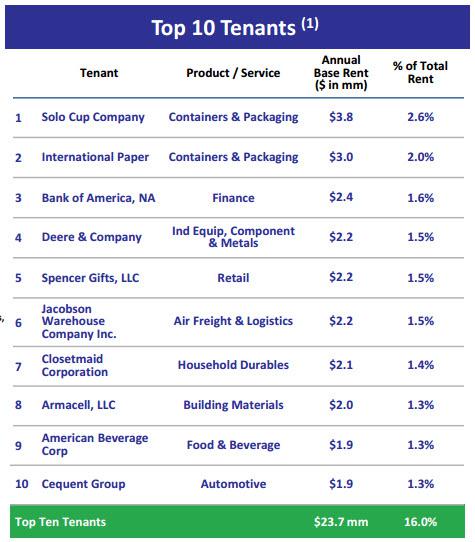 As part of STAG's improved diversification strategy, the company has continued to expand into new markets as evidenced by the snapshot below (total annualized rent by building geography):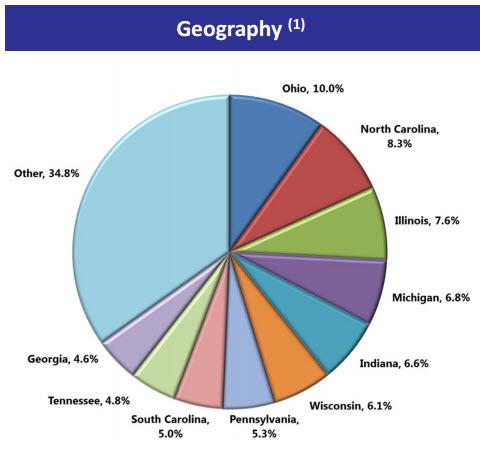 Most of STAG's properties are concentrated east of the Mississippi, near population centers. However, the company has begun to forge a path westward with a few buildings in Oregon and Idaho. As of June 30th STAG owns 221 properties in 34 states.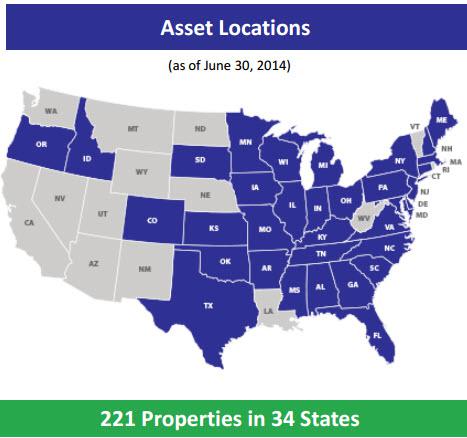 Here's a snapshot of the historic growth in the number of properties: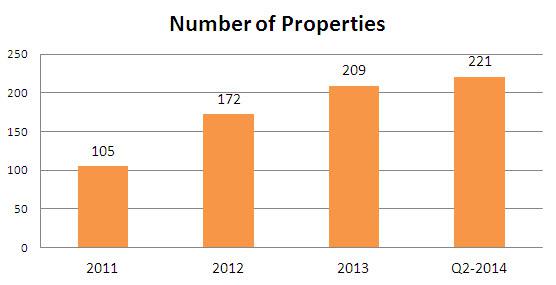 Built Like a Muscle Car
STAG's immediately available liquidity is $276 million (at quarter end) comprised of $6 million of cash and $270 million of immediate availability on the unsecured credit facility and unsecured term loans. In addition, STAG has $44 million of additional capacity on its unsecured facilities for future acquisitions. STAG has around 40% in secured debt, below the broader peer group average of 55%.

In addition to cash and credit availability STAG has $46 million of capacity under its ATM program at quarter end and leverage is low with net debt to total real estate cost basis of 37% and total debt to total enterprise value of 27%.

Net debt to annualize adjusted EBITDA is 4.8x (at quarter end) and interest coverage for the quarter is 5.3x.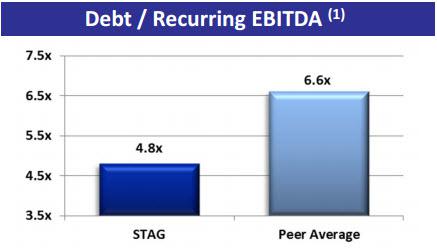 STAG's outstanding debt at quarter end was approximately $559 million with a weighted average remaining term of 4.5 years and a weighted average interest rate of 3.76%. During the quarter STAG executed a $100 million private placement of senior unsecured notes consisting of $50 million tenure notes and $50 million of 12-year notes.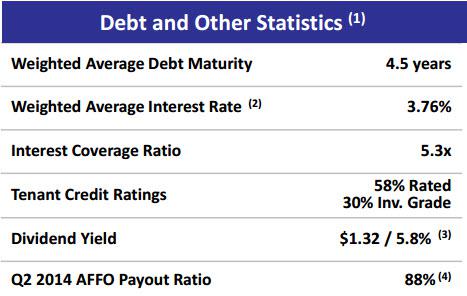 Borrowings under both tranches of notes bear interest at a fixed rate of 4.98%. The 12-year notes were funded on July 1 and the 10-year notes are expected to fund in October.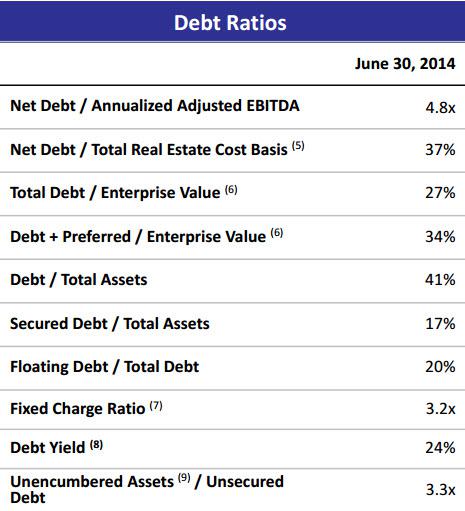 As evidenced by the snapshot below, STAG has managed its liabilities well, minimizing calendar year maturity concentrations to match the long duration of assets.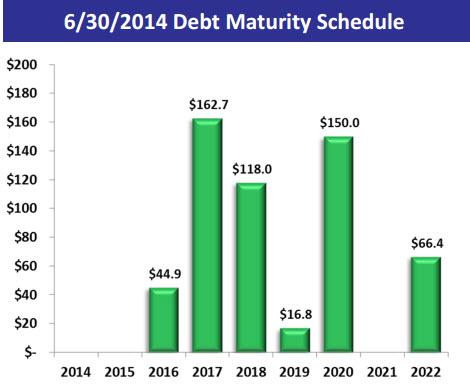 On the equity front, STAG's ATM program was effective in the second quarter as the company issued 1.8 million shares of common stock at an average price of $23.79 per share, receiving net proceeds of approximately $41 million. The ATM allows STAG to raise "just in time" equity capital for its granular acquisition strategy and extremely low all-in cost of approximately 1.5%. STAG expects to continue to utilize the ATM going forward and match fund acquisitions with roughly 60% equity. Here's a snapshot of the company's capitalization: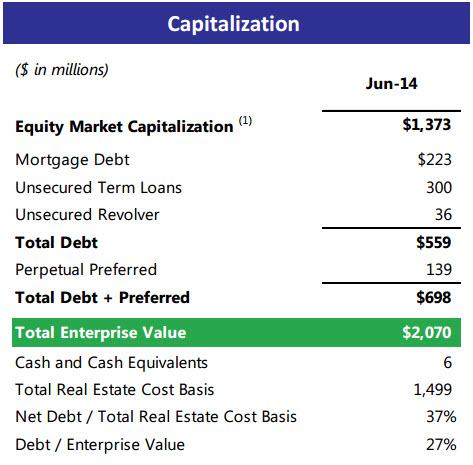 As noted above, STAG's average lease term is 5 years, and the company has maintained low near-term rollover and high tenant retention. 27% of STAG's tenant rollover is through 2016 as compared to the peer average rollover of around 42% (over the same period).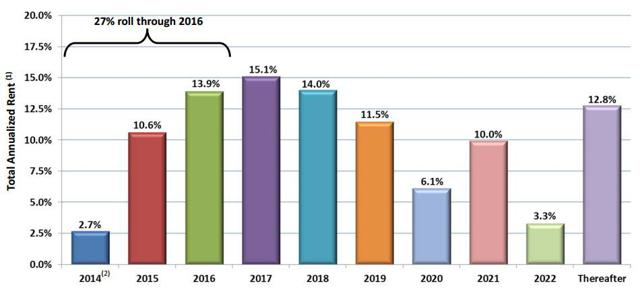 A Vehicle Built for Speed and Performance
STAG has grown considerably; however, this company is still considered a small-cap REIT and it has plenty of runway for growth.

During the second quarter STAG acquired nine buildings for a combined all-in purchase price of approximately $82 million, the 2.1-million square feet acquired in the quarter increased the company's portfolio square footage to 41.2-million square feet, a 24% increase in square footage from the end of the second quarter last year.
The nine buildings acquired in the quarter are located in six different states with a weighted average lease term remaining of five years and represent diverse industries including industrial equipment, household durables and air freight and logistics.
With these second-quarter acquisitions, the company has purchased a total of 13 buildings for a combined all-in purchase price of a $119 million year-to-date. Subsequent to the end of the quarter the company closed on a property for approximately $9.8 million.
In addition STAG has entered into contracts to acquire 11 industrial buildings for a combined purchase price of approximately $118 million. As Ben Butcher, CEO, commented on the recent earnings call:
Our pipeline of deals that meet our investment criteria continues to be robust with approximately $1 billion of potential acquisitions including small portfolio deals being reviewed and considered by our acquisition teams.
From an operational standpoint STAG's cash NOI in Q2-14 was $33.7 million, representing growth of 6% from the first quarter and 24% compared to the second quarter of last year. Adjusted Funds From Operation (or AFFO) was $20.6 million for the quarter, an increase of 6% and 36% compared to the first quarter of 2014 and the year ago period. Here's a snapshot of historic FFO (in $US millions):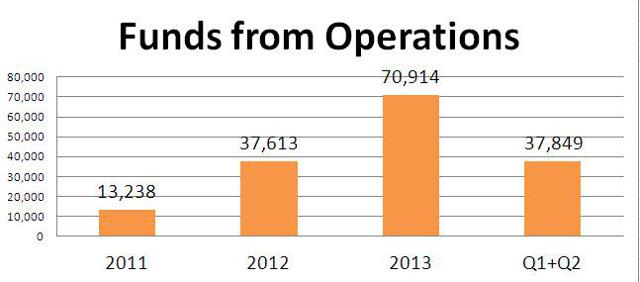 Here's a snapshot of FFO per share, including Q1 and Q2: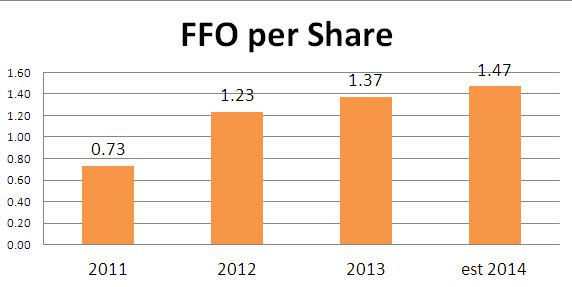 On the dividend front, STAG paid monthly dividends of $10.5 per share during the quarter and raised the dividend to $0.11 per share commencing with the July dividend. Here's a snapshot of dividends paid: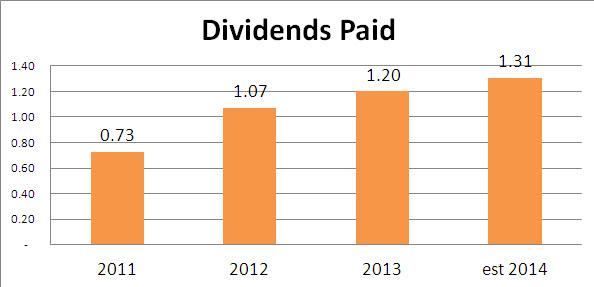 From a coverage standpoint STAG's dividend represented 88% of AFFO a level with which the company is comfortable and a level in line with past experience. Here's a snapshot of historic FFO payout ratios: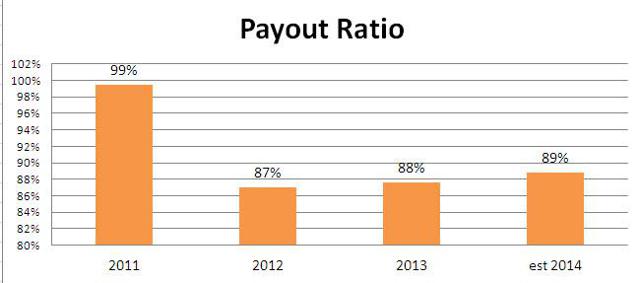 Here's how Ben Butcher summed up the second-quarter results:
We believe that our business plan to aggregate and operate a large portfolio of granular and diversified industrial assets will produce strong and predictable returns for our shareholders. Our second-quarter operational results provide continued validation for this contention. Going forward we'll maintain our investment discipline and focus on shareholder returns.
In summary, STAG continues to produce reliable and predictable earnings and given the small size of the company, it's a lot easier to move the needle (acquisition guidance for 2013 is $350 million).
Buy, Hold, or Sell?
My initial (and only) investment in STAG was on September 3, 2013 when shares were at $20.24. Since that time the price has increased by 17.36%.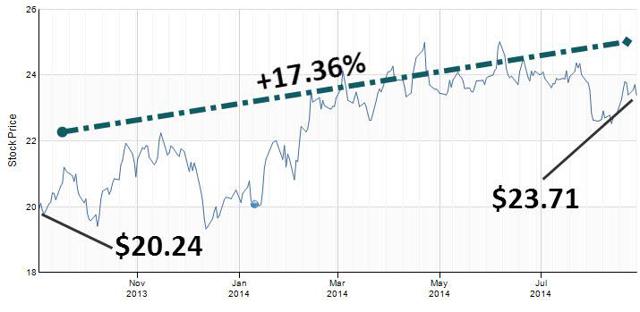 My initial dividend yield (on September 3rd) was 6% and today it's 5.6% - a 6.27% decrease in yield.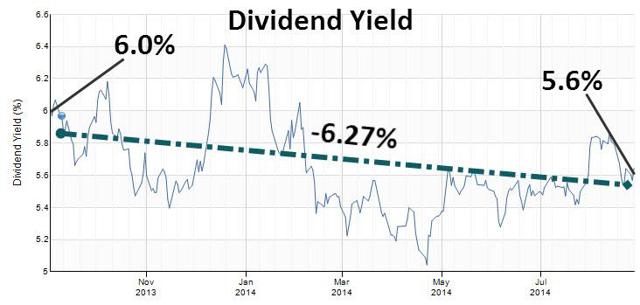 Currently STAG is paying 5.57%, just below the broad peer group average of 5.94% (note: ARCP skews the range):

In terms of valuation, STAG appears to be trading at sound value with a P/FFO multiple of 16x (average for the peer group is 14.9x):

However, comparing STAG with the "pure" peer group (FR, DCT, and EGP), STAG's AFFO multiple is considerably more attractive: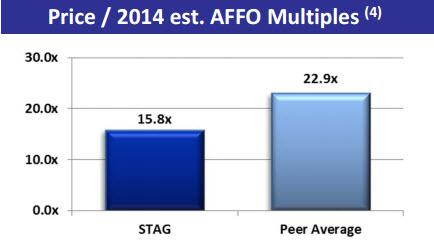 In conclusion, I'm holding on to my All-American muscle car. I will consider adding more shares with a pull-back but I'm very comfortable with my current concentration levels. Although STAG does invest in net lease buildings, I consider this investment a unique sub-sector in which there's less competition and more runway for growth. I'm very confident with the management team and the disciplined risk management practices that make-up the "muscle-like" investment thesis.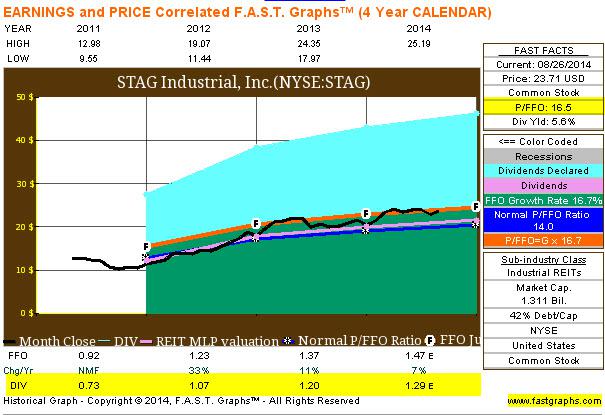 One last thing, STAG pays monthly dividends (see my monthly dividend article HERE) and the dividend increases have been robust: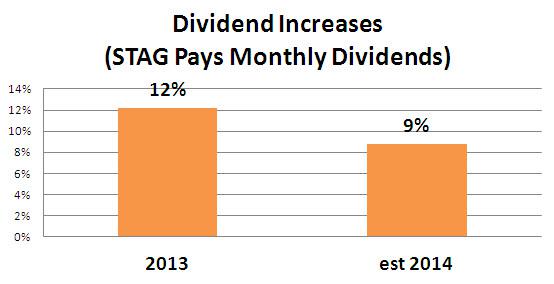 Yes, I'll keep STAG in the garage; there's value in owning this All-American REIT. Check out my Q&A with the CEO (Ben Butcher) in my September newsletter (SUBSCRIBE HERE).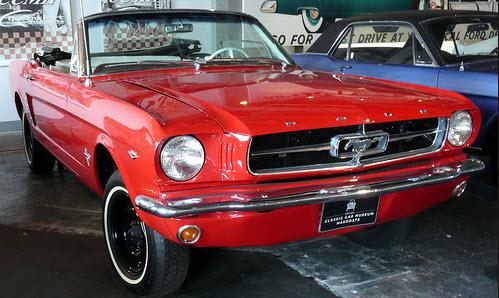 Source: SNL Financial, F.A.S.T. Graphs, and STAG Investor Presentation.
Other REITs mentioned: (NYSE:GTY), (NYSE:MNR), (NYSE:SRC), (NYSE:ADC), (NYSE:EPR), (NYSE:OLP), (NYSE:FR), (NYSE:DCT), and (NYSE:EGP).
Disclaimer: This article is intended to provide information to interested parties. As I have no knowledge of individual investor circumstances, goals, and/or portfolio concentration or diversification, readers are expected to complete their own due diligence before purchasing any stocks mentioned or recommended.
Disclosure: The author is long O, DLR, VTR, HTA, STAG, UMH, CSG, GPT, ARCP, ROIC, HCN, OHI, LXP, KIM, WPC, DOC, UDF, EXR.
The author wrote this article themselves, and it expresses their own opinions. The author is not receiving compensation for it (other than from Seeking Alpha). The author has no business relationship with any company whose stock is mentioned in this article.