21Vianet (NASDAQ:VNET) reported Q2 revenue of RMB658m (+40% y/y) that beat consensus of RMB642m, but the EPS of RMB0.30 missed consensus on a RMB41m loss from debt extinguishment. (Please note that VNET reports in RMB) Nonetheless, the core hosting business continues to remain resilient with +59% y/y growth. Higher MRR is reflective of VNET's pricing power and lower churn is an indication of its superior service offerings. Guidance of RMB777-813m for Q3 represents a 55% y/y growth, with adjusted EBITDA to be between RMB153-170m. Post quarter I remain bullish on VNET.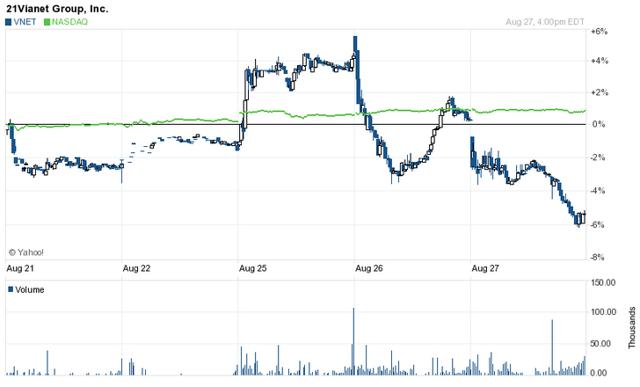 Click to enlarge
Core business continues to deliver with positive margin improvement
Hosting and related revenue was RMB467m (+59% y/y) driven by an increase of 1,870 cabinets in the quarter to 16,944 in total. MRR per cabinet saw a slight uptick to RMB 10,789 (vs. 10,753 in Q1) while utilization rate of 73.9% was steady q/q, which I find impressive given the increased cabinet and MRR. Churn was 0.28% compared with 1.27% in Q1, indicating high user stickiness due to VNET's broad product offering. Gross margin increased to 27.4% in the quarter, flat y/y but adjusted EBITDA margin of 20.1% was an 80bps improvement from the prior quarter on better cost control. However, the company recorded a RMB41m loss on debt extinguishment over the quarter which led to the EPS miss.
Overall, operating metrics remain healthy and that translated to the robust growth of the core hosting business. The company has approximately RMB2b in net cash and I expect the company to be proactive on the M&A front. The recent acquisition of DYXnet that could double its VPN network and Aipu, which is already a proven player in the broadband access space, suggests that the management is selective on M&A and any purchase will likely to be complementary to the core business. I remain positive on the name and reiterate my bullish view on the stock.
Disclosure: The author has no positions in any stocks mentioned, and no plans to initiate any positions within the next 72 hours.
The author wrote this article themselves, and it expresses their own opinions. The author is not receiving compensation for it (other than from Seeking Alpha). The author has no business relationship with any company whose stock is mentioned in this article.