Video game sales have improved in the USA from a $10B industry to $20B in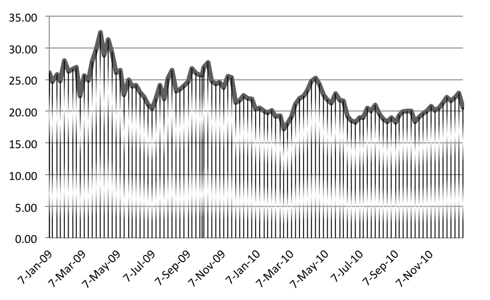 2005-2009. Current estimates for 2010 show that the industry could have reached $25B in 2011. Further estimates show that global sales will rise over 15% in the next four years to hit $70B in 2015.
The video game industry has taken off significantly with new family-friendly oriented games and systems (Wii, Microsoft's (NASDAQ:MSFT) Kinect, Sony (NYSE:SNE) Playstation's Move), larger demand for console games, and improving gameplay and graphics. The industry is a growing industry that may just be at the start of something much larger as video game devices continue to be able to offer more to their customers.
Sitting at the center of this industry are Nintendo (NDTOY.PK), Sony, Microsoft, Electronic Arts (ERTS), Take-Two (NASDAQ:TTWO), and… GameStop Corp. (NYSE:GME). GameStop does video games… only. The company sells hardware, software, publishes a magazine about games, and is expanding its presence online to offer an even better gaming experience. The company, however, gets a large knock from Wall St. because it has no economic moat. The company is in a constant price war with the likes of Best Buy (NYSE:BBY), Wal-Mart (NYSE:WMT), Target (NYSE:TGT), and other larger companies that also offer video game sales.
GameStop, however, does have a small economic moat. For the video game world, GameStop is the gamer's Mecca with stops taking place more like once to twice a week rather than once a lifetime. The company's economic moat is that it is a niche in a growing industry with low valuations and a lot of potential.
GameStop is one of those companies that has built disaster and future problems
into its price already. The company has growing competition from other companies, problems with digital downloads, and skinny margins on hardware and software (other than used games). Companies like Activision (NASDAQ:ATVI) and Electronic Arts are in the process of trying to cut out the middleman with direct downloads that will allow customers to buy the game online or through a gaming system. Margins are rough for GameStop on new hardware and software, but that is the nature of retail.
What attracts The Oxen Group to GameStop is that this is a company that has a plan. First off, no company can execute a plan without money. GameStop has a FCF margin in its TTM [trailing twelve month] at close to 5%. While 10-12% is considered very healthy, retail is a different ballgame. Best Buy (BBY), Wal-Mart (WMT), and Target (TGT) have FCF margins at 2.76%, 3.21%, and 5.69%. GameStop has a nice amount of FCF that will be useful for the company. Further, with its current FCF over $450M, the current price of the company is pricing in that sales and FCF will improve at a very slim margin for the next five years before stopping to grow.
We just do not agree with this estimation. Even with a 3-4% growth each year for the next five years, the stock has 50% growth capabilities.
Where is this growth going to come from for GME? For one, the industry is growing. After a rough 2009 and 2010, with the economy returning, video game sales are looking poised for a rebound. Video games are no longer simply adventure games for mostly boys and young men. Games have infiltrated the family atmosphere, and they are gaining immense popularity.
Further, GameStop is no stranger to the digital revolution. As it revolutionizes gameplay and the gaming industry, it is revolutionizing the way GameStop does business. In the 2010 holiday season, GameStop saw a 100% increase in its online sales. GameStop has integrated digital downloads for the PC right into its website – talk about high margins. The company is launching an Xbox Live download platform on its website soon as well. GameStop is expecting to continue to grow this part of its business. In Q3 2010, for example, the company saw 10% of sales including either a digital purchase of a physical game or just digital came. That was up from 5.3% in its Q2, and it should continue to increase.
While risks are prevalent, they are baked into the numbers. GameStop operates at a P/E ratio between 8-9. In the electronic stores department, BestBuy operates over 10 and Radioshack (NYSE:RSH) does as well. The company appears to be a perfect value play. The price of the current stock expects absolutely no growth in the stock. If there is any limited growth, this stock goes up. The Oxen Group has priced in 3-4% growth each year for the next five, and we believe that is limited and could be much higher. Video games are always innovating and creating new demand. With the cyclical nature of the gaming industry having just gone through a major lull, the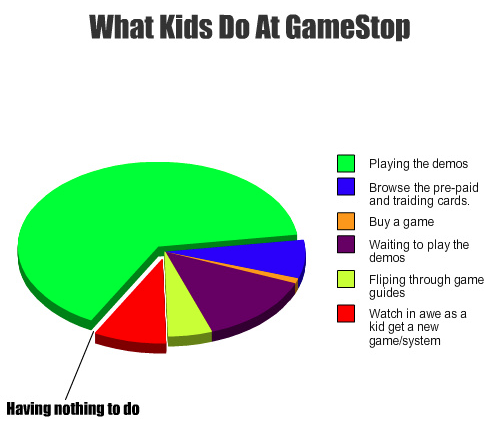 next coming years look very bright.
Another reason to like GameStop, aside from its own potential, is its buyout potential, which will most definitely be at a premium to its current price. Rumors continue to swirl around a BestBuy buyout of GameStop. BBY, in its latest quarter, commented that a major weakness for the company is in its inability to grow its video game sector. Many speculate BestBuy can remove one competitor in GameStop. This would in one fell swoop increase the price of GME drastically and is another attractive part of the GME package.
This Buy rating would not be complete without the necessary positive financials backing this company. We have discussed the company's top-notch cash flow and its tough margins. Profitability does remain somewhat tough, but the company is not a complete laggard. GME has operating margins at 6.82% and net margins over 4%. While this proftitability is not wholly enticing, Best Buy operates net margins at 2.78% and operating margins at 4.73%. GameStop's margins are helped by the digital sales and the company's vibrant used-game selling program.
The company has a healthy current ratio at 1.11, which is above the 1 benchmark for financial health. It also has significantly reduced its debtload over the past several years. GameStop now has only 5% long-term debt to sales. In 2004, it was 32%. It has reduced each year due to growth and growing cash flow.
Risks are prevalent with GameStop. This is not a company that can take a day off as competition remains high, but the company is taking the necessary steps to ensure success. With valuations so low, the stock is begging to be bought. With a couple good quarters, this market could take GameStop to $30. For now, we are targeting $29.
Valuation
The Oxen Group has a fair value estimate at $29 on GameStop. The company should be able to easily improve its current share price with any growth. Current prices have no growth baked into the numbers. The company has lots of potential with growing digital business and return to video game sales.
The stock is a Buy below $22.75 and sell above $32.
Risk
Risk is medium with GameStop. Downside risk seems relatively limited. The company could only really see a price drop in its stock if it was to downsize or lose growth over the next several years. With that possibility limited, risk still exists from growing competition and the risk of digital downloads growing from video game producers. While still years away, the risk is still prevalent. Further, other companies continue to build their video game presence, which will threaten GME's business.
Management & Stewardship
GameStop's CEO is Paul Raines. Executive compensation, in 2009, was at its lowest level since 2006. This is despite significant growth in that period of time.
Management gets an 8 out of 10 rating (10 being the highest).

Disclosure: I am long GME.