In this series of articles, we take a dive into REIT valuations across the various sectors to determine where there is still opportunity for outperformance. Part 1 covered healthcare, part 2 covered industrials and the focus of this article will be on residential REITs.
Residential REIT valuation
The sector as a whole trades at a median price to NTM estimated FFO of 16.4X which is meaningfully higher than the average equity REIT at 15.5X. Residential REITs have substantially outperformed YTD with price appreciation of 26.93% beating out equity REITs as a whole with 15.81% gains.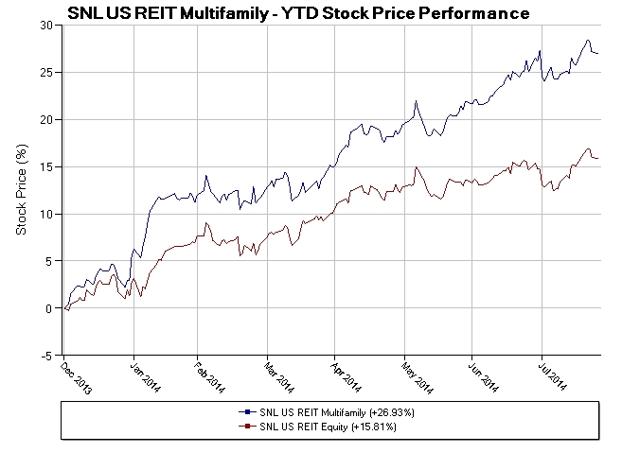 Three year performance, however, tells a different story with the multifamily REITs significantly underperforming their REIT peers.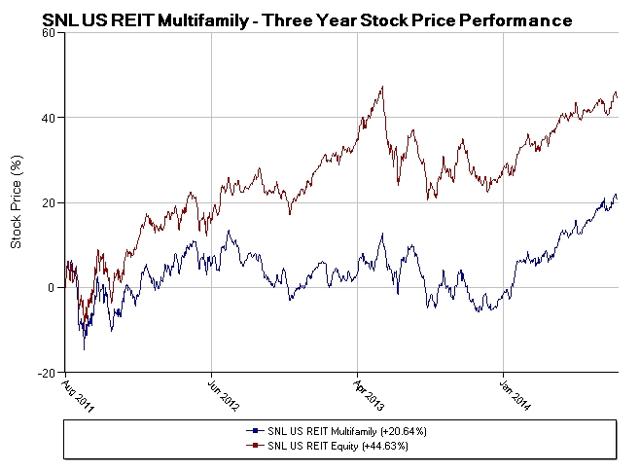 Yet if we look even longer term at the 5 year price performance, the multifamily REITs are back to outperforming.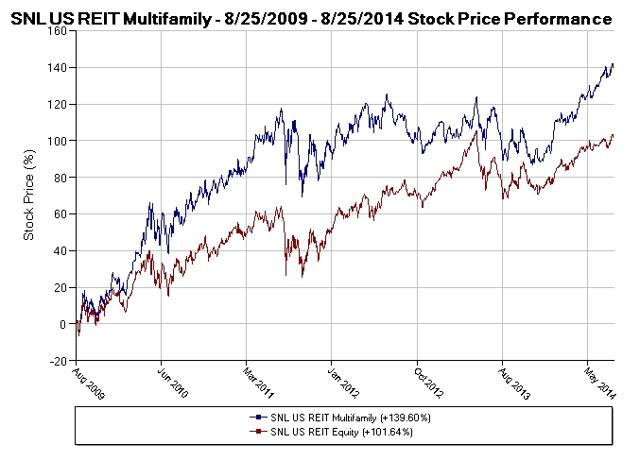 The reason I bring up these various charts is to highlight the period from mid-2011 through mid-2013 where multifamily REITs were basically flat. This is of particular importance because those 2 years had strong household formation rates. As a result of flat pricing in the presence of strong fundamentals multifamily REIT multiples declined sharply over that 2 year period.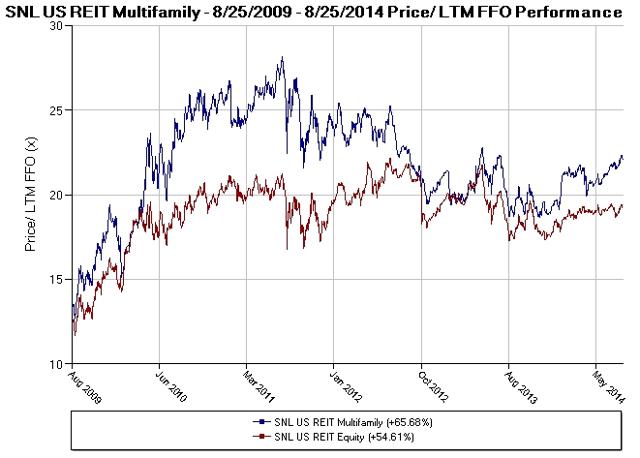 This made the sector fairly cheap going in to 2014 such that the ~27% price appreciation thus far in 2014 does not necessarily mean the sector has become overvalued. Another reason to highlight this period is to show how uncorrelated price performance has been with one of the sector's primary drivers; household formation
Household Formation
Since 1956, US household formation has averaged 1.147mm net accretion annually. Over the past 5 years, the number has been substantially lower.

Data from US Census and provided by Y-Charts
Oddly enough, the only period in the past 5 years in which household formation was above or near the long term trend was mid 2011 through mid 2013; the same period in which multifamily REITs materially underperformed. This is because household formation does not paint the entire fundamental picture. Beyond the number of households and changes to the number, demand for multifamily properties is largely driven by the allocation between owning and renting.
For most households this is a mutually exclusive decision in that they either rent or own. Thus, multifamily properties are in direct competition with the single family housing market. Looking once again at that mid 2011-mid 2013 time period, we can see that this is when house prices bottomed.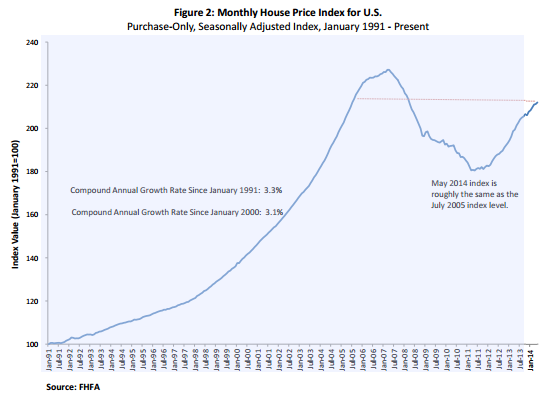 At these bottom of market prices, it became more economic to buy a home rather than rent. Multifamily rental rates and occupancy likely suffered as tenants and prospective tenants weighed the options.
The historic data disagree with my perspective as rent growth has been fairly strong. Charted below is the average monthly rent/unit among multifamily REITs that reported the figure.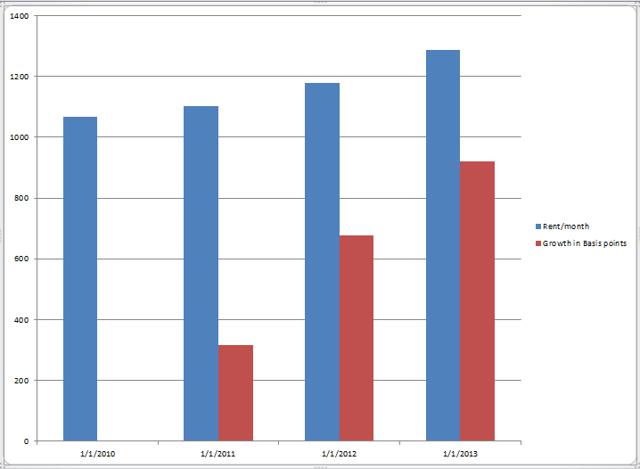 Data from SNL Financial
I would argue that the strength in the numbers is merely from coming out of a recession and that the rent growth would have been even better had the residual homes of the housing bubble burst not twisted the allocation in favor of buying rather than renting.
Going forward, it seems the allocation is turning back in favor of renting. Home prices have rebounded back to 2005 levels and are only slightly below the peak of the bubble. The higher price to own is compounded with difficult financing.
Easy money everywhere except housing
It seems banks are being extra cautious to avoid a repeat of the housing crisis. Loans have stiffer regulation now, including:
Sub-prime restrictions
Lower loan-to-value
Higher down payments
Proof of income or net worth
NINJA (no income no job no assets) loans are a thing of the past and seem unlikely to return. Mortgage rates have also increased slightly which makes the owning side of the trade-off even less desirable. When viewed on a relative basis to owning, it seems multifamily REITs will have the ability to aggressively raise rates.
There is, however, yet another side to the fundamental picture.
Demand vs. Supply
We discussed above our belief that household allocation between renting and owning is turning back in favor of renting. We also discussed the below average household formation rates. Over the past 5 years, a substantial deficit has accumulated between number of households and the number of households that would be predicted by trend. Getting back to trend would require multiple years of above average growth. Is this plausible?
Well, unemployment is a leading indicator of household formation. Unemployment has been particularly high in the younger, freshly graduated population. Many of these individuals have moved back in with their parents to save money. Some cannot yet afford to live on their own, while others are using the opportunity to develop a savings cushion. We believe this group of millennials represents pent up demand for housing of some kind (either renting or owning), particularly as the economy continues to improve. With national unemployment at 6.1% as of June and even lower in many of the MSAs in which multifamily REITs are concentrated, we believe the leaving of the nest could happen in the near term.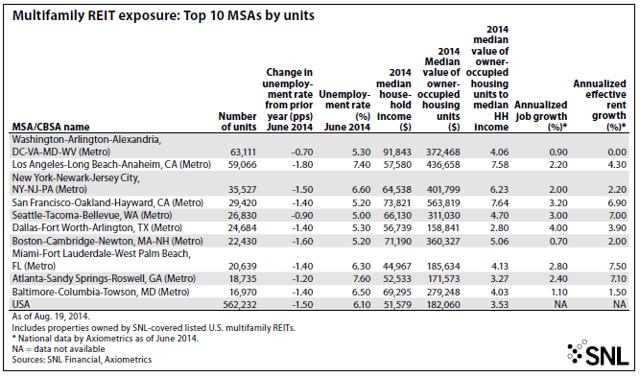 When the lower unemployment is combined with the accumulated deficit in household formation, It seems there will be a strongly positive trend in net new households.
The demand side of the equation has a great outlook for multifamily REITs, but what about supply?
Thus far, demand growth has exceeded supply as evidenced by 96.1% median same store occupancy in 2Q14 which is the highest reported since 3Q of 1999. Going forward, supply growth may be a bit more concerning. Multifamily was among the first REIT sector to experience substantial cap rate compression. As acquisitions lose their economic profitability, REITs with excess capital tend to turn to development. According to SNL Financial, REITs have 41,471 units under development as of July 7th.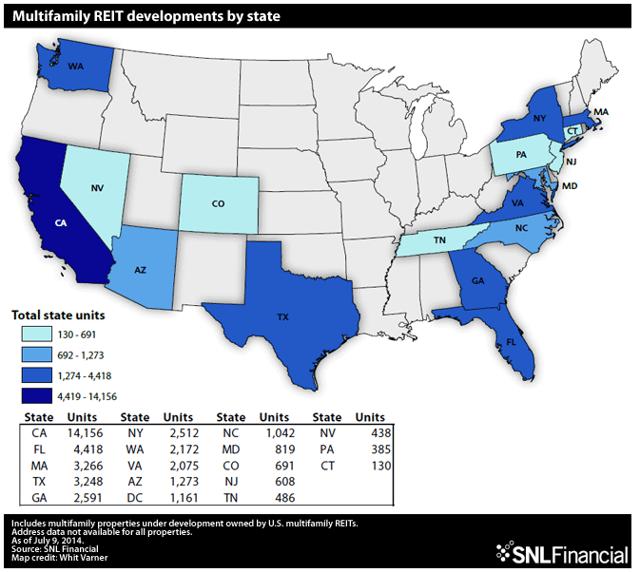 The development is heavily concentrated in coastal states and those with favorable employment trends such as Texas. The projected cost of development is $9.3B which outpaces the $8.7 billion spent in 2013.
Outlook for the sector
Over the next couple years, we anticipate that supply pressure will hold occupancy constant in the mid 90% range, but the overall pricing competition could be lower as the less favorable owning dynamics allow apartments to increase rates on a comparative basis. Look for continued rate growth to maintain FFO growth for the next couple years.
Valuation
In my opinion, the propensity for continued rate growth justifies the above average multiple for the sector making it fully, but not overvalued. Despite the high multiple, the sector does still trade below its NAV.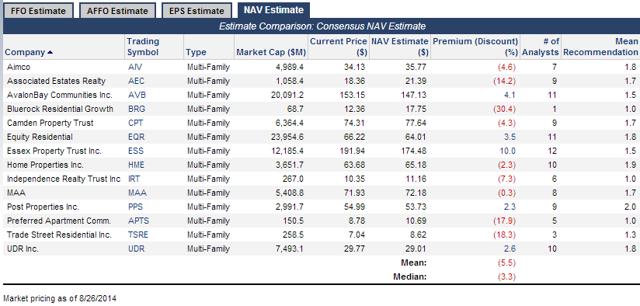 Unlike the other sectors that have a fairly tight spread in multiples, the residential REITs are all over the place ranging from 7.5X estimated 2015 FFO to 20.8X estimated 2015 FFO.
| | | | | | |
| --- | --- | --- | --- | --- | --- |
| Company (ticker) | Intraday price 8/25/14 $ | 2014 estimated FFO* | 2015 estimated FFO* | YoY growth % | P/2015 est. FFO |
| Aimco (NYSE:AIV) | $33.79 | $2.09 | $2.22 | 6.2% | 15.2X |
| Associated Estates (NYSE:AEC) | $18.28 | $1.27 | $1.35 | 6.3% | 13.5X |
| Avalon Bay (NYSE:AVB) | $153.09 | $7.08 | $7.39 | 4.4% | 20.7X |
| Bluerock Residential (NYSEMKT:BRG) | $12.31 | $1.01 | $1.31 | 29.7% | 9.4X |
| Camden Properties (NYSE:CPT) | $74.27 | $4.25 | $4.52 | 6.4% | 16.4X |
| Equity Life Style (NYSE:ELS) | $45.15 | $2.73 | $2.86 | 4.8% | 15.8X |
| Essex Property Trust (NYSE:ESS) | $192.41 | $8.41 | $9.25 | 10.0% | 20.8X |
| Home Properties (NYSE:HME) | $63.41 | $4.37 | $4.64 | 6.2% | 13.7X |
| Independence Realty (NYSEMKT:IRT) | $10.28 | $0.94 | $1.02 | 8.5% | 10.1X |
| Mid America Apartments (NYSE:MAA) | $72.07 | $4.92 | $5.34 | 8.5% | 13.5X |
| Post Properties (NYSE:PPS) | $54.90 | $2.34 | $2.80 | 19.7% | 19.6X |
| Preferred Apartment Communities (NYSEMKT:APTS) | $8.78 | $1.03 | $1.17 | 13.6% | 7.5X |
| Sun Communities (NYSE:SUI) | $53.42 | $3.45 | $3.72 | 7.8% | 14.4X |
| Trade Street Residential (NASDAQ:TSRE) | $6.91 | $0.28 | $0.46 | 64.3% | 15.0X |
| UDR Inc. (NYSE:UDR) | $29.76 | $1.53 | $1.61 | 5.2% | 18.5X |
| UMH Properties (NYSEMKT:UMH) | $10.15 | $0.50 | $0.63 | 26% | 16.1X |
*Estimates are FactSet consensus as provided by SNL Financial
It seems the sector has a huge premium for experience as the 3 cheapest companies are new to the public market. It also bakes in a substantial premium for stabilized assets over those undergoing conversion, substantial retenanting, or development.
In some cases, the discount given to new companies seems overdone, particularly in the case of Independence Realty Trust.
IRT
IRT may seem new having IPOed in August of 2013, but it actually has a seasoned management team and a division that specializes in running multi-family properties. At just 10.1X 2015 estimated FFO, it represents a cheap way to gain exposure to the sector's fundamentals. IRT is differentiated from its competitors by its connections to a broad spectrum of off market transactions such that it can acquire at higher cap rates. Its properties are on the lower end of the rent/month spectrum, but are generally well located in their submarkets so as to have stable performance.
Another way to obtain cheap exposure to multi-family is through Bluerock Residential Growth REIT.
BRG
BRG is even cheaper, trading at just 9.4X 2015 estimated FFO and it makes a nice pair with IRT as Bluerock owns some higher end properties. It too has a rather unique approach to obtaining properties in that it will repurpose condominiums or other properties into multifamily. Upon stabilization, this can result in superior yield on cost to regular acquisitions.
Given that multi-family cap rates have compressed so much and even development cap rates have come down, it seems the companies with alternative routes of acquisition will have the most growth left. The property accumulation mechanisms of IRT and BRG are slightly riskier than traditional acquisitions, but the superior growth potential compensates for the risk, particularly when they can be bought at such discounted prices.
Disclosure: 2nd Market Capital and its affiliated accounts are long AEC, IRT, BRG, APTS. I am personally long IRT, BRG and APTS. This article is for informational purposes only. It is not a recommendation to buy or sell any security and is strictly the opinion of the writer.
Disclosure: The author is long IRT, BRG, APTS.
The author wrote this article themselves, and it expresses their own opinions. The author is not receiving compensation for it (other than from Seeking Alpha). The author has no business relationship with any company whose stock is mentioned in this article.