The demand in the cereal industry has slackened primarily because consumers are shifting towards protein-rich breakfasts. The sluggish demand has become a challenge for the leading cereal companies. In the latest quarter, profits for the Kellogg Company (NYSE:K) dropped 16% which is a significant decline in one quarter. Due to poor performance, for the second time in about a year Kellogg has replaced the head of its U.S. morning foods unit. Kellogg's stock fell around 6% to $59.83 when the company released its falling earnings results for the second quarter of fiscal year 2014. Now the stock has recovered but is still trading lower than its 52-week high of $69.50. The stock has gained just 7.58% in the last year and the slow earnings growth is the main reason. If Kellogg's hits its 52-week high then this will give rise to upside potential of 7.25% which is in line with its last one year gain.
Declining Profits and Slashed Outlook
With the increasing demand for yoghurt, cereal demand has declined and this is the reason why Kellogg has performed poorly in the second quarter of 2014. The rising demand for yoghurt is hurting Kellogg's profits. Majority of the U.S. consumers agree that protein contributes to a healthy diet. According to NPD's report, per capita consumption of yogurt has more than doubled in the past decade. The yoghurt sales are growing and it is expected that in the U.S. retail yoghurt sales will reach $9.3 billion by the end of 2017, up from $7.3 billion in 2012. This is pretty decent growth and going forward, it may continue to hurt Kellogg's earnings.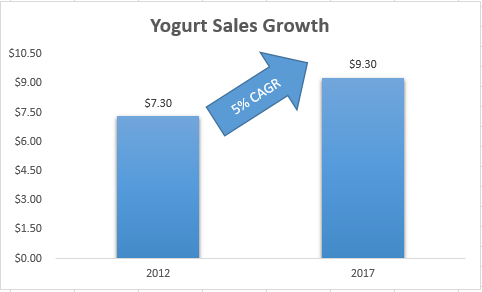 Source: Packaged facts
After experiencing a 16% decline in profits, Kellogg's replaced the head of its U.S. morning foods division for the second time in a year. Kellogg's U.S. morning foods segment experienced an internal net sales decline of 4.9% in the second quarter. Changing the division head twice in a year is quite an aggressive decision but at this point in time Kellogg's must find a way to put the company back on track.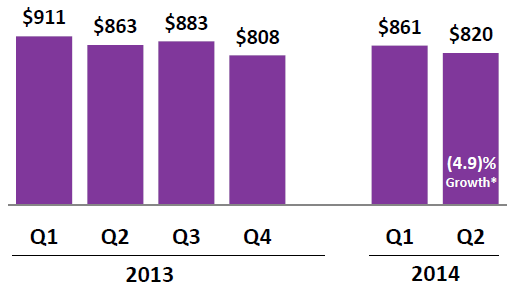 U.S Morning Foods Results, Source: Company Presentation
Kellogg's was able to generate $3.70 billion in revenues which was slightly less than the expectation of $3.71 billion. The reported net sales declined 0.8% compared to the second quarter of 2013. The poor performance was due to Kellogg's net sales decline in North America. Along with the poor top-line performance the reported operating profits in North America dropped 11.9%.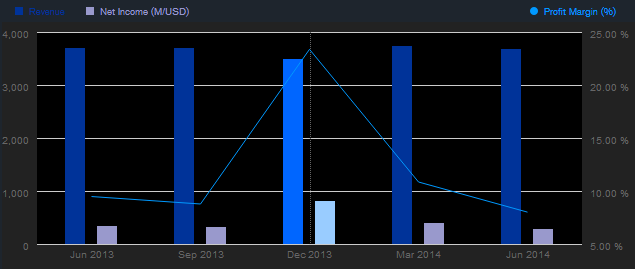 Source: Bloomberg
Despite the poor performance there were good results too. Europe delivered growing numbers and its net sales increased 6.9%. In Latin America net sales grew 5.2% due to strong price realization, innovation, and brand building. However, the Asia Pacific region could not deliver results and net sales dropped 1.5% but internal net sales increased 0.5%.
Kellogg's reported second-quarter profits of $295 million, or $0.82 per share, down from $352 million, or $0.96 per share, a year earlier. Excluding costs associated with Kellogg's cost cutting program, per share earnings in the latest period were $1.02.
Due to poor performance in the first half of 2014, Kellogg's now expects organic net sales to fall by 1% to 2% and expects adjusted per share earnings to be between $3.81 and $3.89. The company had previously forecasted sales growth of 1% and per share earnings between $3.89 and $3.97 per share. This drop in estimates is primarily due to the company's poorly-executed strategy and the sluggish outlook of the cereal market.
Challenging Industry
Kellogg's depends on cereal for 30% of its total sales, which is a major portion. Cereal sales and volumes have been steadily declining for more than a year with sales falling 7% in the latest four-week period. Kellogg's was adversely impacted because its cereal sales declined 10% for the same period. General Mills (NYSE:GIS), which generates 20% of total sales from cereals, was also hit but the impact was less than what Kellogg's received.
Kellogg's is trying to win back its customers by introducing new products. The company is also trying to convey the message that cereal is healthy to eat. Through its health-related messaging, Kellogg is trying to enhance consumer perception that cereals can be a source of protein. Another solution is to introduce healthier versions of existing products. Kellogg's is introducing healthier products such as non-GMO verified Kashi and new cereal snacks that capitalize on the growing snack trend.
These challenges are quite strong and Kellogg's may take more time to address these challenges. Kellogg's $1 billion-plus Project K restructuring program has not yet yielded results and Kellogg's appears to be moving too slowly when one analyzes its growth in the first half of 2014. Even if Kellogg's new product-line gains little success it will be very hard for the company to improve customer perception.
Conclusion
Kellogg's is trading at a forward price to earnings multiple of 15.60 times which is slightly at a discount to the S&P 500's forward price to earnings multiple of 17 times. Recently Kellogg's increased the quarterly dividend to $0.49 per share from the previous figure of $0.46 per share. This new quarterly dividend is an annual dividend of $1.96 per share and a yield of 3.02%. Kellogg's dividend history is good but its dividend growth may slow down in the future due to slower earnings growth. Also, Kellogg's VP Maribeth A. Dangel recently sold 7,770 shares of the company's stock and following the transaction the vice president now directly owns 1,474 shares of the company's stock. This is also an indication that the company's growth may not be enough to support the return to shareholders. Kellogg's may be an attractive dividend stock but the company's consistently declining earnings and slow growth may not provide satisfactory returns in the near future.
Disclosure: The author has no positions in any stocks mentioned, and no plans to initiate any positions within the next 72 hours.
The author wrote this article themselves, and it expresses their own opinions. The author is not receiving compensation for it (other than from Seeking Alpha). The author has no business relationship with any company whose stock is mentioned in this article.