When one looks around at the economy, one finds a historically high level of unemployment and a myriad of other negative factors. In terms of portfolio theory, equities are generally in favor only when there is somewhat of a boom in the economy. The exceptions are the equities from companies which have low betas. Now and then, stocks with low betas don't have that beta based on any logic other than pure coincidence. Maybe a company did really well by accident while the market was down, so it could result in a low or even negative beta.
That isn't the case with MetroPCS (PCS). It has a low beta, and deservingly so. When scanning the mobile phone market, one is hard pressed to find any company in the United States offering a cheaper plan than Metro. Metro charges $40 per month for unlimited talking, texting, and web browsing. So in other words, management at Metro has chosen to go after the low end market and become a low beta equity. And with the economy the way it is, who wouldn't call that a smart strategy and great management? So even stopping the analysis there, I feel it is the stongest mobile carrier equity.
Furthermore, Metro hasn't just created the cheapest service and stuck users with the worst quality. In fact, Metro just released a major upgrade to its service by releasing 4G LTE technology. The speeds are set at about 3G speeds from other providers, but the system runs very efficiently how Metro has set it up, saving costs and allowing Metro to undercut the competition and continue to increase market share.
Who can beat $40 per month for unlimited 3G speed and service? Nobody. Plain and simple. Metro has consistently sent a message to the market that it won't be underpriced. The only true competitor it has only has small pockets of service in the US (LEAP). Logically, LEAP has been the only mobile operator equity that has been able to keep up with PCS (see chart).
The major complaint from most potential Metro users is that metro doesn't offer any Android phones. Well, recently, metro addressed that weakness and now offers several. Even without Android though, Metro phones offer absolutely everything anybody would ever need: phone, Internet, texting, navigator, touchscreen, email, instant messenger, decent camera, mp3 player, bluetooth, and quite a bit more.
But the best yet really is still to come for metro. In the coming months, it is almost a certainty that several low cost (sub $200) 4G LTE Android phones will be released. These phones will provide the best value in the entire US.
Think of it from a financial advisor's standpoint. If you have a client who just lost her job, or hasn't had one in three years, yet she spends $130 per month on her iPhone, what would you suggest to her? If you are worth your fees, you'd advise her to cut her expenses. And with Metro providing absolutely everything necessary to live in today's world for only $40 per month, it is without any doubt the number one choice in the mobile phone market for a sluggish economy.
Valuation of the company is decent too, but over the last two days the company has fallen approximately 10% on news that its subscriber growth was below analysts' consensus, but growth really still was excellent, so now could be a good time to add shares on the pullback. The chart below shows the Christmas shopping season and includes dividends.
click to enlarge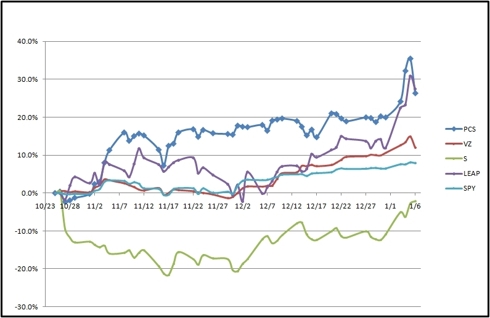 Click to enlarge
It is a mistake to look at a company's numbers first then its products. You need to analyze the company's products, then its numbers. Get the macro view straight, then the micro view straight, then the books, and lastly, the actual trade you want.
I actually own a Metro PCS phone, and have a long position in the equity as well because I believe in the company. It makes products that people like myself actually need, want, and that are affordable. I used to use VZ until I switched over to PCS and have found the service to be essentially identical. The only downside I've seen at all is there are a few very tiny dead zones here and there, but the Metro website coverage map is very, very accurate, so it can greatly help you determine if it is worth switching over for you. Why would anybody really want to spend $100 or more per month on a phone? Even millionaires should rationally not want to waste money on useless spending. My girlfriend recently switched her service over from T-Mobile over to Metro and has been pleased. My mother is soon going to cancel her land line from Comcast (NASDAQ:CMCSA) and switch over to Metro as well.
PCS has a price book of 1.88 and a price sales ratio of 1.20, which is very average for the industry, but an esimated earnings growth rate of 89% next quarter, and 215% the quarter after that, and 22% the quarter after that.
Conclusion:
Valuation-wise, the stock is priced average versus the industry, yet it has a much lower beta than the industry. This will not stay the case. Companies with low risk deserve higher than average valuation.
If you are tired of owning stocks from companies with poor management which have no ability to find a market, and you need a tank in your portfolio with growth potential, yet which holds its ground in a down economy, you might need PCS in your portfolio. PCS was slightly overbought before the 10% correction the last two days, but it is now well priced again.
Disclosure: I am long PCS.