RadioShack (NYSE:RSH), the embattled electronics retailer whose restructuring concept and store-closing initiative recently failed, is back in play -- like predicted. I have previously written about RadioShack and asserted that investors, as usual, are way too negative when it comes to the retailer. It was an old song that was repeated over and over again: The company is suffering serious top line and comp challenges, and the retailer will head straight to bankruptcy.
In fact, it was repeated so vigorously, that it was getting boring. Just about 3 weeks ago I penned a piece about RadioShack arguing that investors should NOT write the retailer off prematurely, because it still had options left, such as a revised, smaller-scale restructuring program as well as an equity offering. As you can imagine, when sales of a company are in freefall and consensus is that the company will go bust, you won't make many friends with a semi-bullish, contrarian piece.
At the beginning of August I wrote:
RadioShack could also pursue a secondary equity offering and tap shareholders in order to bolster up its balance sheet. The case of J.C. Penney has shown that equity offerings can be crucial in pulling off a turnaround; enough cash on the balance sheet would certainly alleviate investor concerns about RadioShack's cash burn rate and buy the company crucial time to remodel stores or initiate new partnerships that would draw more traffic.

RadioShack may be standing with its back to the wall, but the company has not yet run out of options to turn the ship around. Therefore RadioShack might be an interesting, yet asymmetric turnaround play, for hardened contrarians who want to position themselves against the flow. While there certainly is a risk of failure, the payoff could be extreme if RadioShack pulls off the unthinkable and manages to bring in some cash via an equity offering, a new lender agreement or a strategic investor.
As a contrarian investor, I actually recommended RadioShack as a speculative Buy as pessimism clearly took over at the time and even the slightest chance of a turnaround was flat out dismissed by Bears.
In an interesting turn of events, Bloomberg yesterday reported that RadioShack (surprise, surprise) is in talks with shareholder Standard General LP about a financing solution that could give the retailer access to a vital life line and the time to organize a comprehensive turnaround.
Bloomberg reported:
RadioShack Corp. is talking with shareholder Standard General LP about getting a rescue financing package that could help the retailer stave off a bankruptcy filing, two people with knowledge of the matter said.

Standard General, based in New York, owned more than 7 percent of RadioShack's shares as of June 30, according to data compiled by Bloomberg. Since then, the firm has increased its stake to almost 10 percent, one of the people familiar with the matter said.

Helping save a troubled retailer wouldn't be a first for Standard General, which was founded in 2007. Last month, it committed as much as $25 million in capital to American Apparel, the unprofitable chain that recently ousted founder and Chief Executive Officer Dov Charney. That included spending $10 million to purchase Lion Capital LLP's high-interest loan.
So, there you go. Not only does Standard General orchestrate a push to save RadioShack, but the shareholder is also experienced in turnarounds in the retail sector.
This is clearly good news for RadioShack and its share price certainly reflected a profound change in investor perceptions.
Chart situation
RadioShack's prospects have suddenly and materially changed, though Standard General certainly needs to deliver specifics. In any case, a large shareholder is taking charge and leading a push to save the retailer which is fantastic news for shareholders.
Accordingly, RadioShack's shares are burning off fireworks: Shares have increased 60% since Tuesday and are were up 27% yesterday alone.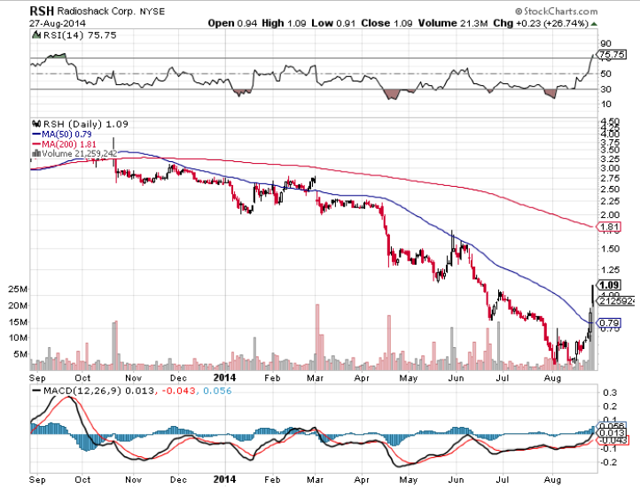 Click to enlarge
(Source: StockCharts.com)
Conclusion
I always try to evaluate a company based on what could happen, but never judge a company's prospects simply based on the status quo. It was clear, that shareholders wouldn't just sit back and wait until the company fell into bankruptcy.
Outsized returns like the one we see now for RadioShack are only possible to achieve if investors buy the stock before investor perceptions change and when they go against the grain; just like I advised in my referenced article above.
If RadioShack's turnaround efforts pick up momentum, led by Standard General's initiative, I wouldn't be surprised if RadioShack pushed towards $2 in the short-term. Over the long term, RadioShack retains multi-bagger potential if a restructuring initiative delivers positive results.
Disclosure: The author has no positions in any stocks mentioned, and no plans to initiate any positions within the next 72 hours.
The author wrote this article themselves, and it expresses their own opinions. The author is not receiving compensation for it (other than from Seeking Alpha). The author has no business relationship with any company whose stock is mentioned in this article.