On August 21, 2014, gold prices touched a two-month low of $1,273.70 per troy ounce as Federal Reserve officials debated on the timing of the interest rate hike. Since the beginning of 2014, geo-political events have provided steam to gold prices. The gold demand from China, India, and central banks remain a key for supporting gold prices.
Chinese demand
Last year, China consumed 1,235 tons (1,120 tonnes) of gold due to fall in gold prices. In Q2 2014, the Chinese gold demand declined 52% year-over-year (or yoy) to 212.19 tons (192.5 tonnes). Chinese consumers reduced gold purchases as the campaign against bribery and corruption increased in the country. Jewellery demand in China declined 45% yoy to 157.75 tons (143.1 tonnes), while investment demand touched a four-year low of 54.12 tons (49.1 tonnes) in the previous quarter. The Chinese gold demand is expected to be 900 to 1,000 tons in 2014.
Indian demand
Last month, Indian gold imports declined 26.39% yoy to $1.81 billion. India's current account deficit for FY 2014/15 (April 2014 to March 2015) is expected to be $39.3 billion or 2% of GDP. Hence, it is likely that the Indian government will not ease restrictions on gold imports to reduce the current account deficit (or CAD). The rural gold demand is expected to be lower this year as weak monsoon has affected household savings. Overall, the Indian gold demand is expected to be between 937 to 1,047 tons (850 to 950 tonnes) in 2014, which is lower compared to 1,073.65 tons (974 tonnes) in 2013.
The weak demand from China and India remain bearish indicators for gold prices. However, central banks are buying gold, which is a positive indicator.
Central banks gold purchases
As a part of asset diversification, central banks have remained net buyers of gold over the last four years. According to World Gold Council, central banks across the globe may add 500 tons of gold to their reserves in 2014, which is higher than last year's addition of 409 tons. In March 2014, the central bank of Iraq bought 39.68 tons (36 tonnes) of gold, its biggest purchase in three years. The central bank of Russia bought 28.12 tons (900,000 ounces) of gold in the subsequent month. Last month, Russia added 10.36 tons (9.4 tonnes) of gold to its reserves, totaling its reserves to 1,104 tons (35.5 million ounces). Gold accounts for 9.7% of Russia's total reserves. This is a positive indicator that will support gold prices for the remaining part of the year.
Gold prices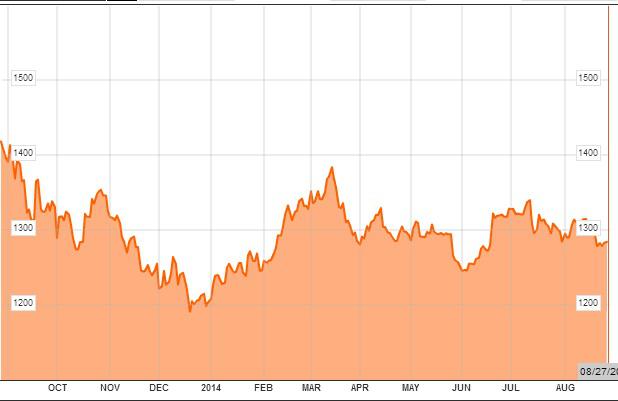 Source: Bloomberg
In 2014, gold rally was fuelled by the geo-political events in the Middle-East, as well as the Russia-Ukraine conflict. However, gold prices haven't crossed $1,400 level this year, and it appears to be the major resistance. The Federal Reserve bond buying program ends in October this year, yet gold prices haven't fallen below $1,200 level and it appears to be a strong support.
Russian leader Vladmir Putin and Ukraine president Petro Poroshenko met recently in Belarus to conduct peace talks. However, it is unlikely that the peace talks will put an end to their conflict in the near term. Israel and Palestinians have agreed for a ceasefire after seven weeks of fighting but it appears to be a temporary solution. The unrest in Middle-East is unlikely to end as ISIS captures major military air base in Syria. Barack Obama has warned of an extended campaign against ISIS. I expect gold to trade in the range of $1,200 to $1,400 for the remaining part of the year as the geopolitical events continue to provide steam. If the situation in Middle-East deteriorates or Russia-Ukraine conflict becomes intensive, then gold prices may cross $1,400 level. Further, central banks and investors may increase their gold buying as a safe haven in uncertain situation.
Conclusion
I would conclude by saying that the weak gold demand from China and India are bearish indicators for gold prices. However, the geopolitical events, and gold buying by central banks will support gold prices in 2014.
Disclosure: The author has no positions in any stocks mentioned, and no plans to initiate any positions within the next 72 hours.
The author wrote this article themselves, and it expresses their own opinions. The author is not receiving compensation for it (other than from Seeking Alpha). The author has no business relationship with any company whose stock is mentioned in this article.